Just having a normal keyboard for work is an old thing, nowadays, people love to try out different keyboards that may give a better typing/gaming experience. And, when it comes to variety,
Mechanical keyboards are the best options
to go for as they have so many varieties for every type of user. We are here to talk about one of its types,
Quiet keyboards
; more specifically, the Quietest Mechanical Keyboard Switches because switches are what make all the difference.
Mechanical Keyboards are known for their sound as well as the quality. At times, many people want the mechanical feel but either they don't like the sound or they work in an environment where the sound is not entertaining. For example, if you are someone working from home late nights, you must not work with a loud keyboard because it may disturb other members of your family sleeping next to you or in another room. Thus, Quiet or silent mechanical switches were made which you can use to keep your keys' sound very low as well as you enjoy the mechanical feel while typing. Also note, for those who are looking for open positions remote systems administrator they can be viewed on the website Jooble.
Read on to know more about the Quiet or Silent Mechanical Switches…
---
What Are the Quietest Mechanical Keyboard Switches?
---
 The loudness of the key presses can be one of the serious concerns ever. In fact, the prime reason that most of us are attracted to a mechanical keyboard is the loud clicking sound that provides you a satisfying experience. 
However, once you begin getting used to it, the same clicking sound may get annoying. You would begin disturbing those working around you with that large clicking sound. That is exactly what brings up the need for Silent Mechanical Switches. These switches do not hinder your typing experience as they continue to provide you with the Mechanical clicking feel but come with a reduced clicking sound. 
Here is a quick list of quiet mechanical keyboard switches: 
Matias Quiet Linear

CherryMX Silent Switch 

ZealPC Healios 

ZealPCZilents 

Romer G

Cherry MX Speed
We will check them out in detail in a while. 
Watch this video in which there are tests done for the sound of various switches.
---
What are Quiet Mechanical switches?
---
The Quiet Mechanical switches are – as the name itself should indicate – the key switches that do not make much noise or a loud noise. In fact, the term quiet keyboard switches or silent keyboard switches are used in an unclear manner and gives the impression that the quiet keyboard switches are actually entirely silent. The quietest keyboard switches are actually the noiseless variants of the regular keyboards, but they do not necessarily lose the noise in its entirety. That should not mean you will get the world's 100 percent quiet keyboard. You will find them making a noise just like any other mechanical keyboard, but the sound would be muted to some extent. 
Ideally, mechanical keyboard switches come with an inbuilt silent mechanism. However, the degree of loudness differs considerably. Mechanical switches come in three different variants viz Clicky, Tactile, and Linear. Clicky switches as the name itself should indicate a huge sound. Linears and Tactiles can be a few of the good options for the best quieter switches. 
---
Why Should You Use Quietest Mechanical Keyboard Switches?
---
Sound from a mechanical keyboard is one of the most important deciding factors when picking up a new keyboard. The choice of the right switch in your keyboard will be important due to the two most important factors – the feel of typing on the switches and the sound of a keyboard switch. 
There are a few reasons why you would need to check out for the silent mechanical switches on your keyboard. There may be cases where you may be recording your gaming session and are disturbed by the incessant noise. You may be streaming, talking, or typing in an office environment. In such situations, you would want to stay away from the loudest and clicky switches on the keyboards. 
The loud key switches can make a lot of noise, and your microphone can pick them all. While recording the game video or any other content, the loud noise can prove to be quite an annoyance. A few of the loud key switches you can invariably want to avoid should include Cherry MX Blue, Green, and White. 
Personally, when I use a mechanical keyboard at night, I prefer to use the Silent one as I have two keyboards one normal Mechanical, and one silent one. I use the silent one so that my kid doesn't get disturbed who sleeps in the next room.
---
The Detailed Review of Quietest Mechanical Keyboard Switches
---
Let us now check out the best quiet mechanical switches and understand them in finer detail. 
Cherry MX Black
Cherry MX Black is a Linear switch with a very low clicking sound. Thus, it is kept in the quiet switch category.  The keys will provide you the best possible key experience as you would want from a mechanical keyboard, but with very low noise. Pick a keyboard that makes use of the Cherry MX Black if you are into recording your gaming sessions or streaming your activities. 
Gateron Silent Red or Black
The Gateron Silent Red and Black are the mechanical key switches that offer you a smoother and super quiet typing experience. These keys belong to the linear key switch types and are known to come with a minor sound ever. 
While they are smoother in operation than the Cherry MX key switches, they also offer you very budget-friendly pricing making them all the more worthy purchase. However, the lifespan may be a concern as the key switches are tested to last only 50 million keypresses. In any case, given the price bracket that they are available in, you would find that that should not be a concern. 
Romer G
Romer G switches have been one of the excellent options for almost all your needs in the quietest mechanical keyboard switches. One of the most responsive key switches, they are also known to be producing extremely lower noise. 
The Romer G key switches have been extremely popular and have been tested to withstand 70 million key switches. A light keyboard switch, it comes with a 3 mm depth and should be a great option for a quiet keyboard switch. In essence, if you are looking for responsive and quiet mechanical switches together, you can indeed go with Romer G keyboards. 
Cherry MX Speed
In case you are not comfortable with the heavy feel of the Cherry MX Black switches, you can check out the Cherry MX Speed keyboard switch. These switches are quite lightweight and do not have any color representation as such. 
The quiet keyboard with a depth of around 4 mm, the key switches offer you the actuation points shorter than the Cherry MX Reds. The key switches also have a lifespan of 50 million key presses. The actuation point of the key switches is 1.2 mm compared to the 2 mm rating on a Cherry MX Red. 
ZealPC Healios
This is the silent linear switch launched by ZealPC. They have been rated to be the quietest ever switches among the switches currently available. It can be a great option for those of you who are looking to keep their typing sounds at a minimum level possible. 
The key switch makes use of a silencing bumper dampens the bottomed out sound. In fact, it can even dampen the upstroke sounds making them a complete option for the best quietest mechanical key switches. The quality and sound performance of these switches are one of the best, and that should definitely explain what makes them one of the prime options ever. 
---
Top 5 Quietest Mechanical Keyboards
---
Here are a few great options for the best quietest mechanical keyboards. 
Corsair K68 RGB Mechanical Gaming Keyboard
These keyboards are best suited for gaming with a perfect RGB backlighting. The unlimited backlight customization can be something you would find quite a great option.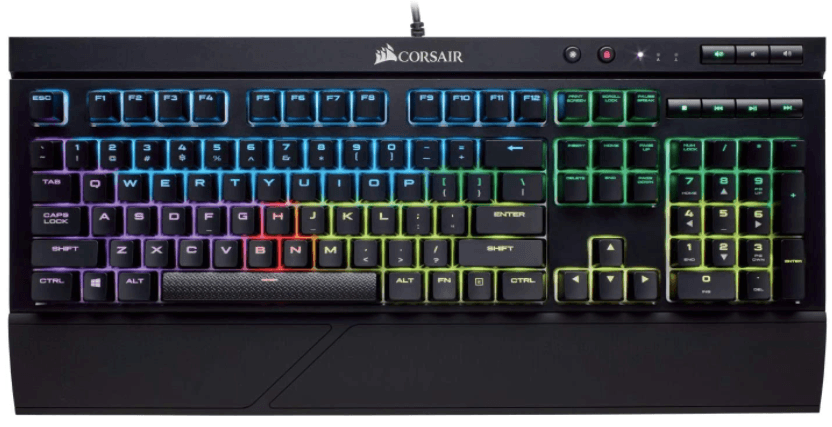 The keyboard makes use of the Cherry MX and comes with a 100 percent gold plated construction making it one of the excellent options for almost all your requirements in a perfect gaming keyboard. A host of preinstalled effects should further make it one of the enhanced options, which would be a great one to go with for an easier installation. 
The dust and spill-resistant design is yet another added advantage. The IP32 protection provided to you can be something you would find rather an impressive option ever. The Corsair Utility Engine is one of the thoughtful inclusions. 
Pros
Extremely lower weight. 

A great degree of control options. 

Easy typing experience. 

It makes use of the Cherry MX Low Profile Switches.

On the go adjustments. 
Cons
No mic or Headphone support.

No volume dial.
Das Keyboard 4 with Cherry MX Brown Switches
The Das Keyboard 4 keyboard comes with the MX Brown switches, which have been known to be one of the excellent set of quietest mechanical switches. You can get access to a high performance soft tactile feedback ever. The enhanced 104 key layouts should provide you with a swift typing experience.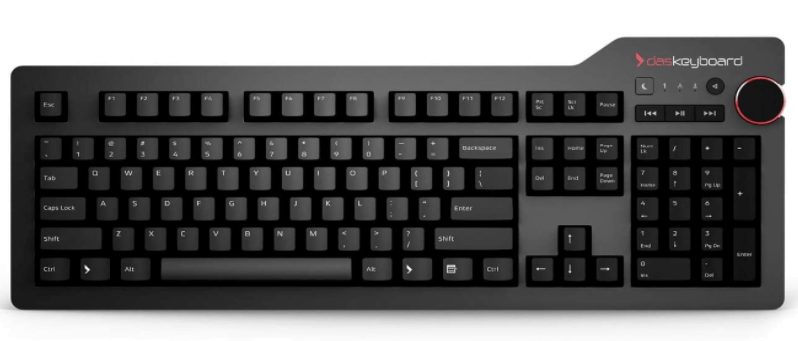 The design is something you would find an exciting experience ever. The responsive design can be what you would find a great option ever. The extra-long cable and the two USB ports can provide you access to a very enhanced performance quality ever. 
The durable quality – thanks to the DAS German engineering technology can be something you would find extremely impressive. The oversized volume key, along with dedicated media control options, should further make it a great choice ever. 
Pros
Super speed hub with a high transfer speed.

The aluminium top panel that further adds up the durability value. 

A rugged construction.

Anti ghosting mechanism. 
Cons
Slightly heavier construction.
Leopold FC980M Mechanical Keyboard
The Leopold FC980M Quiet Mechanical Keyboard is one of the prime options for almost all your experiences in terms of the best useful experience. The two colored keycaps should definitely provide you access to a unique appearance.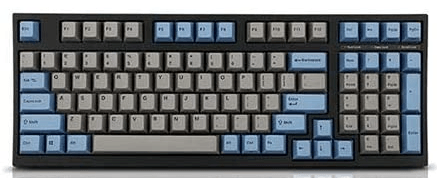 The keyboard comes equipped with Cherry Brown switches. The tactile experience when typing on the keyboard can prove to be one of the thoughtful inclusions. A lighter typing feel with a slightly audible feedback can be a further good option. 
The convenient multimedia keys along with four DIP switches that provide you an enhanced extension experience ever. The N key and 6 key rollover functionality can further improve your experience further. 
Pros
Available in multiple colors.

The inclusion of the Num pad is yet another added advantage. 

The simple to use interface.

Compact look.
Cons
Some of you may feel it is quite compact. 
SteelSeries Apex 7 Mechanical Gaming Keyboard
This is yet another excellent example for the best quiet mechanical keyboard that should be considered to be the perfect option ever. The keyboard comes with the quietest mechanical keyboard switches that come with the linear Red switches. The 50 million keypresses can be something you would find a great option ever.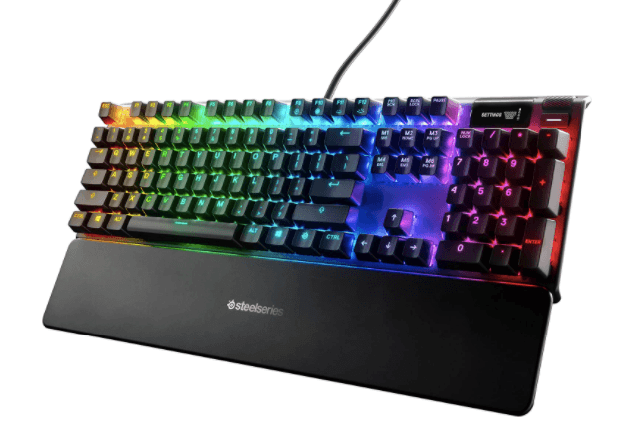 A smoother typing experience can be one of the thoughtful experience ever. The premium magnet wrist can be what would make it further great experience where you would find it offering you a simpler and convenient working experience ever. 
The lightning fast actuation is one of the prime features that should make it a great choice by almost every count. The unmatched and unlimited customization with the perfect RGB illumination can further make it one of the exciting choices ever. The OLED Smart Display can be a great option that further improves your experience. 
Pros
It is a very lightweight in terms of construction.

A very high degree of durability with the Aircraft Grade Aluminum Alloy.

You have up to five different onboard profiles.

Dedicated multimedia controls.
Matias FK302QPC Quiet Pro Keyboard
If you are an office goer and want a great typing experience, the Matias FK302QPC Quiet Pro Keyboard is one of the best quietest mechanical keyboards you would find impressive. The use of Quiet Click switches makes it one of the best full-sized keyboards. The all-black design and a glossy finish are a couple of features that would make it a great choice by almost every count.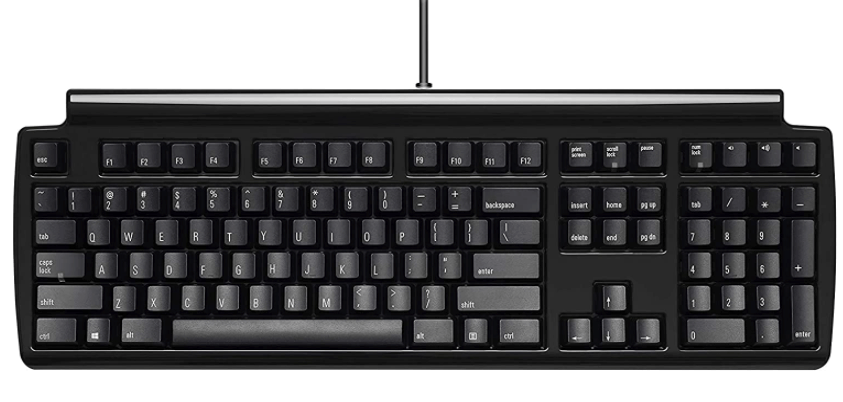 Check Price On Amazon
The keyboard provides you access to a dual experience of getting the best of both worlds – get the durable performance of a mechanical keyboard and a quieter performance of regular keyboard. Compatibility with a wide range of devices is yet another added advantage. The keyboard also has volume controls for a dedicated audio experience as well. A tab key on the num pad is yet another useful addition for those of you who may be working on spreadsheets.
Pros
Provides you access to a perfect and accurate keystroke

Three high speed USB ports 

Laser etched keys remain intact even after years of typing.
Cons
No wireless connectivity options
---
What Are the Prime Factors That Make a Silent Keyboard?
---
Mechanical keyboards are known to be loudest. What makes the mechanical keyboards loud or noisy, or even silent. Let us check out a few elements that make a mechanical keyboard loud or silent. 
The Switches
Different switches create different sound profiles. The sound of the switch would be dependent on the build and feel that the product is intended to be used. The clicky switches can produce a louder sound. 
The Stabilizers
Stabilizers are designed to reduce the shaking of the keys. However, they can also be a contributor to create sound. The higher movement of keys can produce more sound. 
The Desk surface
The desk surface of the keyboard can also be a contributor to sound. The ability of the case in absorbing the sound can be one of the prime contributors in providing the right sound quality.
---
How to Make Your Silent Mechanical Keyboards Even Quieter?
---
Mechanical keyboards, like we already stated, are known for their loud and clicky sound. You can further enhance the performance of your existing mechanical keyboard performance and make it even more quieter. 
Some good options you can employ can include 
Lube your switches
If you feel your keyboard switch feels a little scratchy, you can consider lubing the mechanical key switches. Using proper lubrication options for your keyboard switches can improve the clicking performance. You can even consider cleaning your keyboard.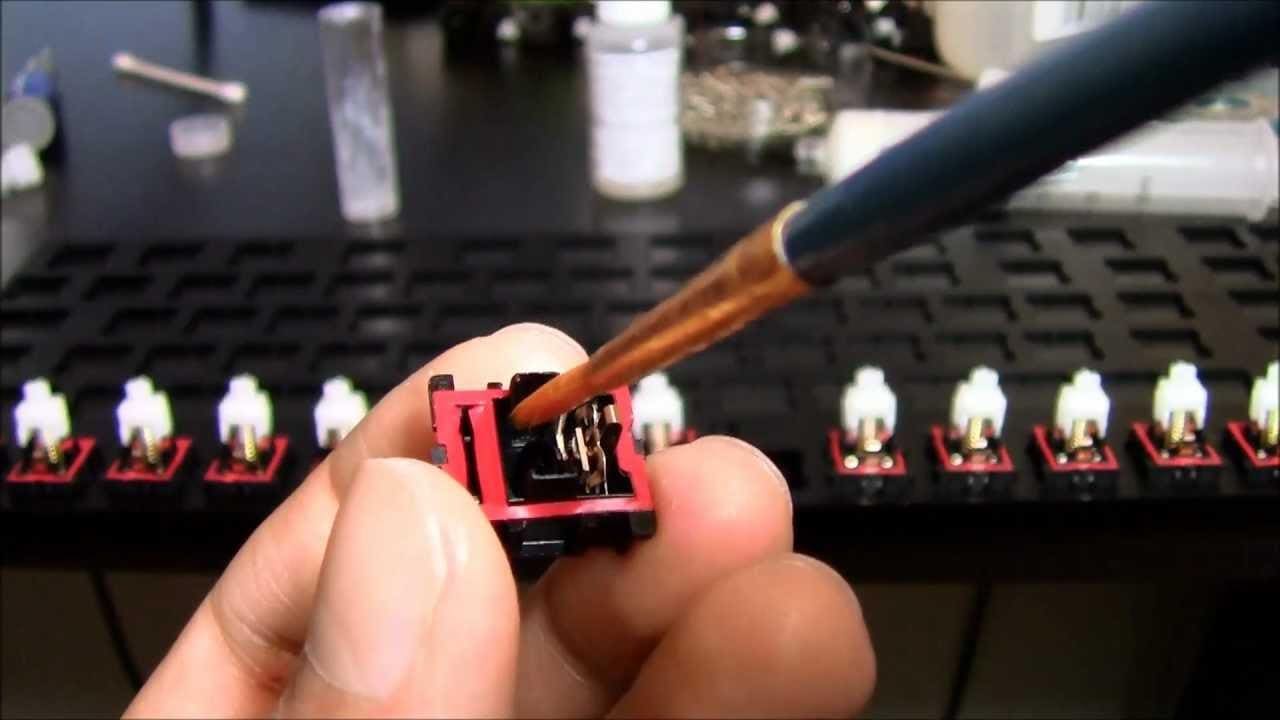 You can check out a few keyboard lubricant options such as 
O-ring Rubber for keyboard switches
This should be one of the best options for reducing the scratchiness and should be one f the best tricks to get your keyboard to become extremely silent and quieter. Using it would need you to remove the keycaps of the switch and fix an O ring. This will help you reduce the sound to a considerable extent.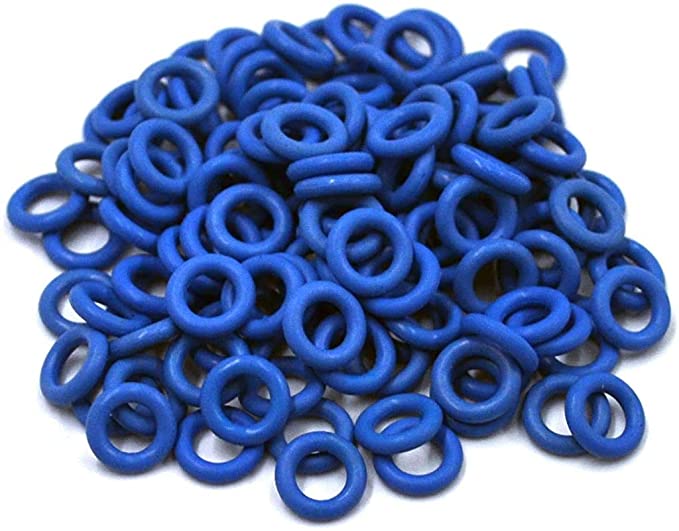 Some good options you can give a thought would include
Make Use of a Desk Mat
If you are someone who types faster, each of the keypresses will create a vibration. This vibration on the desk will create a sort of noise. Using the right desk mat can prove to be one of the excellent options to reduce the issues with respect to the unneeded vibration. 
Some of the keyboard desk mats can include 
Replace the Switches
The best option you can check out will be to change the switches if your keyboard has developed any loudness off late. The beauty of the mechanical switches lies in the fact that you can replace the key switches of each of the keyboards. 
---
What Are the Pros and Cons of Quiet mechanical Keyboard switches and keyboards?
---
Even the quiet mechanical keyboard comes with its own set of Pros and Cons. We thought of listing out a few of them to help you decide on the best keyboards in tune with your requirements. 
Pros 
A longer lifespan:

You can expect a huge range of longevity. They do offer you a high-end construction. You can expect up to 30 to 70 million key presses. 

No wear and tear:

They make use of the best mechanical switches. They do not suffer any sort of wear and tear. You can expect them to

last a minimum of 10 to 15 years.

 

Better customization:

Silent mechanical switches provide a better tweaking experience. When you compare them to the other dome-type keyboard, you have plenty of customization options.
Cons
Expensive price tag:

Mechanical keyboards are relatively expensive. The quiet keyboards tend to be more expensive than regular mechanical keyboards.
---
FAQs on The Quietest Mechanical Switches
---
Which Mechanical keys switches are the quietest? 
Cherry MX Brown switches are known to be the quietest among the mechanical keyboard switches. The tactile switch lets you feel the actuation point of the keypress. However, they may not be clicky. 
What is the quietest Razer keyboard?
The Razer™ Orange Mechanical Switch has been known to be the best ones for the quietest Razer keyboard switches. You can expect a good tactile feedback, but there would be no click of any sort. 
Are Blue Switches louder? 
Yes, the Blue switches come with louder noise. In fact, they can make a larger noise than the other switches. Using Brown switches are much preferable. If you tend to bottom out too hard, they can be a little louder. 
---
Which Keyboard Switch Should You Go With?
---
While we have picked only the 5 quietest keyboards that can be helpful in achieving the best service quality ever. However, having a good understanding of the different key switches can help you achieve the purpose of picking the best silent keyboard ever. 
The keyboard switches typically come in three different categories – Tactile, Linear, and Clicky. If you are someone who types a lot, you will find the tactile keyboard switches one of the practical options. If you are into gaming or other activities that would need you to perform a host of repetitive keypresses, you would prefer a linear switch. Both these keyboard switches come under silent or quiet types. 
If you are looking for the quietest keyboard switches, you will need to analyze between the keyboards with linear key switches and tactile key switches and then pick the one that rightly meets your needs. 
Above all, it is all depends on your personal preference for choosing the Keyboard Switch type for your use.
Conclusion
Apart from the keyboard switches, there are several other factors that would determine whether a keyboard is louder or quieter. The other elements of a keyboard, such as stabilizers and cases, can also contribute to the sound. 
Each of the keyboards outlined above has its own positive and negative points. It would be a good idea to check what matters to you the most and then pick the right keyboard that perfectly meets your individual requirements. Using the O rings, desk mats, and proper lubrication can help you get access to enhanced and perfect performance in terms of an enhanced quieter keyboard experience ever.