talk about Mechanical Keyboards
, and the showdown between the different key switch manufacturers has been one of the interesting ones. We thought of checking out the prime differences between the
Kailh Box Brown
and
Gateron Brown
Key switches. We will compare the two different types of keyboard key switches and find how do they work. We will also do a
Kailh Box Brown vs Gateron Brown comparison
. 
But before we can move on to find more about the Gateron Brown vs. Kailh Box Brown discussion, we will understand what these brands and switches are all about. 
Gateron Key Switches
Gateron is not known to be a premium brand for mechanical key switches. However, they are offered to you as one of the excellent options for the best budget-friendly Mechanical key switches.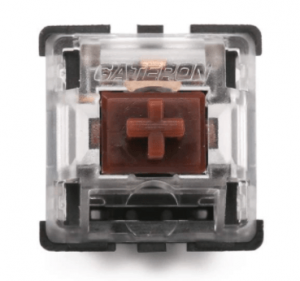 Gateron, as a brand, has a wide range of options available in its line-up that includes Red, Blue, Brown, Green, Black, Yellow switches, which are part of the standard switch formats. You would also find them manufacturing their unique own switch options such as Gateron Milk, Ink, Low-Profile, and Silent switch designs.
Kailh Key Switches
Kailh has an extremely popular brand when it comes to the keyboard switches and has been in close contention with the leader in its genres, Cherry MX. Kailh is known for a huge range of different mechanical switches that include BOX switches, speed switches, low profile, and a good deal of specialty switches.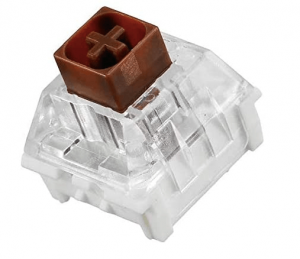 While most of the switches made by Kailh are known for the best build quality, a few of them are also known to be a little scratchy. Known to have a good lifespan that ranges up to 60 million keypresses, they pose a stiff challenge to the Cherry MX key switches. 
---
The Kailh Box Brown vs Gateron Brown Switches – An Overview
---
In this Kailh Box Brown vs Gateron Brown Switches, we will check the individual types of the switches to find the best features offered in each of the details. 
The Kailh Box Brown Switches
The Kailh Box brown Switches provide you access to a tactile and lighter key travel. The advantages offered by the Kaihua's BOX switch architecture are indeed one of the prime features that would make it one of the high-end options ever for most of your requirements. The switches have shown an increased lifespan. In essence, you can expect an increased lifespan of around 25 percent more than the regular Cherry MX series.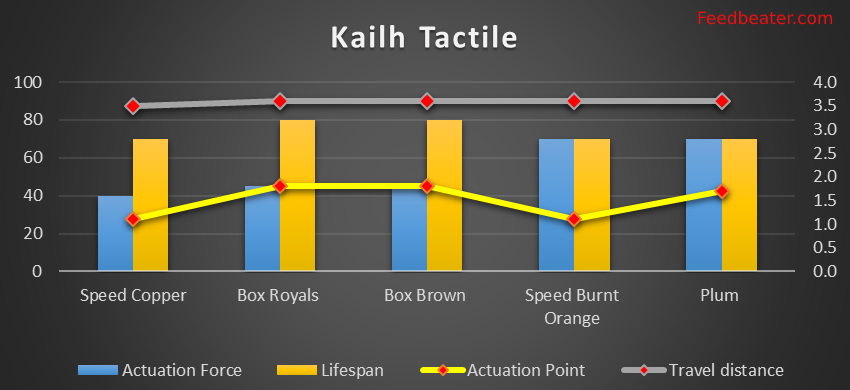 Kailh Box brown switches have been relatively new in the market. In fact, the entire Kailh brand of switches in themselves has been the newest entrants in the market. There have been a few major and minor changes when compared to the traditional Kailh switches. The Kailh Box range of switches was launched in 2017 and has been able to gain a lot of popularity in a considerably shorter period of time. 
The Kailh Box Brown switches come with its own range of stem colors and stopped being the clones of the Cherry MX. The Kailh Box brown switches offer you an IP56 rating. This should be a powerful dust and water resistance. Of course, Kailh has not gone on record, indicating the exact amount of the liquid that the key switches can withstand. Still, you can expect a decent performance with respect to good water resistance properties with that sort of IP rating. 
Kailh Box Brown switches belong to the tactile category of mechanical keyboard switches. You can work with an actuation force of 50 grams when working with the keys. The tactile bump that you feel with the Kailh Box Brown switches can perhaps be something you would find quite reassuring. That can be a great option for all your needs in speedy typing. 
The key features we found rather interesting with the Kailh Box Brown switches lies in the fact that they offer an excellent design for the click and tactile feedback. The tactile feedback provided by Kailh Box brown switches is referred to as the Click bar. The Kailh Box Brown switches do offer fantastic functionality. 
Having said that, the Kailh Box brown switches do suffer a few disadvantages as well. The stem thickness can be an issue that has been observed to destroy the keycaps in certain cases. 
In essence, Kailh Box Brown switches are known to be designed for durability. Apart from the water and dustproof design, it also comes with a switch sealed from outside. Yet another plus point we observed with the Kailh Box Brown switches is that they have upper and lower housings having some guiding pillars. This minimizes the space between the components, and thus your keys will slide without much wobble. 
---
Kailh Box Brown Switch Construction
---
Type of the key: Tactile 
Actuation Force: 45±10gf
Actuation Distance: 1.8±0.3mm
Total Travel Distance: 3.6±0.3mm
If you want to check out the best keyboard that uses the Kailh Box brown switches, one of the prime options can be the ANNE PRO 2 Wired/Wireless Mechanical Keyboard.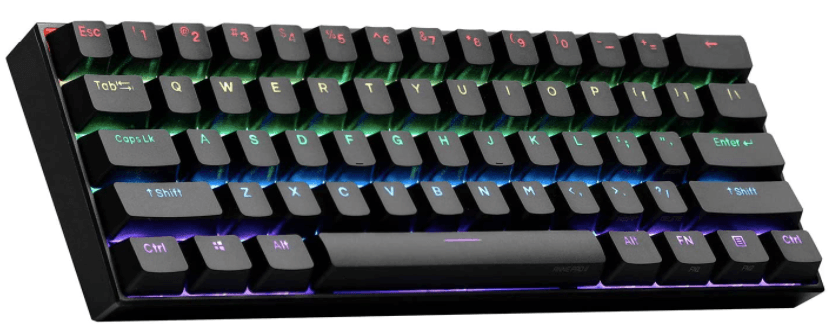 Minimalistic design is what would bring a huge degree of usability, making it one of the excellent solutions for the perfect low hand movement. The compact and portable design can be what should bring ahead and improved performance characteristics. 
Gateron Brown Switches
Gateron Brown switches have been known for the best combination of the clicky and linear switches. The switches are offered as a tactile switch option, but you will find a little difference when you compare it to the other tactile switches. In fact, the Gateron Brown switches come with no click sound, but offer you a tactile bump. 
That is exactly what should make them one of the excellent options for almost all your needs in having a tactile bump but no excessive clicking sound so that you are not willing to annoy others in the room. If you are working with peers, a Gateron Brown switches would be something you would find rather an impressive option.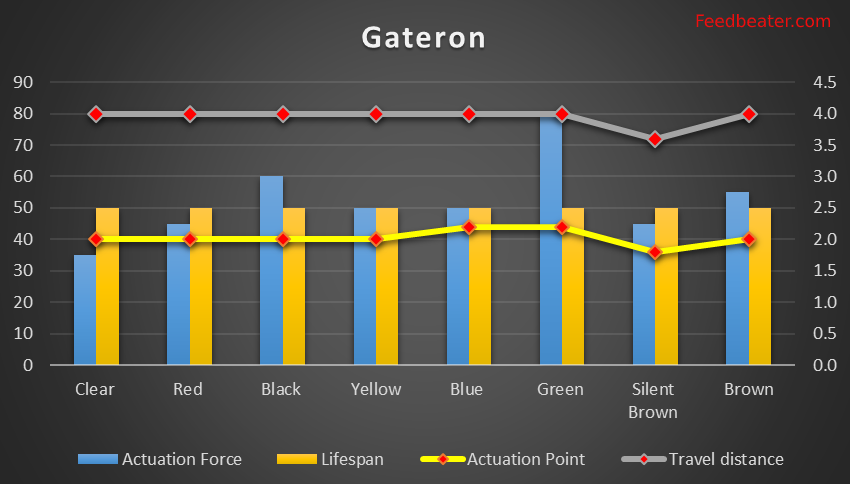 Gateron Brown switches are known for their focus on smoother and comfortable functionality that they offer. The keys, unlike a few versions of the Kailh switches, are not scratchy and thus do not have much of a resistance when typing. As for the volume, if you are someone who tends to bottom out, you will find the key switches a bit disturbing for the people around you. They may produce a considerably loud sound compared to Kailh switches. 
Gateron Brown switches are also known to have a considerably good degree of spring force. However, when you compare them to similar tactile switches from Kailh, they do not provide a good degree of performance in comparison. Please note that we are making that statement only in comparison and should not mean the Gateron switches do not offer a good tactile response. The spring force and the travel distance is considerably good enough. 
A good example of one of the best keyboards that come with the Gateron Brown Switches can include Keychron K2 Wireless Bluetooth/USB Wired Gaming Mechanical Keyboard.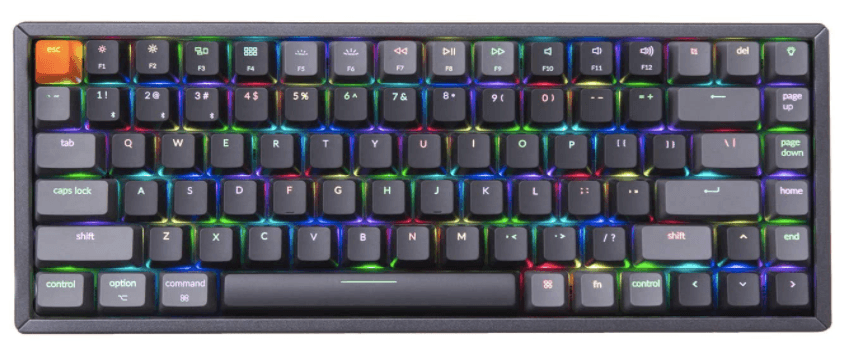 The keyboard comes with a backlit compact Bluetooth design. The Aluminium frame design It can connect with up to three devices via Bluetooth. The Unique mac layout can be one of the thoughtful inclusions. 
---
The Comparison – Kailh Box Brown vs Gateron Brown Switches
---
Both Gateron and Kailh Switches offer almost the same degree of performance and have been observed to be a good option in the long run in providing a good fight for the leader in the sector, the Cherry MX mechanical key switches. 
We will compare the options based on a few key parameters to arrive at the right conclusion in this  Gateron Brown vs Kailh Box Brown comparison: 
Tactility 
Now that we are making a comparison between the Kailh and Gateron switches,  we would find Kailh switches a better option when compared to the Gateron switches in terms of tactility. The stability offered by the Kailh switches is one of the excellent options with better action and stability. You would not find the keycaps twisting. 
Winner – Kailh 
Durability 
The 50 million keypresses should make Gateron a good option for an improved durability factor. They would last a longer lifetime in comparison. However, the water and dust resistance offered by Kailh should perhaps put Kailh a step ahead of the Gateron switches. If you are into a lot of typing and gaming, the Gateron switches should offer you a better degree of performance. 
Winner – Gateron, with Kailh taking a slight edge
Key Actuation
The actuation force does vary. However, since we are discussing the Kailh Box brown and Gateron brown switches, we would find both of them provide a similar degree of performance. 
Winner – Tie 
Travel Distance 
The key travel distance is observed to be one of the best when you are on Gateron. However, in many cases, both Kailh and Gateron switches come with a good level of speed and actuation. However, the key clicks observed on the Gateron switches is something we found one of the excellent choices. Kailh does come close enough in terms of the travel distance but is pipped slightly by the Kailh switches. 
Winner – Gateron 
---
Kailh Box Brown vs Gateron Brown Comparison Table
---
Features

 
Kailh Box brown 
Gateron Brown 
Type of the key 
Tactile 
Tactile
Actuation force 
50 gf (+/-10 gf)
55 gf 
Pretravel 
1.8 mm (+/- 0.3 mm)
Pressure point
1.7 mm 
Total Travel 
3.6 mm
4.0 mm 
Reset Point 

1.8 mm
---
FAQs Related to Kailh Box Brown vs Gateron Brown
---
Are Kailh switches good?
Kailh switches made a beginning with the clones of Cherry MX switches. They do come with an enhanced experience. In fact, it has been observed that the Kailh switches are found to be good enough when compared to the Cherry MX switches among the Box Brown and other tactile switches. 
How long do Kailh switches last? 
Most of the Kailh switches come with a lifespan of 70 million keypresses. That would mean you should get at least ten years of lifetime. 
Are Kailh Brown switches good?
They are solid with pretty low wobbling. Of course, the tactile feel would be better with the Gateron Brown switches. 
Are Gateron Brown switches quiet?
They produce a considerably lower click rate. However, if you are someone who has the habit of bottoming out when working on a keyboard, you may annoy the people around you with a louder voice. 
The Closing Thoughts
The comparison in the Kailh Box Brown vs Gateron Brown key switches, as outlined here, should ideally help you get access to a truly wonderful experience in achieving the right pick among the best options between them. 
Between Kailh and Gateron, you would find that both of them have a few specific advantages in some specific cases and scenarios. Analyze your individual requirements and find which one among them suits them appropriately.