In the world of keyboards, there are so many low and high-end keyboards in various categories such as Membrane Keyboards, Scissor Keyboards, Mechanical Keyboards, etc. Today, I am going to talk about The keyboard category that is not so common but of the premium quality which is considered to be the best keyboard ever. 
Yes, we are talking about Topre Keyboards by Topre Corporation.
Topre Keyboards use Topre Switches underneath each key which is neither the rubber dome nor the mechanical completely. In this article, we are going to talk about the Best Topre Keyboards, and of course, we will be discussing more about the Topre Switches because after all, switches make all the difference.
---
What Are the Topre Keyboards?
---
It is quite obvious to say that the Topre Keyboards are the keyboards that use Topre Switches. These Switches are manufactured by Japanese brand Topre. They mixed the qualities of Rubber dome switches and Mechanical Switches to make Topre switches.
Let's get into more detail.
---
Best Topre Keyboards
---
---
Are Topre Keyboards Mechanical or Membrane?
---
Since it all depends on Switches to tell if a particular keyboard is Mechanical or Membrane, we will look on the switch to know the answer to the query.
As per the wiki, the categorization of the Topre switch is still in the discussion whether it should be put into the Rubber Dome(used in Membrane keyboards) or Mechanical because The switch's dome does provide most of its resistance and all of its tactile feel. But unlike conventional rubber-dome keyboards, the Topre Switch dome does not provide any "mushy" resistance near the bottom of the stroke. Its conical spring provides only around 5 cN of actuation force and is therefore critical only for sensing keypresses.
The disagreement of considering it as in any one category switch is there because it uses rubber dome(used in Membrane Keyboard) as well as Spring(used in mechanical Switch). Although it uses
So, this is still not defined if it is a rubber dome switch or a Mechanical Switch. 
Some say it is a glorified version of Rubber Dome, and some say it is semi-mechanical. Whatever it be, one thing is sure that Topre Switches are too good which we will explain in this article.
---
What Are Topre Switches?
---
Topre Switches are electrostatic capacitive non-contact keyboard switches. It has a design that consists of a rubber dome(Just like Membrane keyboards) with a system that allows the PCB to detect the keypress without any physical contact between the switch and the PCB which is pretty different from Mechanical Switches in which keypress are registered after physical contact.
This is one of the reasons we cannot consider Topre Switches as Mechanical Switches.
The switch is housed within a rubber dome which is responsible for most of the resistance and tactile feel. Apart from this, there is a conical spring out there (Kind of what a Mechanical Keyboard switch has).
When the conical spring is compressed on pressing the key, a capacitive sensing mechanism on the PCB senses the keypress. The circuit board (PCB) collects sensing data from smaller key groups and feeds it to the controller. That registers the keypress.  In simpler words, when you press the key, the switch bends the conical spring until the circuit board (PCB) registers the keypress.
On the other hand, in the mechanical switches, as long as you press the key, it closes the circuit by physical contact, and the keypress gets registered.
So, you see, that switching mechanism is kind of different than both Rubber dome and Mechanical. Thus, putting Topre Switches in either of these categories is not easy.
Because of no physical contact, Topre Switches are longer lasting as well as more reliable. These switches have light actuation force as well i.e. 30-35 grams.
So, as per the details, we can say that Topre Switches are a mix of Rubber Dome switches and Mechanical switches. And they are mixed to offer even more quality that keyboard enthusiasts always look for.
If we look at the history of the Topre Switches, these were started being made in 1983 by the Topre Corporation. It was patented in 1986.  The unique thing about this is Topre Corporation is only one that makes Topre switches.
---
The Sound of a Topre Keyboard
---
The sound of Topre Switches are pretty much different than other mechanical keyboards. The "Thock" sound you hear while you type which is quite different and doesn't seem noisy at all. Check out the sounds below:
Realforce 87U 55g Topre and HHKB Sound Test – Topre 45g Sounds
Realforce 87U 55g Topre Typing Sounds
HHKB Sound Test – Topre 45g
---
Topre Switch Vs Cherry MX Switch
---
When we want to compare these too, that can be a difficult situation because Cherry MX comes in so many variants with different features. However, Topre Switches are closest similar to Cherry MX Brown. So let's see head to head comparison of Topre vs Cherry switches.
Here are a few differences between Topre and Cherry MX
Generally, Topre Switches are designed and tested for 50 Million Keystrokes whereas Cherry MX Switches are designed and tested for up to 100 Million Keystrokes.

Topre Switches gives better tactile feedback than Cherry Mx Switches.

One keyboard, Cherry MX switches will have a similar actuation force whereas Topre Switches will have different actuation force depending on their location on the keyboard such as keys in the side have low actuation force and keys in the middle have higher actuation force.

Cherry MX Switches are very common, and they are used in most common mechanical keyboards whereas Topre Switches are exclusive for Topre keyboards, and they are not very common. You will find it tough to find them.

Topre Keyboards are costlier than the keyboards using Cherry MX Switches.
Check out this video to hear the sound comparison between Topre, Cherry MX Brown and Gateron
---
Best Topre Keyboards
---
Topre Realforce 87UB USB Keyboard
Topre Realforce 87ub is one of the best TKL(TenKeyLess) Topre Keyboard as it offers the best build quality, and it offers a better typing experience than its own counterparts. That means, it is proved to offer a better typing experience than the full-size model(Offers numeric keys as well).
It is TKL, which means there will be no numeric keys. So, if you are someone who has more work with numeric, it won't be a good fit for you.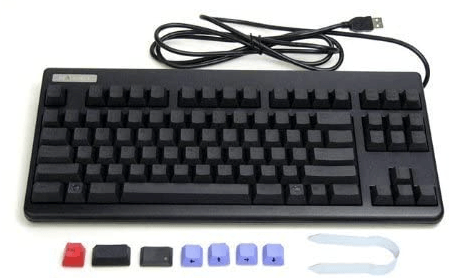 It has an ergonomic form factor that eases typing for long hours.  This is quite a silent keyboard which means you can even work using this late at night in your house without disturbing anyone. The keys are tested for 30-50 Million Keypresses, which is quite well, and it can even work even after that if you keep it well. The actuation force varies with each key on the keyboard.
The bad thing about it is the letters/characters printed on keycaps are not easily readable. It is quite hard to find this keyboard. And, above all, it is quite expensive. 
Above all, This Realforce Topre keyboard is one of the best keyboards out there in the Keyboard market. 
REALFORCE R2 (PFU Limited Edition) Keyboard
Like any RealForce Keyboards, R2 keyboard has an awesome build quality accompanied by premium class PBT keycaps. The R2's PFU version has even more benefit than the normal R2 as it offers Actuation Point Changer and it has silent Topre switches that produce little to no sound. The switches are tested for 50 million keypresses which shows how durable it is. 

Here, actuation point changer means, you can actually change the actuation points of the keys as per your requirement, and this is only available in this PFU edition.
Full NKRO, Ergonomic design are few other features that make this keyboard an awesome gadget to work with. It comes in Full size(Number pad included) and Mid Size (Number Pad excluded). This is a high-end Topre keyboard for maximum programming and gaming performance. Since this is the best, it comes with a heavy price tag. But, it justifies its cost and that you come to know when you use it.
Happy Hacking Keyboard Professional2
HHKB short for Happy Hacking Keyboard is a keyboard that condensed 101 keys into 60 keys to offers a compact keyboard with a symmetrical layout. It uses Topre switches that make it more comfortable to type, better tactility, precise keypress, and "thock" sound that usually comes in Topre switch. All the keycaps are made of premium class PBT which makes it more durable, and they don't wear out. Keys are printed with dye-sublimated legends which are of so high quality that the prints never fade away.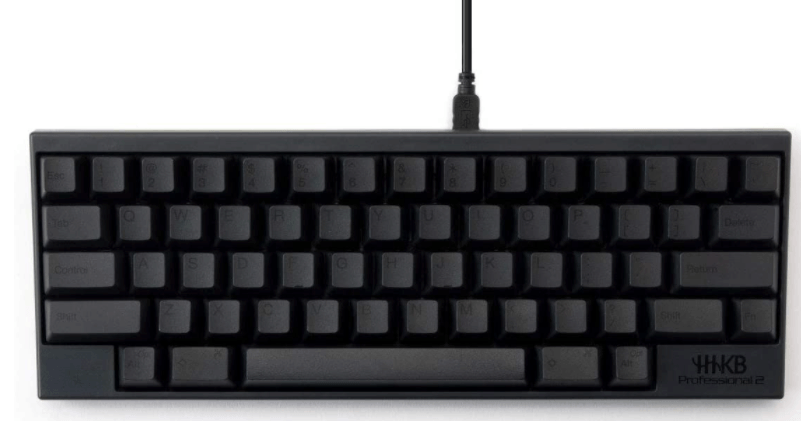 There are Dip Switches that allow you to assign various functions to different keys, which means it is a programmable keyboard as well.
Overall, if you see, HHKB 2 is one of the finest Topre keyboards out there.
Leopold FC660C
When there is a talk about the best Topre Keyboard, Leopold FC660C stands taller among various Topre keyboards. This is a 65% keyboard, and it comes in various color combinations. The prominent "Thock" sound when you type is even more prominent on this keyboard. It offers better tactile feedback, and you can type for hours without having any strain in your fingers. Although the keyboard is pretty much expensive like other Topre keyboards, this is the best value for money. Keycaps are made of high-grade PBT except for Spacebar which is made of ABS.

Check Price On mechanicalkeyboards.com
If you ever use this Leopold Topre keyboard, you will not go back to any other keyboard because it is more than awesome, and the best value for money.
You can hear the sound of Leopold FC660C here:
Seasonic Topre Realforce RGB AEAX01 108-Key Keyboard
Just like other Topre keyboards, it is another masterpiece. The keyboard has all the features that you usually find in Topre keyboards. Due to the 25% key to key transition, it improves accuracy in typing. It has an awesome tactile feel that eases in typing for longer hours. It supports custom keycaps which allows you to customize them even more. The keyboard has 108 keys which means it is a full-size keyboard. Users say that this keyboard's switches are even better than Cherry MX, and I am not surprised because Topre switches are way better than general Mechanical Switches. That is the reason, Topre keyboards come with a heavy price tag as they are of premium quality.

These are the 5 best Topre Keyboards which you can look for. Topre keyboards are not that common, so at times, you may not find them easily. Now, let's talk a little more on this topic.
---
Are Topre Keyboards Suitable for People with Carpal Tunnel Syndrome?
---
This is one of the questions I have seen online on many sites. So, I thought to include this in this article as well. Let's first know, what is Carpal Tunnel Syndrome?
What is Carpal Tunnel Syndrome?
Carpal Tunnel Syndrome is also known as Median Nerve Compression. It is a health condition that causes pain, tingling, numbness, and weakness in your hand. This happens when there is pressure on your median nerve which goes through the wrist passage known as Carpal Tunnel to your hand. The median controls the movement Thumb and Fingers. So, in this problem, longer hours of typing make you feel pain in your fingers and hands.
But, Topre Keyboards are so well designed that it is very suitable for people with Carpal Tunnel Syndrome. They can work on the keyword without having any numbness or issues. The reason is, Topre keyboards are very easy to type. Even a person with Arthritis will find Topre Keyboards very easy to work with.
Moreover, it also depends on the condition of the patient. Because, no matter how good a keyboard is, at times, a patient may feel while typing even on the most comfortable keyboards. So, in any such case, ask your doctor if you should type or not!
Conclusion
Topre Keyboards are of premium quality as you have read in this article. That is the reason they are pricier than many other keyboards. The switch, the build quality, the keycaps, the design, everything is perfect that every keyboard lover would want. Topre keyboards give you the best typing experience ever. They are pretty much durable. They hardly wear out. If you keep them well, they can work perfect for years.
No matter whether you are a gamer or a typist or a general user, Topre Keyboards are the best for all.