If you are someone who is involved in blogging, video making, or even in online gaming, one of the worst issues you would have come across can be the Microphone picking your keyboard noise.
Have you ever wondered how to reduce keyboard noise on Mic? This specifically happens with the mechanical keyboards that are known to be a bit noisy. 
Let us first understand what makes Mic pick the keyboard noise and then find how to reduce keyboard noise when recording. 
So, how to reduce keyboard noise on Mic? The best way out would be to use a unidirectional or cardioid microphone. These mics pick noise from only one direction and thus can be positioned correctly to stop Mic from picking up keyboard noise. You can even keep something under the keyboard to absorb the sound and reduce keyboard noise on Mic.
---
How to Reduce Keyboard Noise on Mic When Recording?
---
This era belongs to mechanical keyboards because of the high-end durability offered by them. Shooting a video without the keyboard noises is perhaps quite a tough task in itself. Continuous clicking on the keyboard can make it a difficult task to shoot a video without any background noise. 
Here are a few great keyboard options that can prove to be effective in helping you stop Mic picking up keyboard noise. 
Use a Silent Mechanical Keyboard
There are several keyboard switches that have been known to be the quietest keyboard switches, and that should be one of the excellent options you would find fruitful in how to reduce keyboard noise. They will provide you with access to a unique touch typing experience. 
Opting for the black, brown, red, and green switches from Cherry MX or other similar mechanical key switches can prove to be quite effective and in achieving the best standards of in the quietest keyboards. While they may not provide you with a completely noise-free operation, but it can reduce the sound to a considerable extent. 
Alter Your Mechanical Keyboard
If you have already bought a mechanical keyboard and find it producing a lot of noise, replacing it may not be a wise idea. You can employ a few Do It Yourself options to help avoid the Mic picking up keyboard noise. 
One of the best options you can make use of to reduce the keyboard noise is to use small silicone rings or O rings specifically designed for the keyboards.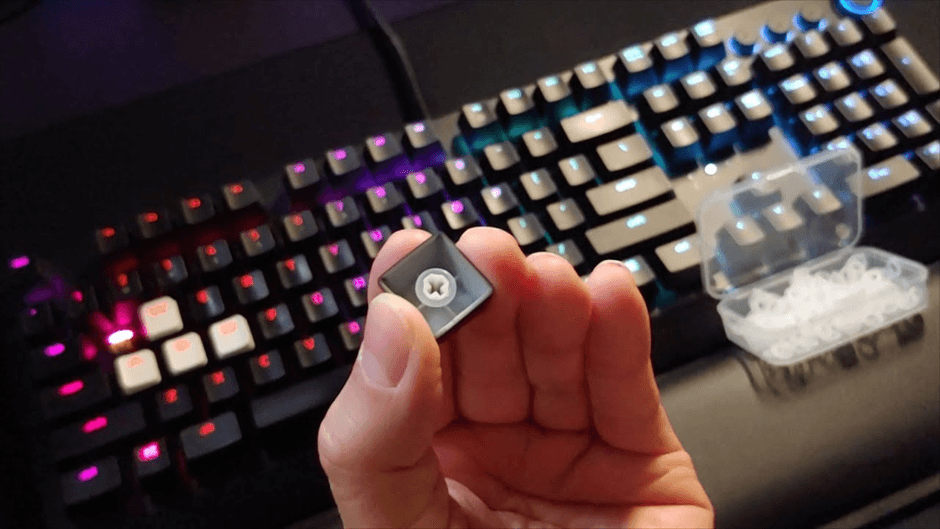 They will help you dampen the hitting of the stem of the key. This can be helpful in avoiding the unwanted noise. Installing the O rings is a completely manual process and will involve removing the keycaps. You can either remove the keycaps without tools or may use the tools if you have ones. Most of the keyboards are supplied with Keycap pullers which should be an added advantage. 
Proper positioning of the Microphone
The placement of Microphone does play an important role in reducing the background noise of the keyboard. Choosing the right Microphone can help you reduce the keyboard noise picked by your Microphone. 
The directionality of the Microphone you choose has a great bearing on how it picks the noise around it. The directionality of a microphone refers to the angles and directions from which the Microphone can pick the audio. If you have a unidirectional mic, positioning away from the keyboard and placing it towards you can help you in how to reduce keyboard noise on the mic when recording. Some microphones even come with the ability to adjust the directionality to suit your individual preferences. 
Yet another good option to reduce keyboard noise would be to use headphones and earphones. While they have been known to reduce Mic picking up keyboard noise, they are also known to be vulnerable susceptible to more noise. 
---
Use Software to Reduce Microphone Noise on Mic When Recording
---
Using a few software solutions to adjust the microphone gain can be helpful in letting you get a respite from the Mic picking up keyboard noise. There are specific steps based on the software you may be using. 
Windows 10
Follow the steps here below to change system sound levels: 
On the Start menu, search for

Change system sounds

Pick the right search result 

On the Sound dialog box, choose the Recording tab and then pick your Microphone 

Right-click on it and click on Properties.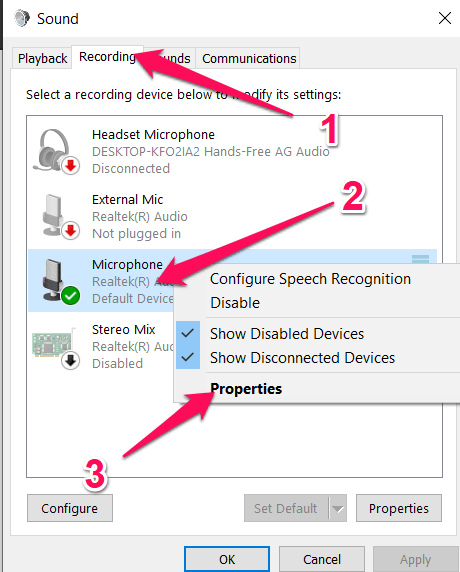 Pick the Levels tab and adjust the slider to the left to adjust the sound levels of your Microphone. 

Click OK when done.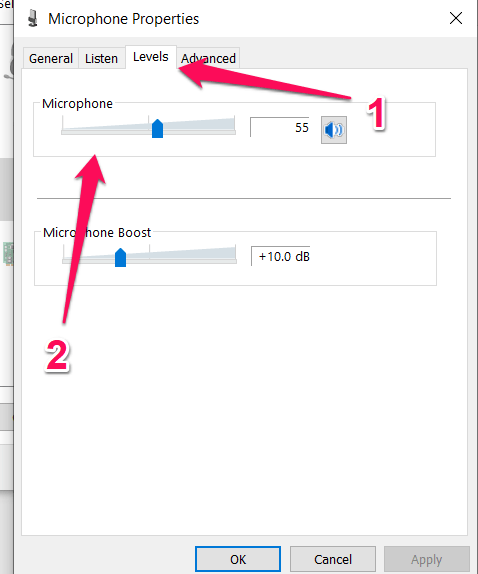 You can check the setting by talking while you type on your keyboard. Adjust the slider further until you do not hear the keyboard sound. 
Discord 
Gamers generally make use of the dedicated communication tool for the gamers – Discord. The software provides you with an easier option to reduce or adjust the microphone sensitivity. 
Here is how you can configure microphone sensitivity on your Discord settings:
Launch Discord and login to your account. 

Locate the gear icon at the lower-left corner just beside your name and click on it.

Under

App Settings

on the left pane, choose

Voice and Video

Change the slider for the

Input Sensitivity

.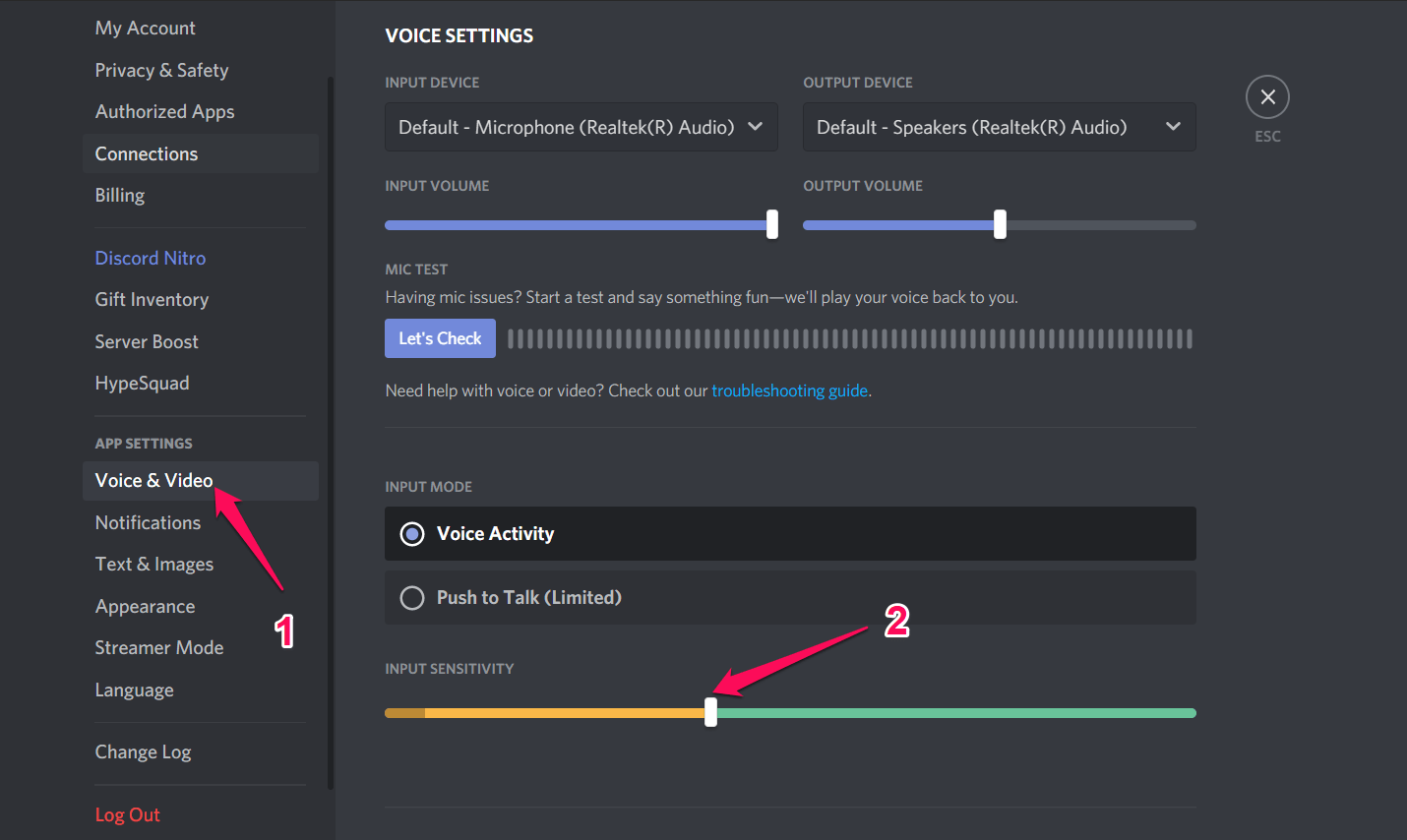 That does it. You can check the functionality and then adjust it further if needed. Alter the input sensitivity until you do not hear the keyboard sound. 
---
Get a New Quiet  Keyboard
---
If everything else fails and you cannot get the issue resolved, the only way left to you would be to buy a new silent keyboard. In fact, mechanical keyboards have been known to be the best when it comes to a smoother and convenient typing experience and several advantages, but they bring with them unwanted keyboard clicks and sounds. 
While the clicky feeling is something that the gamers would love, but, the same bumpy and tactile feedback creates havoc when recording. However, thankfully enough, not all mechanical keyboards are the same. The switches used in a mechanical keyboard are designed as per user preferences and come in a variety of options such as linear, tactile, and clicky.  You can pick the right switch for your keyboard based on your personal needs. 
If you are opting for a keyboard with Cherry MX switches, using the one with Cherry MX Red can be a great option. Changing over to a new quiet keyboard can prove to be a good option. You can check out our article on the best quietest keyboards to find the one that best meets your preferences. Specific Cherry MX and Topre switches have been known to offer you a high degree of functionality in this context. 
You may also check out our other article on the best Topre keyboards if you are interested in Topre keyboards. 
If you do not want to change your keyboard, you may also consider changing your keyboard switches. The hot-swappable keyboards have been a trend these days and can prove to be extremely useful. 
The Bottom Line
If you are a gamer or blogger and using a mechanical switch, it may be inevitable to experience a little sound. This can be much annoying when recording a tutorial video or a game tutorial. The tips shared above should ideally help you get access to enough information on how to reduce keyboard noise on Mic when recording.