Do you own a Microsoft Surface Pro? In that case, you witnessed the expensive-looking material that Microsoft uses on those products. Everything on your surface device including the Surface Laptop, the Signature Type Cover, and the Surface Ergonomic Keyboard comes with Alcantara. 
What is Alcantara?
As per Wikipedia, Alcantara is the brand name of a common synthetic textile material. It has a soft, suede-like microfiber pile and is noted for its durability.  Alcantara is used in the design, fashion, consumer electronics and marine industries, and much more. Microsoft Surface Laptop has made use of it in plenty while designing the device.
---
How to Clean Surface Pro keyboard?
---
There is no special care you need to employ for cleaning the Surface Pro keyboard to keep it working at its best. You can simply wipe it off with a lint-free cloth that is dampened in mild soap water. Make sure that you are not applying any liquids directly to the keyboard or any other part of your Microsoft Surface Pro.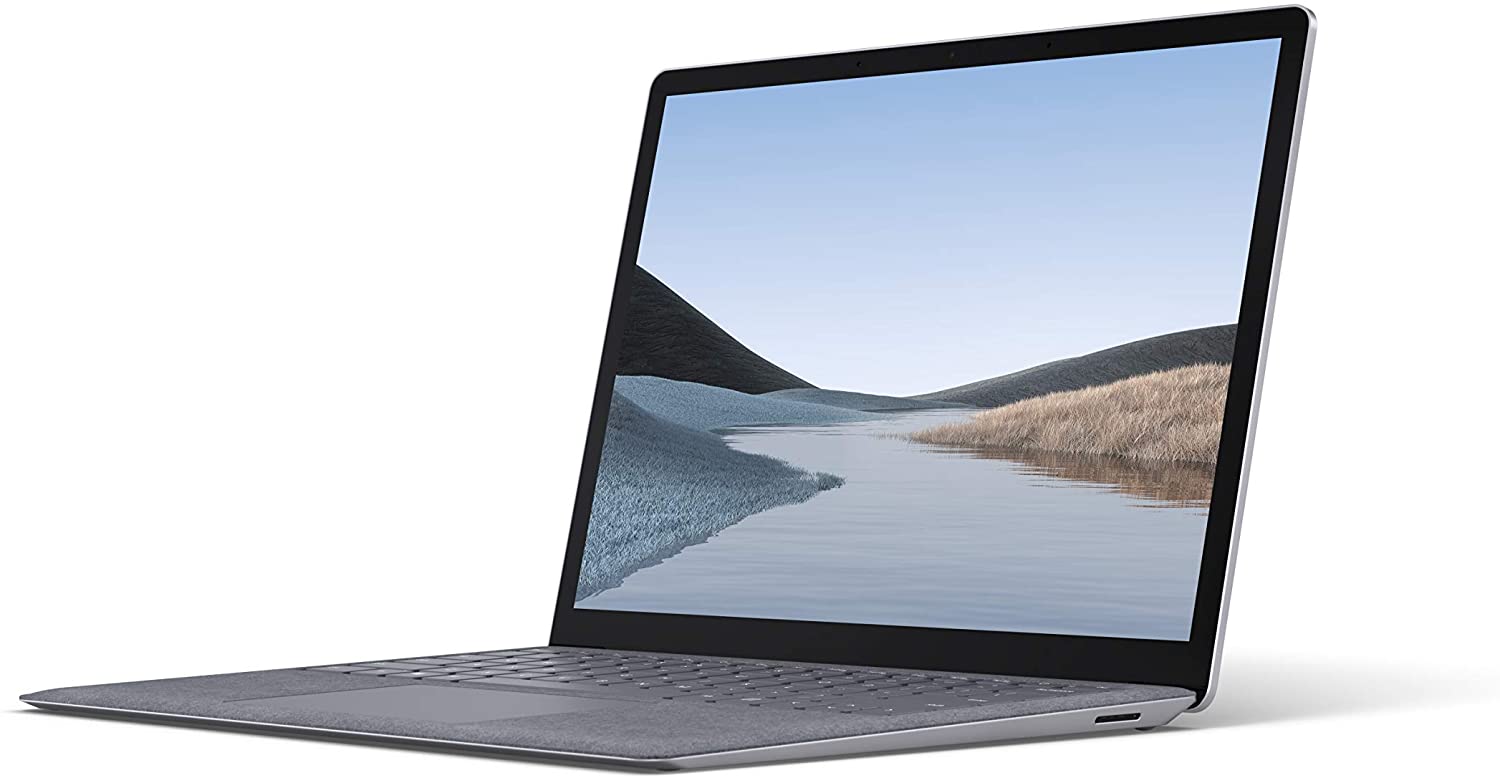 ---
How to Clean Surface Pro Keyboard?
---
Microsoft recommends that if you want to keep your Surface device working in an efficient manner, you are expected to keep cleaning the touchscreen and keyboard quite frequently. You are also expected to keep your Surface device covered whenever it is not under use. 
General Cleaning Instructions
Several things can affect the performance of your Surface Pro device. Some of the culprits that can damage your device and make it stop working on the expected lines can include external agents such as scratches, finger grease, dust, chemicals, and ultraviolet light. 
If you own a Microsoft Surface Pro, it is advisable to keep both the Touch Cover and Type Cover cleaner enough. This can help you improve the performance of your computer to a better extent. 
A few of the general cleaning instructions on how to clean Surface Pro keyboard would include:
Clean it quite frequently:

Simply wipe the surfaces with the lint-free cloth that has been soaked in soap water. You are expected to clean it with mild cleaners just in case the soap water does not work. 

Never keep it under direct sunlight:

 Avoid placing your Microsoft Surface Pro in a place that is prone to heat or direct sunlight. 

Keep it covered:

 If you are not using the device for a longer period, it is advisable to keep them covered. Under ideal conditions, you should never keep it uncovered when not in use.
Keyboard and Type Cover care
As per the information provided by Microsoft, there is not much you need to do if you want to take care of the Touch Cover or Type Cover. You can simply clean the Surface Pro keyboard with a lint-free cloth that has dampened in mild soap water. That is the only way Microsoft recommends if you are trying to find how to clean the Surface Pro keyboard.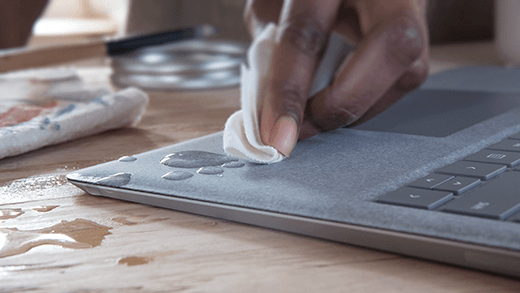 You should not apply any liquid directly to your Surface device. Simply clean your Touch Cover and Type Cover following these methods to keep it working in the best manner. If you find the magnetic connections have got dirty, you can apply a little isopropyl alcohol to a lint-free cloth and use it to clean up your connections. 
The best way to clean the Alcantara keyboard on your Microsoft Surface Pro has been recommended on the following lines: 
Pour a little warm water in a bowl. 

Add a little mild liquid soap to the water. 

Dampen a lint-free cloth into the mixture.

Rinse the cloth and use it to wipe the keyboard and type cover with the cloth.
The keyboard does not get cleaned up in one go. You can continue repeating the process until the keyboard is cleaned up until it is quite clean. 
If you find the stains remain even after a few runs with the cloth, you may need to apply and make use of the best available Alcantara cleaner. This should ideally help you get rid of the blemishes and issues. 
---
How to Clean Specific Stains on Alcantara?
---
 According to the official Alcantara website, there are a few specific cleaning instructions you need to follow. The table here should provide you with a better understanding of the best cleaning options- 
Stains from the Materials 
How to clean it up

Vinegar, Hair gel, coffee, sauce

Rub with lemon juice and wipe with warm water

Rinse with clean water 

Pencil marks, cocoa, chocolate, ice cream or mustard 

Use lukewarm water 

Rinse with clean water 

Fruit juice, jam, jelly, ketchup, syrup 

Lukewarm water wipe

Rinse with clean water 

Blood, urine, egg, excrement

Use cold water to wipe

Avoid warm water as it can strengthen the stains

Rinse with clean water

Liquors, alcohol, wine, beer, tea

Use lukewarm to wipe the stains

If the colour still remains use lemon juice and then rinse it with clean water
When cleaning the Microsoft Surface Pro, you are expected to use a lint-free cloth. It may be a wiser option to opt for specifically designed lint-free cloth. You can find a few good options for the best lint-free cloth from MIMAATEX.
Conclusion
Cleaning a laptop keyboard in itself is a tough task. And then you have that specifically created fabric on Microsoft Surface Pro devices. That makes it quite a task in itself to clean the Surface Pro keyboard. Unlike the cleaning options on Razer Keyboard or even how to clean other types of keyboards, cleaning a Surface Pro keyboard is quite a tough task. 
We assume the steps and tips shared here should help you understand the best options to clean your Surface pro keyboard.