If you are a transcriptionist, a keyboard is a key element for your needs. A transcription needs you to be accurate, precise, careful attention, and a very high degree of productivity. A low standard keyboard may not be something you would find comfortable one to go in such circumstances. With that knowledge, let us check out a few options for the best keyboard for transcription. 
What are the Best Keyboards for Transcription?
---
What is Transcription?
---
The concept of transcription involves converting audio and video conversations into a text format. In essence, a transcriptionist listens to live or recorded files and types them in the form of text format such as a Microsoft Word document. 
A transcriptionist would be needed in the cases where a meeting or conference or even a seminar is being held. The transcriptionists have been found to be quite active in areas such as legal offices, medical fields, and other related transcription industries. If you are a transcriptionist, you would either be working remotely or choose to work in a regular office environment where you would be working during regular business hours. 
---
What Kind of Keyboards Do You Need For a Transcription?
---
From what you have understood about transcription, it should be evident that the most important component in a transcription service is the keyboard. The transcriptionists need to handle a lot of typing work, and the keyboard that they have chosen plays a major role in how efficient they are. 
The typing speed is an important factor in a successful career as a transcriptionist, and the right type of keyboard will definitely have a huge saying in the precision and accuracy that a transcriptionist would produce. A good keyboard will decide the success rate and accuracy along with your typing speed. 
Transcriptionists would ideally use a mechanical keyboard. Mechanical keyboards offer you with several advantages such as a high ergonomic levels, The keyboards come with a capable switch for each of the keys and thus offer an easy to follow typing efficiency. They are both durable and highly efficient and can take plenty of typing work without giving away. 
---
Best 7 keyboards for Transcription
---
There are a huge number of keyboards available in the market that claim themselves to be the best keyboards for transcription. Designed to last longer than the membrane keyboards, the mechanical keyboards have proved their efficiency time and again. 
Here are a few good keyboards for transcription you can try out. 
Das Keyboard 4 Professional Mechanical Keyboard
The acoustic experience, along with the best tactile typing feel, should be a couple of features that would make the Das Keyboard 4 Professional Mechanical Keyboard a great option for the best keyboard for transcription. A faster speed and an unmatched performance are a few features that should make it a great choice for transcription. 

Features Das Keyboard 4
The keyboard makes use of the Cherry MX switches. You can be assured of a perfect tactile and audio feedback 

You can pick between Cherry MX Blue and Brown switch options. 

Ergonomic design that prevents strains and fatigue

It comes with a double-port USB 3.0 super-speed hub that ensures a transfer speed of up to 5 Gb per sec. 

Larger volume knob to help you adjust the volume. 
Pros
Lightweight and convenient design.

Durable design.

Interference-free functionality. 

A premium feel and increased typing speed.
Cons
The size is a bit longer.

Loud clicking noise. 
Corsair K95 RGB Platinum Mechanical Gaming Keyboard
If you have been using Corsair keyboards, you would have understood the efficacy offered by the Corsair mechanical keyboards. The Corsair K95 RGB Platinum Mechanical Gaming Keyboard definitely lives up to the expectations in the best ergonomic keyboard for transcription. The keyboard does come with the Cherry MX RGB mechanical switches. The storage and feel are a few of the best options you would find impressive.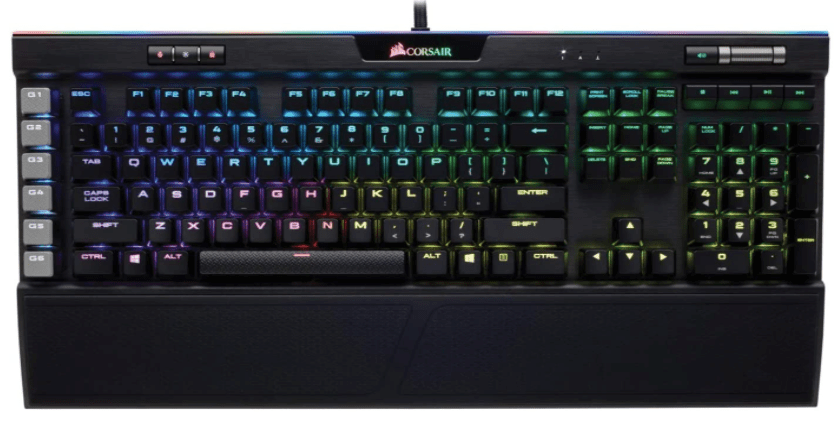 Features Corsair K95
You have six dedicated macro keys that help you program the custom Macro functionality 

Ultra-fast actuation offered by Cherry MX RGB Speed switches 

Aircraft grade anodized brushed aluminum frame that enhances the durability 

Dynamic backlighting with the light edge. 

Lightweight construction 
Pros
Media and shortcut keys that prove to be handy enough.

8 MB profile storage.

Reversible wrist rest.

Smoother and responsive keys. 
Cons
Expensive price tag.

No audio jack available.
Logitech G513 RGB Backlit Mechanical Gaming Keyboard
The high performance RGB keyboard provides you access to a full spectrum of color lighting. You can customize the color to suit your liking. Equipped with the advanced Romer G keyboard switches, the Logitech G513 RGB Backlit Mechanical Gaming Keyboard offers you a faster responsiveness that makes it one of the best options for the best keyboard for medical transcription.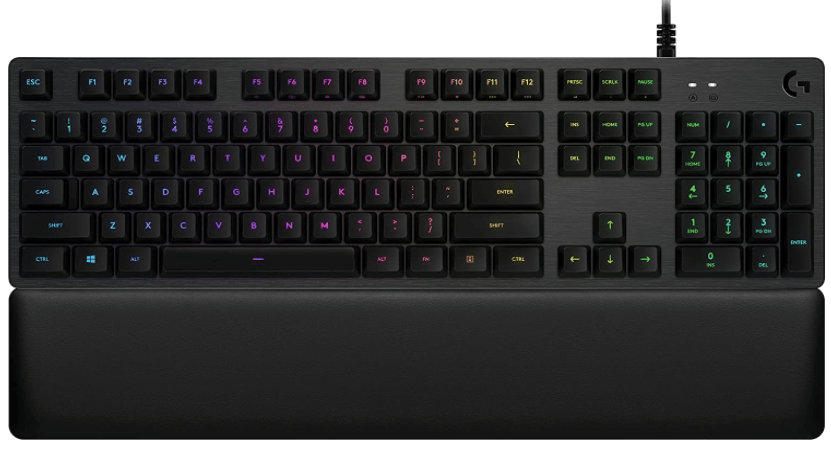 Features Logitech G513 
A super-fast 1 ms report rate

The keyboard assures you a smoother keystroke option. 

Get a full spectrum of 16.8 brilliant colors. You can customize it to meet your individual needs. 

The light and sound performance have been designed to provide you with a game centric experience. 

You have three choices for the switches – Romer-G Tactile for direct feedback, Romer-G Linear for smooth keystrokes, or GX Blue for clicky feedback.
Pros
Included palm rest that comes with a  padded construction.

Logitech gaming software. 

You have the options of picking any of the key switches based on your typing habits.

Per key RGB lighting experience. 
Cons
No Macro functions.

You will need to have two USB ports.
 Rosewill Mechanical Gaming Keyboard
The keyboard is equipped with the Cherry MX Brown key switches and can be a great solution for the best keyboard for transcription. You can expect a high degree of precise and faster response. The tactile feedback offered by the keyboard is indeed one of the best you would come across among the contemporary keyboards. 

Features Rosewill Mechanical Gaming Keyboard
A 100 percent Cherry MX Brown key switches 

An exceptional build quality 

The N key rollover functionality 

UB and PS2 connectivity options. 

Gold cross point contacts. 
Pros
You can buy them in several key switch options that include Cherry MX Blue, Black, Brown, and Red

Media shortcut keys 

An excellent build quality 

Exceptionally responsive. 
 Logitech K840 Mechanical Keyboard
When it comes to keyboards and other computer peripherals, Logitech has been one of the prime options to reckon with. You can indeed trust the legacy of the brand, and the keyboard lives up to the expectations. With the lasting Aluminium build, you can be for the best typing experience ever. 

Features Logitech K840
Exclusive Romer G key switches provide you with a high-end, reliable functionality 

An expertly crafted build quality and performance 

Easy access shortcuts

Anodised aluminium build quality 
Pros
An extremely ergonomic design

A user-friendly look and usability 

Faster typing speed 
Cons
Keys appear a little wobbly.
 Filco Majestouch-2
An extreme assembly and a perfect design that lasts a lifetime are a couple of features that make it one of the prominent choices ever. The wear and tear free keys and a strong build have been a couple of features we found really an enhanced option ever. You can be assured that the keyboard will provide you a very durable design. It can double up as an excellent keyboard for medical transcription or any other type of transcription.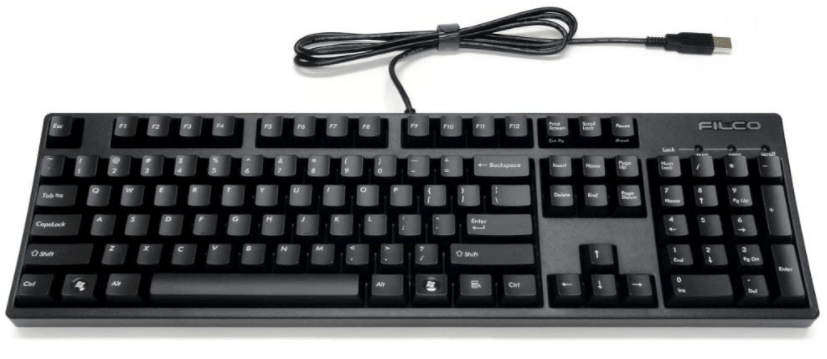 Features Filco Majestouch-2
A smaller footprint provides a faster typing speed. 

N key rollover feature lets you register multiple keys at once 

A rigid and strong build 

Keys are designed to provide a quieter performance
Pros
Condensed keys design 

A great tactile feedback 

Faster response time 

The flexibility of switches is best meant for transcriptions 
Cons
A heavier design.

The key print is observed to fade over time.
Happy Hacking Keyboard Professional Keyboard
One of the popular Topre switch keyboards, the Happy Hacking Keyboard Professional keyboard, is indeed the best keyboard for transcription. The Topre switches provide you one of the best standards in terms of precision and efficiency. The compact and near symmetrical design of the keyboard provides you access to an easy handling.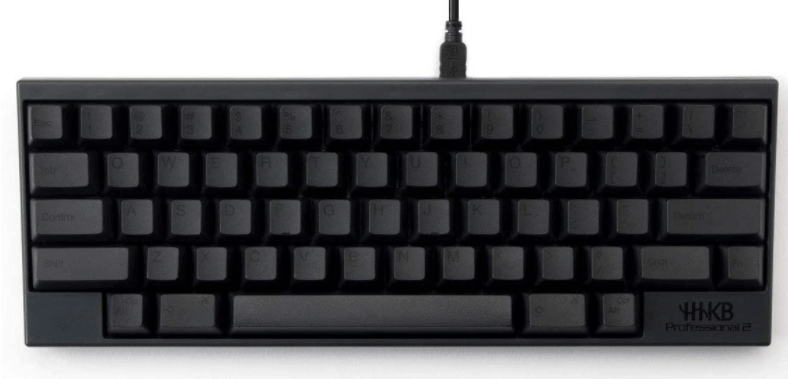 Features Happy Hacking Keyboard Professional Keyboard
Takes care of the issues such as fatigue, pain, and symptoms like carpal tunnel 

Ergonomic design that reduces the strain when typing. 

Several key combinations that enhance typing speed and efficiency. 

Silent keystroke options
Pros
Highly durable design. 

Extremely portable and easy to handle.

Extremely user-friendly design.

Faster response and great performance.
Cons
Expensive price tag.

The layout differs from standard keyboards.
---
Factors to Consider While Choosing Keyboard for Transcription – Transcription Keyboard Buying guide
---
 Transcriptionists spend a lot of time in typing, and you need to take enough care to pick the best keyboard for transcription. Some of the factors you should focus on can include a few of the following. 
Keys and keystrokes:

Since the keyboard for transcription needs you to type for longer periods of time, the keys and keystrokes should be quite comfortable. The right keystrokes will enhance your productivity. A keyboard with soft keys would be a good choice for the best keyboard for transcription. This will help you avoid fatigue and strain on your hands. 

Compatibility with your devices:

Make sure that the keyboard you choose is compatible with your devices. As a transcriptionist, you are likely to work with multiple devices. Make sure that the keyboard you choose is compatible with almost all the devices that you regularly use. 

Usage of your keyboard:

Determine the usage pattern of your keyboard. Now that you are picking a keyboard specifically for transcription, it is important to pick the one that supports the right posture and compatibility. The sensitive keys, ergonomic design, and a convenient typing are a couple of features that may prove to be effective.
Best Keyboards for Transcription FAQs
Should you choose a mechanical keyboard for transcription? 
Typing can cause a huge wear and tear. That is exactly why we recommend opting for mechanical keyboards with ergonomic construction. These keyboards provide you a faster typing experience. 
What is the good typing speed recommended for transcription? 
The best typing speed for transcription is ideally 70 words per minute. A great typing speed is one of the major prerequisites for the successful transcription. A good consensual figure for the best typing speed should be around 65 to 70 words per minute.
Conclusion
Transcription is a huge skill in itself. It would help if you were extra careful in picking the right keyboard that can help you achieve the best results. Since faster and accurate typing is the key to be a successful transcriptionist, it would be ideal enough to go for a keyboard that ideally meets your needs. 
The keyboards featured here are best designed for an enhanced experience in transcription requirements. Almost all of them provide you access to a fair degree of accuracy, precision, and a faster typing speed. The ergonomic ease of use is yet another feature that actually makes it one of the prime choices for almost all your needs in an enhanced experience ever.