Have you noticed that the Pro gamers generally tilt their keyboard when playing their games? You may have wondered why they tilt the keyboard when playing so intently. We will try to understand the exact reason why do Pro players turn their keyboards when playing. 
Why Do Pro Gamers Tilt Their Keyboards? The prime reason for this is to provide more space for their mouse and other gaming accessories. This is helpful in making it comfortable for the gamers to lower the sensitivity and help in making a faster movement. This can also be useful in achieving a better standard in improving the accuracy in an FPS-based game.
---
Why Should You Tilt Your Keyboard When Gaming?
---
Maybe you do not do it quite often but might have noticed that the Pro gamers tilt their keyboard. There are several reasons as to why do Pro players turn their keyboard. While the primary reason is to get more space on their gaming desk, you would also find a few other reasons as well.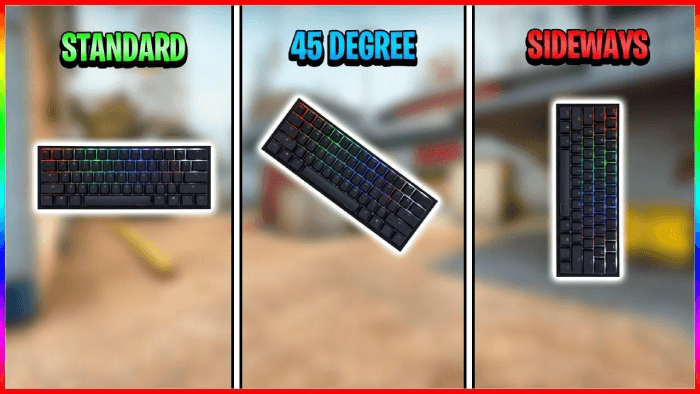 The Space 
By space, we refer to the amount of space available for the gamers on their desk. You may have noticed that the gamers do not tilt the keyboards when they are not at any tournament. You will seldom find them tilting the keyboards when playing the game at their forever homes. 
Based on the peripherals you may be using, you will find your desk extremely cluttered at times. In fact, the monitors and keyboards tend to take a considerably more space on your desk. The monitors with the smaller base can prove to be quite challenging. If you are in a competitive gaming, maneuvering the mouse can be quite important and essential. That is exactly why tilting the keyboard may become necessary. 
Size 
The keyboard and its size itself may be a concern you would want to take an extreme care about. If the size of the keyboard is too much larger, the Pro gamers make sure that they save enough space by tilting the keyboard. 
A few of the keyboards, especially those specifically designed for gaming can be quite larger. In such situations, it should be a good option to tilt the keyboard when playing. If you cannot tilt it, you may move it to some other place such as your lap or elsewhere.
Comfort levels 
The comfort levels should ideally be yet another prime factor you would want to focus on when playing a game with your keyboard. The comfortability can have a lot to do with the gaming chair you may be using and the height of the desk that you are playing at. The peripherals you are using can also have a lot to do with the comfort levels you would be able to achieve. 
The keyboard is one of the larger-sized external devices and that can be one of the reasons why do Pro Gamers tilt their keyboards. What makes it comfortable to tilt the keyboard when gaming can have different reasons for it. The factors can be different for the different users. Playing with a tilted keyboard can be ergonomically easier and comfortable when playing for longer hours and continuous sessions. 
---
Why Do Pros Get Their Keyboards Sideways?
---
The discussion and reasons indicated above apart, there are a few other reasons as to why the Professional gamers change the orientation of the keyboard to sideways or tilt the keyboard to one side. 
 A couple of other reasons you may find interesting can also include – apart from space constraints, comfort levels, and size of the keyboard – the keys and their orientation and also ease of accessing a few buttons specifically needed for the game. 
Keys 
The keys and their orientation in themselves can be one of the prime reasons why Pros gamers tilt their keyboards while gaming. The keys, their placement, and the need to access a few specific buttons can be a few of the reasons you would want to tilt the keyboard. 
If you are into more complex games, you are expected to use a tons of features ad if you are using a gaming keyboard specifically designed for the purpose – titling the keyboard gives you much room to handling those specific keys more comfortably. Some games can benefit from an extensive button mapping which can be useful in achieving more powerful performances. The regular orientation of the keyboard can make the gamer struggling with the task of reaching one key from another. Tilting the keyboard in those situations can effectively prove to be one of the excellent choices in the long run. 
A slighter angle can be helpful in letting you achieve the powerful options in helping the gamers reach out to more keys more comfortably. A good example here can be the use of WASD keys and the QWER keys. As e are aware, most of the gamers prefer the WASD keys and they have been considered to be the most widely used keys on any keyboard. Some users specifically use the QWER keys for a few specific movements and functions. Having a tilted keyboard can help you achieve the better results in accessing those specific keys more comfortably. 
We have covered this factor already in the above section. Like we stated already, accessing the QWER keys can be rather simple and easier when you have tilted the keyboard. You will be able to achieve a better understanding of the keys on your keyboard and then be able to access them easier when your keyboard is slightly tilted. 
You can ascertain it yourself. Try accessing a  few keys on your keyboard. We would advise trying the QWER keys themselves to bring home the point more comfortably. Now, tilt the keyboard slightly and see how much more part of the keyboard does your hand cover with the same position. 
---
Do Pro Gamers Always Tilt Their Keyboard?
---
Pro Gamers tilt their keyboard as that makes it more comfortable in handling the keyboard. This can provide them more room in reaching out to the keys and getting a more natural position for their hand. Since the eSports desks do not have much space, players generally do not have enough space and thus tilting the keyboard helps them in those cases.
But, Pro gamers do not necessarily tilt their keyboards always and in every game. If you think that the Pro gamers tilt their keyboards in every game, you may be mistaken. They do tilt their keyboards only during the events and not during the games that they play your games.
When a Pro Gamer is at home practicing, they generally do not tilt their keyboards. They would need to tilt the keyboard only when there is no enough space on the gaming desk and they need to handle the keyboard in a more comfortable manner. 
Moreover, the game you are playing can also have a bearing on whether you will need to tilt the keyboard. Not every game is the same and some games may not need you to tilt the keyboard, and some may not need any such requirements. 
---
What Keyboard Do Pro Gamers Use?
---
Well, there can be several options that a Pro Gamer would prefer and the keyboard that they use may have a bearing on the type of game that they are about to play. 
Most of Pro gamers generally invest in mechanical keyboards. A few of the prime keyboards used by the Pro Gamers can include.
Razer BlackWidow TE Chroma v2
The TenKeyLess keyboard can prove to be one of the excellent keyboards used by Pro Gamers. The small-sized wonder as it may be considered, it has been a great option for most of your expectations. 
A few features offered by the keyboard can include: 
Options for both full size and Tenkeyless design

Razer Green, Orange, or Yellow switches

The 10 key rollover functionality 

Full RGB backlight features
SteelSeries Apex Pro Mechanical Gaming Keyboard
The keyboard does provide you access to a great degree of performance with a high degree of customization. It also offers you an OLED smart display.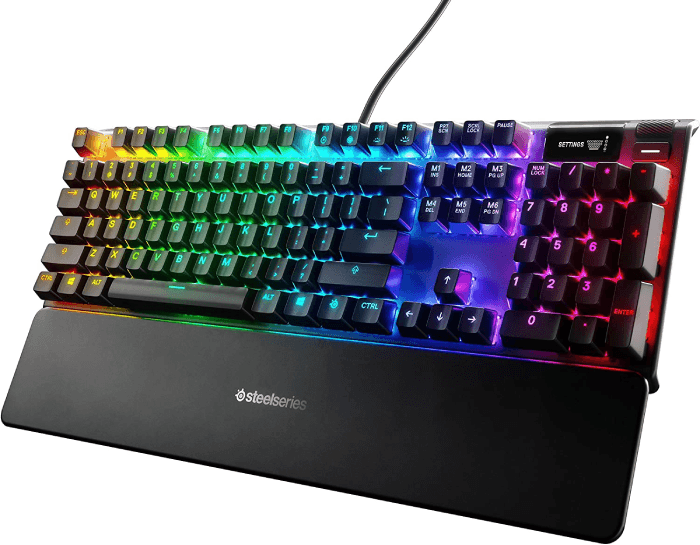 Some of the features offered by the keyboard can be summed up as:
Pick between the full size or TKL keyboard 

OmniPoint switches that provide an outstanding performance 

N key rollover functionality 

Aircraft grade aluminum alloy built
HAVIT Backlit Wired Gaming Keyboard
The low-profile, high-performance keyboard can be one of the excellent choices for almost all your requirements. It does provide you with an enhanced gaming performance.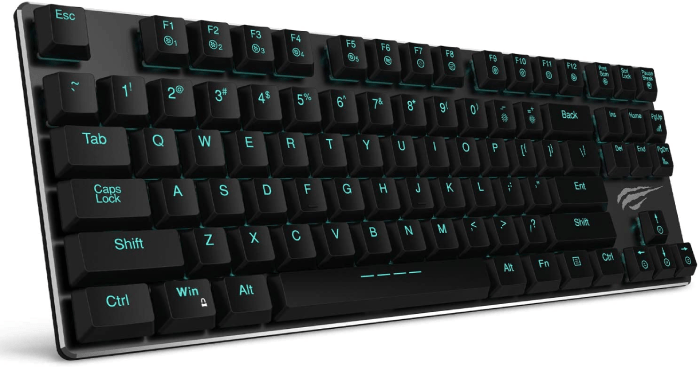 Some salient features offered by the keyboard can include: 
Fully programmable keys 

An enhanced backlighted keyboard

A thinner and sleeker design 

Kailh Low profile Blue switches.
---
Should I Tilt My Keyboard?
---
It would be dependent on the size of your gaming desk and how much space do you need for working with your keyboard. If you have a smaller gaming desk, and looking ahead to increase the space on your desk for handling the mouse and other accessories, you may need to tilt the keyboard. 
It may be possible that you will take a little time to get used to the new arrangement of the keyboard. You may not be able to begin playing better right away, but you will need a little time to get used to the increased space. 
If you find a few of the keys that you want for your game are not accessible easily, it may perhaps be a great idea to tilt the keyboard a little and find if that would assist you in achieving the best results. Remember that every game will not need tilting, and you may prefer playing a few games in the normal position. 
Is tilting better than the normal position? Tilting can be a great option in several cases and you will definitely find it to be a great option to tilt your keyboard slightly for improving your gaming performance to a considerable extent. However, whether you want to tilt your keyboard will be dependent on several factors. One of them is your gaming setup, and in this context, the monitor and the size of the desk will assume a lot of importance and essence. 
---
How Much Should You Tilt Your Keyboard When Gaming?
---
One of the prime reasons for tilting your keyboard would be to gain space for your mouse and other gaming accessories. It can also be due to the options for an increased mouse accuracy. More mouse space will translate into mouse accurate aim. This is exactly what helps you achieve the best results. 
The space you will gain with a tilt would be dependent on different factors. The table here should provide you a brief idea of how much space would you gain with different tilt positions: 
| | |
| --- | --- |
| Keyboard Tilt | Space Saved |
| 45 degrees | 1 in (25.4 mm) |
| 60 degrees | 2 in (50.8 mm) |
| 75 degrees | 6 in (152.4 mm) |
| 90 degrees | 12 in (304.8 mm) |
---
Which Pro Gamers tilt their keyboard?
---
If you have been watching the Pro gamers playing at most of the Pro Gaming events, you might have witnessed them playing the game with a tilted keyboard. Most of the streamers are likely to tilt their keyboards, but when it comes to the Pro Gamers, you will find a lot of them tilting their keyboards at different angles. 
The degree of tilt used by the Pro Gamers will be dependent on the game in question. They may tilt the keyboard differently. A few of the gamers you would find tilting their keyboards would include Tfue, Shroud, Ninja, Buealo, and Myth to name a few. 
The Bottom Line
Professional gamers have been doing everything possible in enhancing the level of their game. Tilting the keyboard can be one of the prime methods that they make use of when playing their games. Titling the keyboard can provide you access to several advantages that include increased desk space, a better degree of accuracy, and extremely better comfortability.