Buying a Mac computer may be something you would find an extremely tough task. The accessories that go with the Mac device can prove to be quite difficult to find. One such accessor that you would want to focus on would be to check the keyboard for Mac devices. There are several keyboards that would go perfectly well with the Mac computer. We will check out the best options for the best ergonomic keyboards for Mac in 2021. 
---
Best Macintosh Ergonomic Keyboard 2021 – A Formidable list
---
Well, we will list out a few of the premium choices for the best Macintosh Ergonomic Keyboards in 2021 that you can go with. We will add only those keyboards that go well with respect to compatibility, build quality, the comfort of use, and the overall typing performance. 
Goldtouch GTU-0088 V2 Adjustable Ergonomic Keyboard for Mac
The Goldtouch GTU-0088 V2 Adjustable Ergonomic Keyboard for Mac does come with a few advanced features that make it quite reliable for a Mac computer. The unique ergonomic design that provides you access to 0-30° on the horizontal and vertical planes that can be a great way to work with straight wrists.  Simple plug and play design can be yet another prime option for providing you a huge compatibility with mac and Apple devices. 

The keyboard also boasts of a soft key touch functionality that can further enhance your experience for an efficient typing ever. The keyboard also fits well with almost all body types and hand positions alike. The Goldtouch GTU-0088 V2 Adjustable Ergonomic Keyboard for Mac is completely flexible The keyboard does provide you access to a far more powerful performance with protection against issues such as carpal tunnel syndrome. The keyboard is one of the excellent options for addressing the neutral posture when typing. 
Pros
It can be a great option for your needs in taking care of repetitive motion injuries 

A hassle free compatibility with Mac OS. 

The keyboard is quite comfortable for every type of user. 

The extra keys are a thoughtful addition 
Cons
A few keys may be missing. 
Logitech Ergo K860 Wireless Ergonomic Keyboard
The Logitech Ergo K860 Wireless Ergonomic Keyboard is one of the thoughtful inclusions for Mac computers. In fact, it has been rated to be the prime option for a Macintosh ergonomic keyboard by a huge range of factors. You will be impressed with the quality and an outstanding craftsmanship. The sloping keyboard design can be yet another premium feature you would find rather impressive in reducing the strain on your wrists and forearms. 

The keyboard also offers you a pillowed wrist rest which provides extreme support and thus prevents the unnecessary bending. The wireless keyboard can be used with your Mac either with the USB receiver or over Bluetooth. The keys are designed for offering you comfort, precision, and fluidity. We indeed loved the curved design that is both aesthetic and ergonomic. 
Pros
Supports a natural typing efficiency

The keyboard provides you access to a better posture which further enhances the comfort level. 

The best split keyboard functioning 

Full compatibility with Mac OS
Kinesis Freestyle2 Ergonomic Keyboard for Mac
The Kinesis Freestyle2 Ergonomic Keyboard for Mac is indeed one of the great ergonomics keyboards for Mac. The lack of a steep learning curve and the availability of eight Office keys on the keyboard should further can make it one of the exciting choices. The perfect labeling of the keys should further be one of the strongest factors in its favor. The split keyboard design provides you a very comfortable usage pattern. 

The keyboard comes with an ergonomic design that can assure you a natural hand, wrist, and forearm positions. Yet another factor we found extremely interesting was the cushioned palm support for long hours of typing without any sort of hassles. It has been one of the best ergonomic keyboard options for your mac device. The standard mac layout is a great means of improving your productivity further. 
Pros
Award winning split keyboard design

The key modules up to 9″

No software or drivers required for installation 
Cons
A little tactile key press 
iClever BK10 Bluetooth Keyboard for Mac
The iClever BK10 Bluetooth Keyboard for Mac is yet another excellent option for the wireless Macintosh ergonomic keyboard. Equipped with the Bluetooth 5.1 connectivity, the keyboard can work with multiple devices. The sleek and compact design makes it quite a good option for the best Macintosh ergonomic keyboard in 2021. The stylish design coupled with a stable connection can be what should make it a great option.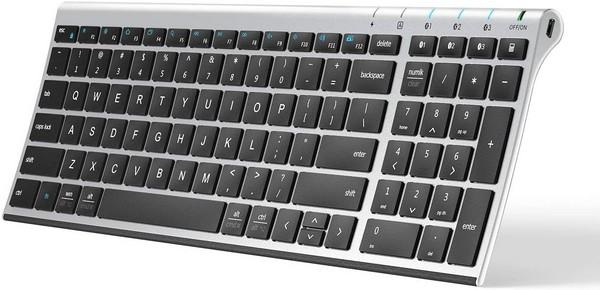 The keyboard comes with the optimum slope that can be helpful in preventing your wrist or fingers from paining. The stable Bluetooth connection can be seen as a great option in the long run providing you a consistent performance. The responsive keys are remarkably tactile in terms of efficiency. The touch typing capability is one of the best ergonomic keyboards for mac in  2021. 
Pros
Extremely touch-sensitive operation 

Powerful Bluetooth connectivity 

Stylish and modern looks

A great typing feel 
Cons
Arrow keys feel a little odd 
Microsoft Sculpt Ergonomic Keyboard for Business
The Microsoft sculpt ergonomic keyboard is yet another premium option for the best possible experience if you are looking for the right Ergonomics keyboards for Mac. A modern design and a comfortable performance can be the two factors that would make a perfect option you would want to go with. It also doubles up as the best split keyboard. You will also find the cushioned palm rest that further improves your experience. 

The keyboard has been designed over a few of the advanced ergonomic technologies. If you are expecting an all day work with a lot of typing, this Microsoft ergonomic keyboard can be one of the enhanced services ever. A few of the advanced features you would find great enough can include support for neutral wrist position, split keyset functionality, and a better positioning of forearms and wrists. The separate pad is yet another thoughtful addition. 
Pros
An ideal option for long hours at work 

A quiet keyboard 

Comfortable working 
Cons
The layout may need a little time to get used to 

Connection problems in certain cases. 
Adesso Tru-Form 150 3-Color Illuminated Ergonomic Keyboard AKB-150EB
The Adesso Tru-Form 150 3-Color Illuminated Ergonomic Keyboard AKB-150EB is one of the excellent options for the illuminated keyboards ever for most of your expectations. The eye soothing backlit keys can further improve the experience. A gentle slope and ergonomic split keys can further improve your experience in typing non-stop.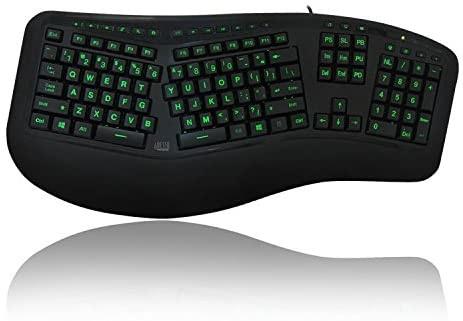 The keyboard also offers you access to multi-function hotkeys that can offer you a access to a complete control over email, media controls, internet browsers, and other related applications. The membrane keys do provide you access to a far better degree of quieter performance. The best turning point offered by the keyboard can be the ergonomic design. 
Pros
Three backlight options to choose from 

Larger Print keys 

Quieter performance 

Ergonomic design
---
The Prime factors to look for in the best Macintosh Ergonomic Keyboard in 2021 – The Comprehensive Buying Guide
---
As with any other product, it is extremely essential to give a serious thought to the best buying factors you need to check out when picking the best Ergonomics keyboards for Mac. Let us check out a few key parameters you are expected to take care of. 
Compatibility
Now that you have opted for a Mac keyboard, you should focus on the compatibility of the keyboard with your mac device. Most of the Apple buyers do not undertake any research before picking the best keyboard for their mac device. That is exactly why we have picked only those keyboards that are compatible with Mac computers. 
Connectivity
The connectivity options offered by the keyboard also assume a lot of importance in picking a keyboard. You would normally have two choices vi wired keyboards (with USB connectivity) and wireless (Bluetooth) connectivity. You do not need to worry about the tangles of wires when you opt for a wireless keyboard. However, wireless keyboards may introduce latency in certain cases. 
Convenience

 
The convenience and user experience can be a couple of other features you would want to focus on when picking the best Macintosh ergonomic keyboard in 2021. The simpler keyboard would definitely assume a lot of importance in achieving more positive results. 
---
Mechanical Keyboards vs Ergonomic Keyboards
---
When we are looking for the best keyboards that we can think of, the prime attention we would want to pay would be to ensure that we can relax when we are typing or working on a computer. 
The best part with the ergonomic keyboards is the layout offered by them. They can be used practically anywhere. In ft, they considerably reduce the chances of injuries to your palms, wrists, and any part of your hand. They may be expensive, but they do provide you an enhanced experience. 
The mechanical keyboard is what would provide you with the physical presence of the switchboard. They are designed to provide several advanced features. 
In fact, there is no practical sense in differentiating the mechanical keyboards from the Ergonomic keyboards. You can even find the ergonomic keyboards among the mechanical keyboards as well. The ergonomics is what would simplify the functionality so that you would be able to work efficiently with your keyboard. 
However, since mechanical keyboards have physical switches and thus need a little fore when using them. The membrane keyboards on the other hand can be akin to typing on a mushy surface and thus prove to be quite easy on typing continually.
The Bottom Line
That was a comprehensive list of the best ergonomic keyboards for Mac. Not that the list is exhaustive in any way. However, we have ensured that we have picked a few really exciting choices in this compilation. 
Finding comfort when typing is of utmost importance and that would assume even more essence when you are working on your computers for prolonged hours of time. We would definitely foresee the keyboards listed here should work best for your needs in picking the best product ever.