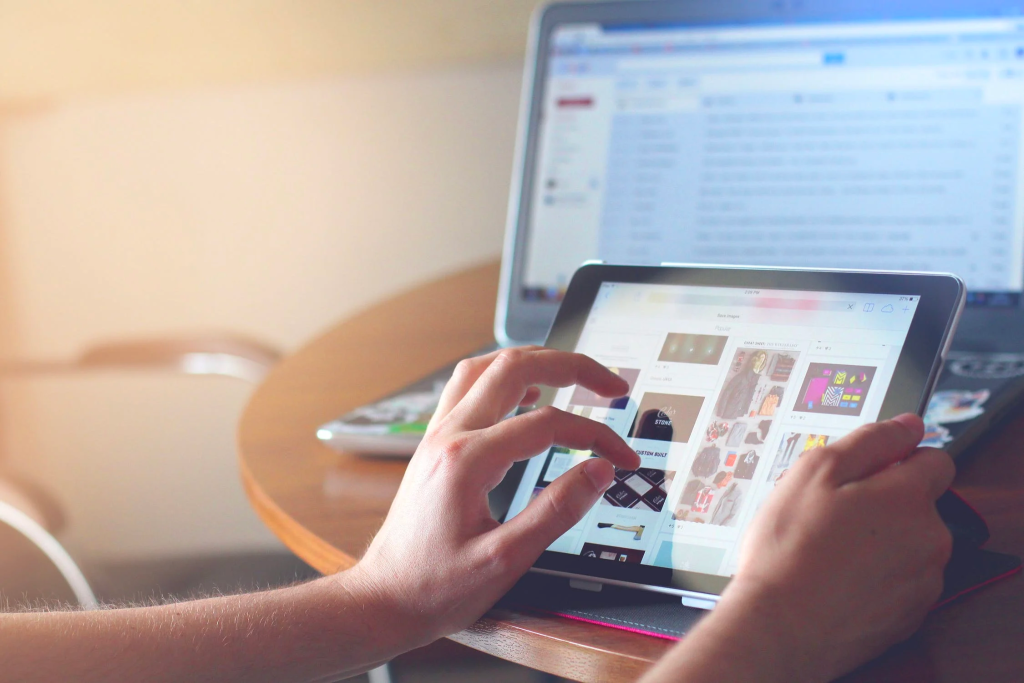 To attract the right website visitors and turn them into customers, you need to ensure that your eCommerce website is properly optimized. This is especially important at a time when running an online business is incredibly competitive!
In this article, we're going to outline how you can optimize your website to capture more leads, build trust with visitors, and more. Let's get started.
Use the best possible product photos (and optimize them)
It's very important that you use high-quality product photos on your eCommerce website. To start, you need to get a quality camera — although, today, the best camera phones can rival traditional cameras, so it's more than likely that the one on your smartphone will do.
Make sure that your objects are shown clearly and in good lighting. There are some simple tools that can help with this. For instance, tripods can help ensure that your camera is steady and keep your angle consistent across photos. Ring lights can produce a soft, direct light on a subject and reduce shadows, too. You should also ensure you're taking photos from multiple angles and show the scale of your items, if relevant. Plus, it can be worth showing how your products work in conjunction with other items you sell in order to encourage people to buy more from you.
High-quality product photos can help teach website visitors more about the items you sell and increase your conversion rate. Bad product photos that are blurry, low-quality, or taken in bad lighting, on the other hand, can turn people away completely.
Now, let's look at an example of a business with great product imagery as inspiration.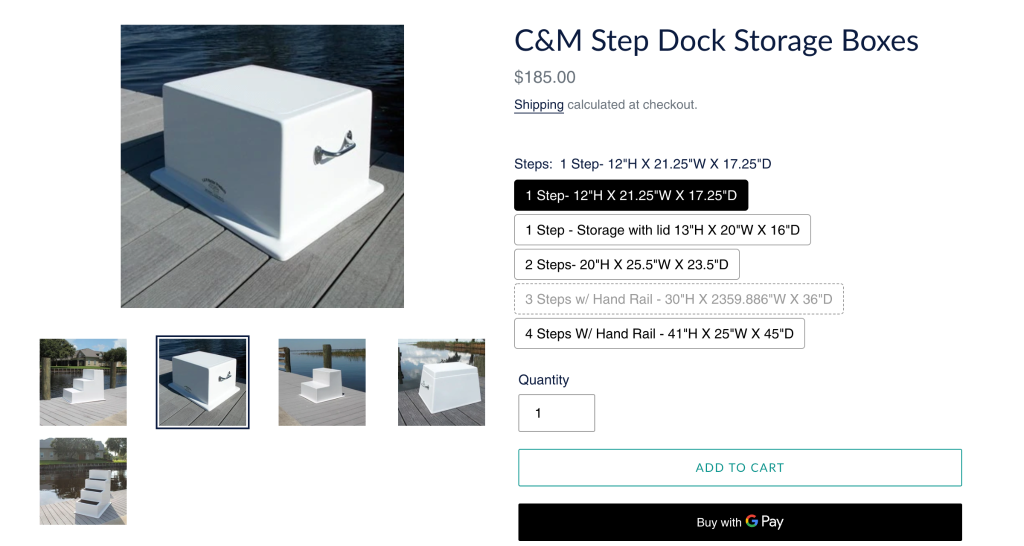 Haven Dock & Marine, a retailer of marina products for docks, has excellent product imagery on its website. For example, take a look at its C&M Step Dock Storage Boxes product page.
The company has provided a variety of images showing its products from multiple angles, all at different areas of a dock. This means viewers can see the scale of the item and get a better idea of how it would look in their own settings. This is sure to make it easier for people to decide what would look best on their own docks and still suit their needs, making it excellent product imagery.
Show your products from multiple angles so people can understand exactly what they're getting when they make a purchase. And, display them in their natural environments, as well, to ensure people know how they can use them or what they'll actually look like. This will help ensure that your product photos give your website visitors all of the information they need to make an informed purchase.
Allow positive customer reviews to vouch for your business
Customer reviews and testimonials can be incredibly helpful for earning new shoppers' trust and ensuring that they make informed purchasing decisions that suit their needs. So, be sure to use reviews and testimonials on your related product or service pages and on your homepage near the relevant item for sale.
To collect reviews and testimonials, you simply need to ask. Reach out to your past customers and see if they would be willing to leave a review for their purchase, perhaps in exchange for a small discount as incentivization.
The kind of reviews you decide to use will depend on your preferences and business needs. If you sell a lot of products in a category, star reviews can allow people to quickly scan your most well-received offerings. If your products require a bit more context to understand the benefits, written reviews are great for offering more context.
Or, reach out to clients and ask if they would be willing to attend a video interview with you about their experience of working with your business. Video testimonials created in this way can add a lot of credibility to your website because they show a real person behind the review and offer more context.
Let's look at a few businesses that do a great job of incorporating product reviews into their websites as inspiration.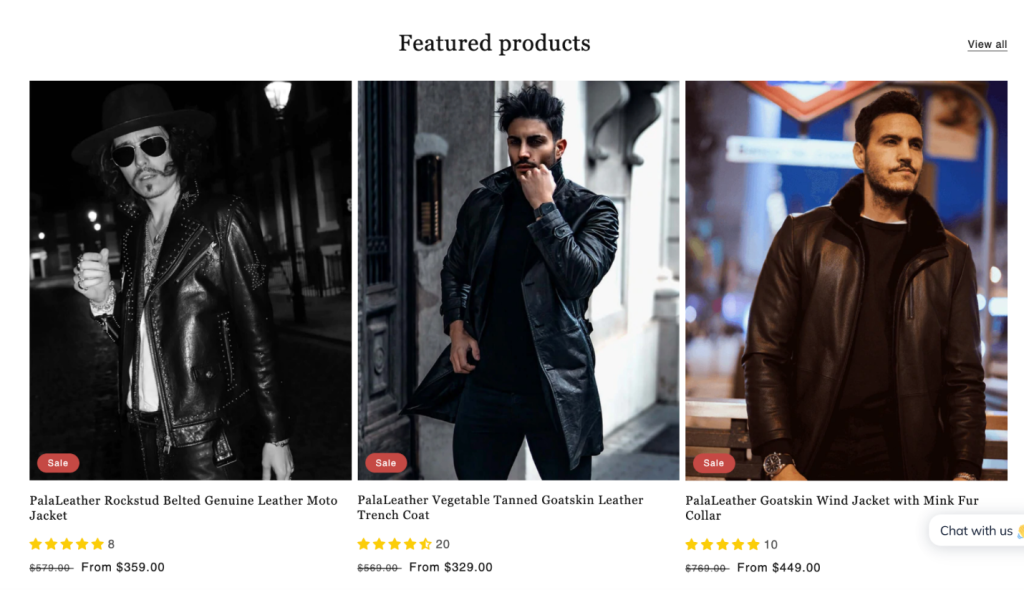 PalaLeather, a fashion company specializing in leather products, does a great job of highlighting reviews of its leather jackets for men on its homepage.
As you can see in the image above, the company showcases some of its best leather jackets and displays related star ratings they've received below each image. This gives people a good idea of which products are the most popular choices and which have been well received; higher ratings mean better-received products. Additionally, viewers can click through and read the reviews to get the thoughts of past customers. This will help people quickly compare the company's offerings and come closer to making a purchase.
If you sell a lot of similar products on your website, it can be worth gathering star ratings for each of them. Star reviews give people a quick idea of what products your past customers have liked the most, helping them make an educated purchasing decision.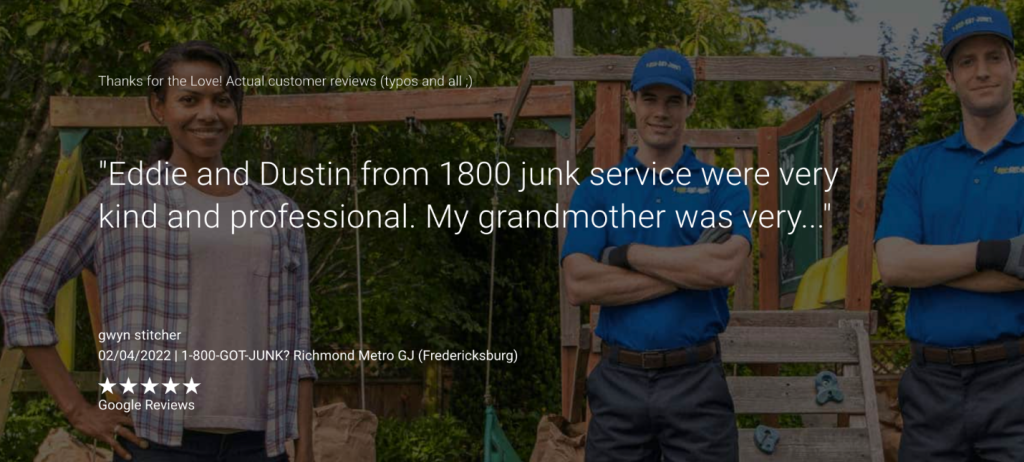 1-800-Got-Junk, a garbage removal service, uses reviews on its homepage a bit differently. Rather than highlighting star ratings alone, the company also provides the quotes and names of its past customers who have left Google reviews. While these can still be read quickly and easily, they provide more context that prospective clients might be interested in. And, seeing the actual thoughts and names of past customers can add credibility to the review and build trust with the reader, encouraging them to make a purchase.
Consider highlighting quotes from your customers on your website to give your website visitors more context as to the quality of your products or services. The more information they can collect about you, the more likely they will feel equipped to make an educated purchasing decision.
Add helpful internal links to every page of your website
Internal links take a visitor from one page of your website to another. And, it's a good idea to add helpful internal links to your copy to help people find what they need as easily as possible.
It's very important that you link to other categories on your eCommerce pages. After all, if someone is interested in a particular category of your products, they might also be interested in some of the other items you stock. This can help people better navigate your website, for starters. But, it can also help you subtly upsell items. For instance, if someone is looking for a shirt, they might also be on the lookout for a pair of pants that would look good with them!
Internal links can be great for boosting your sales as well as improving your search engine optimization (SEO) efforts. Internal links help search engines better understand the structure of your website and rank you appropriately on their results pages for relevant queries.
Make it incredibly easy to contact your team
When shopping with you, people might have questions or concerns about your products. And, if they can't get the answers quickly and easily, they'll likely leave your website without making a purchase. This means you need to make it very easy for people to contact you directly from any page of your eCommerce website.
To help ensure this, you can put your contact details in your website's header and footer, as well as provide a live chat option that's available on every page. It's also a good idea to provide resources like an FAQ page that will help individuals find the answers to their own questions without needing to get in touch at all.
Let's look at an example of a business that makes it easy to contact its team as inspiration.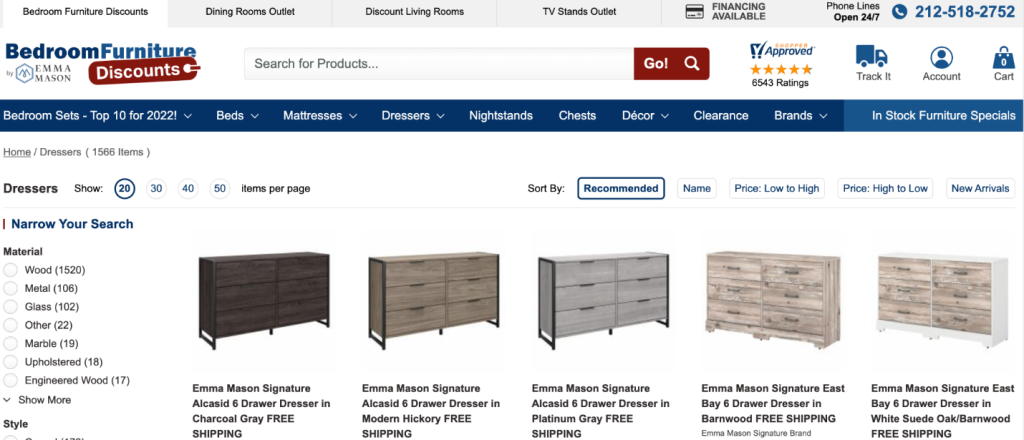 Bedroom Furniture Discounts, an online furniture retailer, has its contact information readily visible on its website. For instance, they have a phone number available on every page of the website in the header, as opposed to on just a single page. Additionally, they make it clear that their phone lines are open 24/7, helping to ensure that people call them whenever they're ready!
The company also has a very helpful live chat service. This makes contacting the brand simple and convenient — if someone is too busy to make a phone call or sit on hold, they can still get their questions answered. Additionally, this is a more practical solution for someone who just has a quick question about a piece of furniture, making it a good option for Bedroom Furniture Discounts to provide. By offering these contact options throughout their website, Bedroom Furniture Discounts makes it easy for people to get in touch with them, encouraging future purchases.
Make sure that your contact information is available on every page of your website, and offer browsers multiple contact options so people with different communication preferences feel comfortable getting in touch.
Use the power of user-generated content to your advantage
User-generated content, or UGC, consists of content or photos that your customers provide you with. You can add UGC to different pages of your eCommerce website in order to show people using, wearing, or enjoying your products. This will help you build trust with website visitors and make them more likely to want to make a purchase.
Start by looking through your company's tagged photos on Instagram or other social media platforms. If you find an image or a post you like, reach out to the poster to ask for their permission to repurpose it on your website. That is all the permission you need to use the photo — if the owner gives you the go-ahead, feel free to post it!
Then, showcase the UGC you've obtained on your product pages or homepage. This will show website visitors that other people have had a great time using your products or services and make them more likely to want to purchase them.
Let's look at a company with great UGC as inspiration.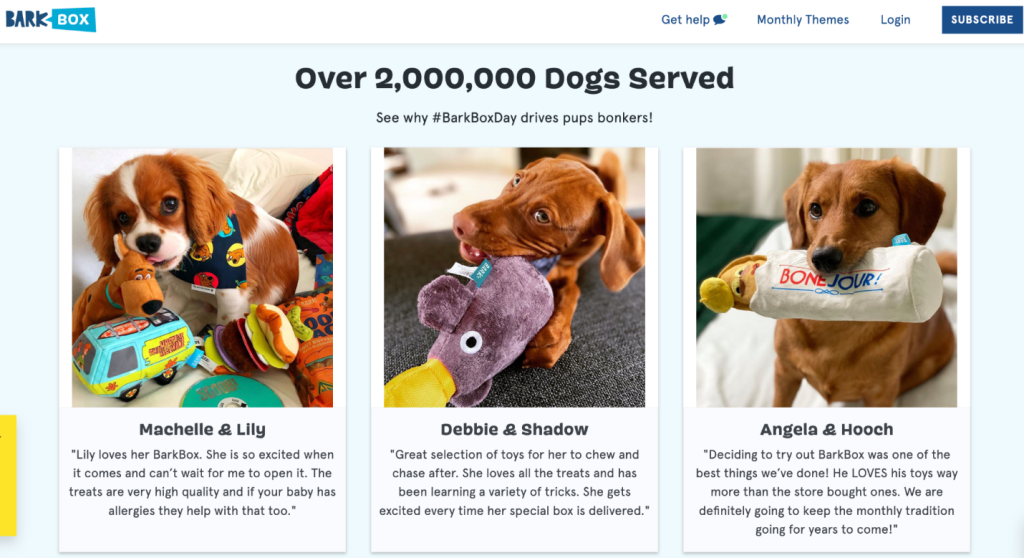 BarkBox, a dog toy and treat subscription service, uses UGC right on its homepage. As you can see in the image above, the company has posted some cute photos of its customers' pets playing with their BarkBox toys. Each picture has a quote from the customer praising the products, as well. This type of UGC is not only adorable, but it helps viewers start imagining what it would be like to buy these products and encourage them to make a purchase!
Show off UGC on your own website and consider posting it on your homepage, as BarkBox has. This is one of the best ways to show that people love your products. Look through your social media tags for photos you like and, once you get permission from the owner, post them on your website! This will help encourage more sales.
Ensure you're targeting the right keywords on every page
It's important that you target the right keywords on every page of your eCommerce site. This will help to ensure that you rank for the right queries on search engines and reach the most suitable people.
Keywords are the words and phrases that people plug into search engines in order to find the information they're looking for. To choose the most suitable keywords to target on every page of your website, you'll need to conduct keyword research. So, head to a tool like Google Keyword Planner with a list of words and phrases related to your business. You'll then be provided with a list of phrases people are typing into Google when they're looking for products like yours.
Be sure to target commercial keywords on your product and category pages, as these show people are getting ready to make a purchase. Commercial keywords often include phrases like "where to buy" or "for sale." This will ensure that you're drawing people to your website who are getting ready to actually buy what you're offering.
Get the right plugins
One of the most important parts of running a business is taking care of and analyzing data. Even though it's true that every business needs a way to keep track of tax or receipt information, there are many more things that need to be coordinated.
This is important if you want to grow your business because if you don't do it right, you won't be able to tell which things are selling well and which aren't. Also, you could try to gather all of your data by hand, but why bother (and waste a lot of time) if you can just export orders from WooCommerce? One of the most downloaded e-commerce WordPress plugins, WooCommerce Order Export PRO, takes care of your orders and other e-commerce details so that you don't have to. There is also a free version that you can use.
One thing to think about if you're selling something online is how and how much you'll charge for shipping. A plugin called WooCommerce Table Rate Shipping Pro is a great answer to your question. This plugin gives you a few options for how to distribute things on your website, which is pretty useful. Among these options are: Since they will get such small benefits from using your website, your visitors will be happy, and it will be in their best interest to keep coming back to use it. Even if at first glance it doesn't look like something you would want or need, you will be pleased with it.
Summary
In order to grow a business today, you need to work hard to ensure that you're optimizing your website to make more sales. This article covered achieving that by using UGC, taking great product photos, incorporating reviews into your website, and more.
With our tips in mind, get to work optimizing your own website — you might just be surprised by the results!
–
Author bio & headshot:
Adam Steele has been writing about digital marketing and SEO for 11 years. He's consulted for businesses small and large — including several of the largest companies in the world. Liked this post? Follow him on Twitter and LinkedIn for more.