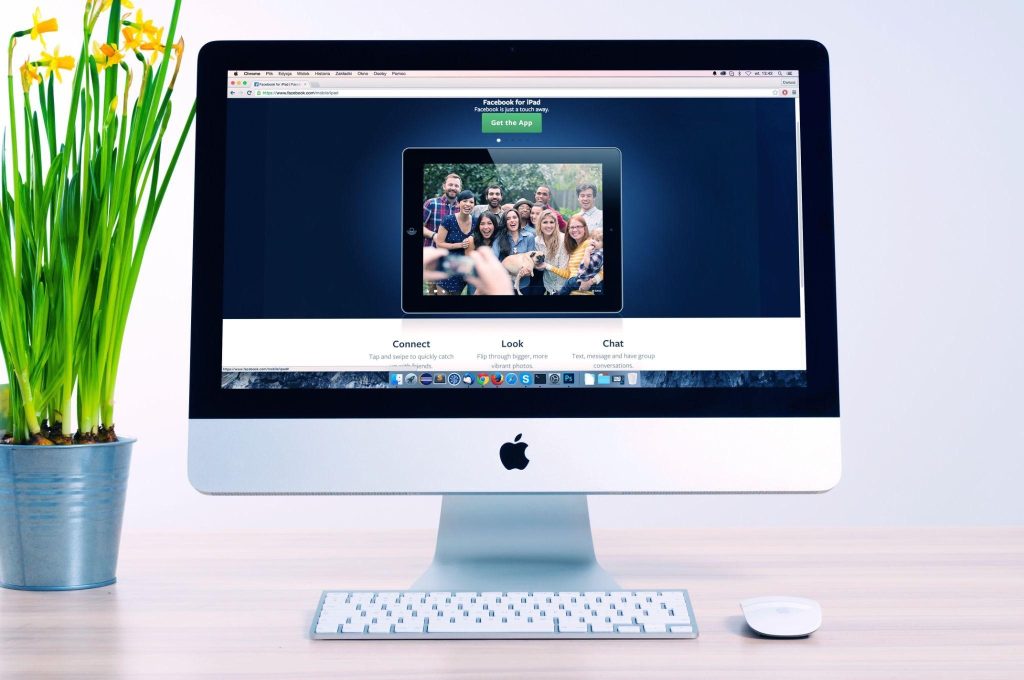 Photo by Firmbee.com on Unsplash
Trust is an essential component of any professional relationship, and you'll struggle to close any sales without it. Plus, according to Salesforce, 95% of customers report they are more likely to be loyal to a company they trust.
As an online business owner, your priority should be to build trust with the potential customers who land on your business's website. But how can you ensure your website encourages prospective customers to trust what you have to offer? Let's look at five actionable ways you can use your brand's website to do just that.
1.  Introduce your staff to put a face to your business
Customers will feel far more comfortable doing business with a person than a faceless entity. So, to earn their complete trust, you should ensure you put a face to your business using your website.
Humanizing your brand will help customers get to know the people behind it. You can achieve this by:
Creating an 'about us' page with photos of your staff and brief but exciting bios so customers can feel connected to each individual.
Introducing your workers through blog posts to provide more information about each person and help build a relationship with customers.
Publishing behind-the-scenes content that shows what you do, as well as the dedication and expertise your staff have for their jobs.
Giving a glimpse into your daily operations by introducing team members, from your warehouse and central office workers to your CEO.
Let's look at a company that uses content to humanize its business and build trust with its customers.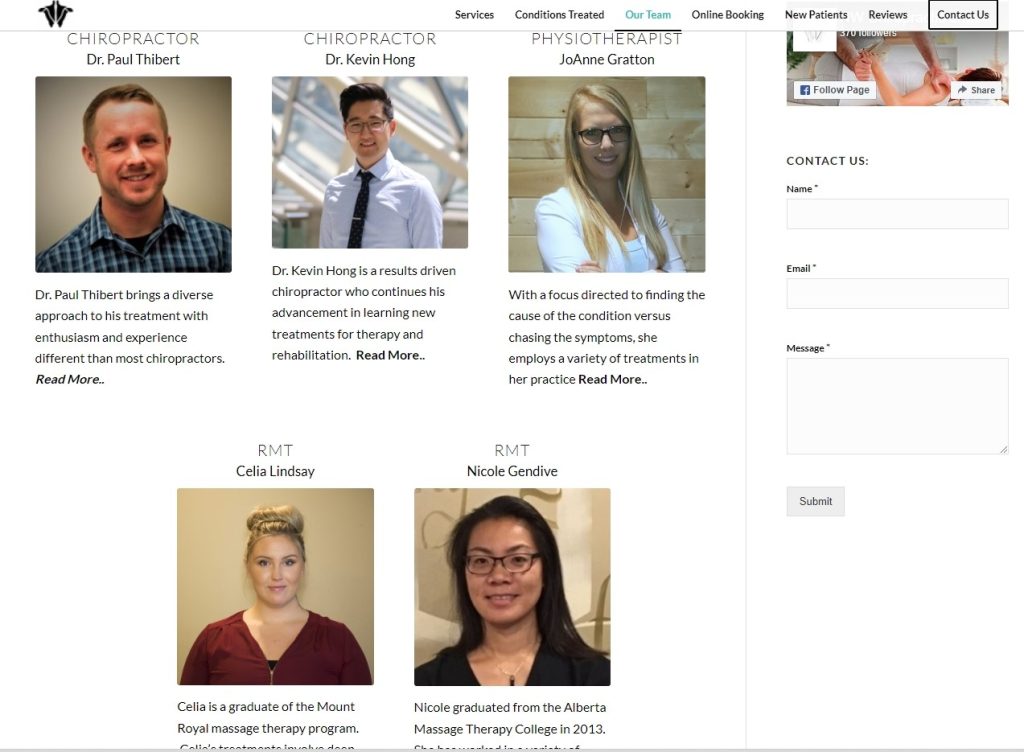 Chiropractor Calgary is a chiropractic clinic in Calgary, Alberta. Since people who are looking for a chiropractor experience chronic pain, Chiropractor Calgary knows that they need to work hard to build a connection with potential customers before they attend their first session. And, as prospective clients are likely to want to learn more about the professionals who work there, the company offers a dedicated page about the entire team that includes a short bio and pictures of the chiropractors and other support staff. People can then click through to learn more about each if they would like.
Notice how the images of each employee  show that they're approachable and focus on the person's face so customers will recognize each member when they visit their office. This can help patients feel more relaxed when they stop by and help build a connection right away.
You can use this strategy on your website by dedicating a space to introducing your team members. Include headshots, brief professional bios, and even some fun facts about each staff member to help your potential customers feel as though they can trust you.
2.  Ensure people enjoy using your website
Your website acts as the virtual storefront of your business, so it must give prospective customers the best possible impression of your company.
This means you need to ensure it offers a great user experience. Get this right by including:
High-quality images taken in good lighting that show off your products or services, and reflect your target audience.
A clean and visually appealing website design that offers as little clutter as possible to reduce the chances of your audience getting distracted when looking for your products or services.
An easy-to-use navigation menu that allows visitors to find exactly what they are looking for with minimal effort.
Lots of white space to clearly separate text and other content on your pages. This helps potential customers scan your pages without getting overwhelmed by large blocks of text.
You need your website to be as enjoyable as possible for your audience to use if you want to win their trust. If you cut corners, you'll risk raising red flags and causing potential customers to turn and run the other way rather than trusting what your brand can do.
3.  Allow reviews from past customers to speak for you
An excellent way to build trust with new customers is to show them that previous clients have already tried and enjoyed what you have to offer. Displaying customer reviews that show visitors can trust your products is incredibly important, and you can do this by choosing testimonials that talk about the positive experiences people have had when shopping with you, and how what you sell has benefited their lives.
You can harness the power of different types of reviews, like written testimonials and star ratings, to give new customers a good idea of what you've already accomplished. Star ratings can help customers to quickly compare and contrast similar items, or you can use longer written testimonials on your sales pages to provide more context about exactly why previous clients loved what you have to offer.
To collect reviews, you can send out a simple survey to customers after they have completed a purchase with you. Here, you can ask what they enjoyed most about the sales process or how your products or services have helped them so far. Once you have a nice collection of customer reviews, display them prominently on your website. You can place them:
On your homepage to build trust with customers as soon as they reach your site.
On product and service pages to support the claims that you make about your offerings.
In a scrolling carousel on your landing pages to provide as many customer opinions as possible.
For inspiration, let's look at some companies that do a fantastic job of using customer reviews to build trust with new website visitors.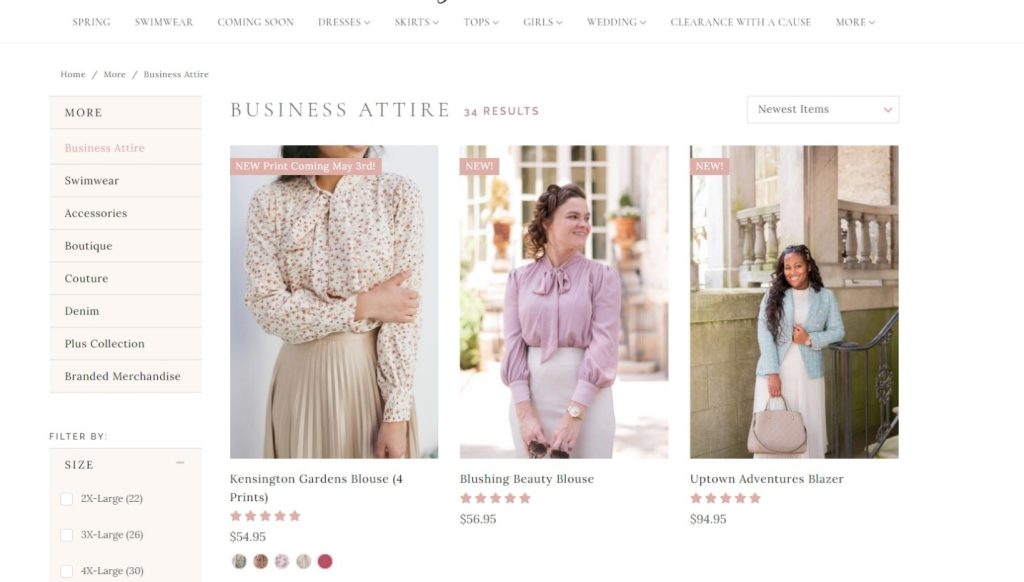 The online clothing company Dainty Jewells offers modest clothing in fashionable styles. And, to ensure new customers trust their products, they display star ratings left by previous customers under each item on their category pages.
You can see this in action on their modest swimwear page, and this goes a long way towards earning customers' trust, as well as helping them to make informed purchasing decisions. This is because the reviews show which items have been the most well-received by past buyers. The star ratings help customers looking for a quick reference, while people looking for more in-depth information about each product can click through to the products to see more detailed  testimonials as needed.
You can use this approach on your website by displaying star reviews beneath your product listings to help customers quickly compare items and see which ones have already been purchased and enjoyed by others. This will help you show potential customers that they can trust your products or services to meet their needs, which can help you drive more sales.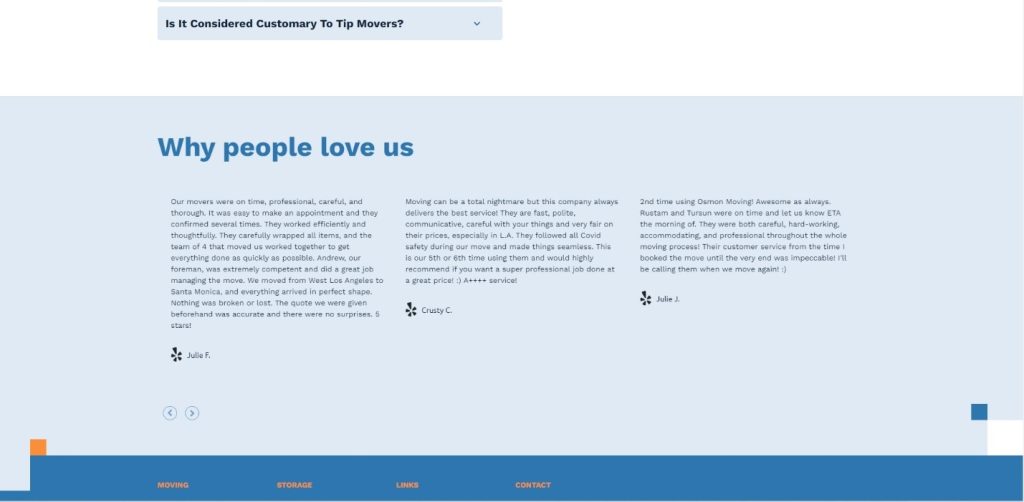 Another company that uses positive customer feedback to build trust is Osmon Moving and Storage. Although, they take a slightly different approach and provide a scrolling carousel of positive reviews on their storage solutions service page.
Notice how each review focuses on a different aspect of the company, like the professionalism of the movers and how easy it was to work with the company to complete a move. This is a great way to show new customers that the brand lives up to their promises and is supported by loyal and satisfied customers as a result. Plus, the carousel approach means that the company can keep adding more positive reviews as they come in, without them taking up more space on the page.
You can use this strategy on your website by displaying multiple positive reviews that praise different aspects of your business to present a more well-rounded and trustworthy picture of your company. These could cover important elements like your great customer service, fast turnaround times, or the professionalism of your staff to help build trust with your audience.
4.  Populate your blog with expert content
Creating website content that positions you as an expert in your field is an excellent way to show that your brand is trustworthy and can deliver what it promises.
Content that answers questions your customers have can also help you build trust with your target audience because it shows that you understand their needs and concerns. There are many types of expert content you can create to prove your business is a leader in its field, including:
Ultimate guides that teach readers everything they need to know about a specific, high-interest topic in your industry.
Buying guides that help direct users towards making the best possible purchase for their needs by comparing different products on the market.
Engaging product demonstration videos that give viewers an up-close-and-personal view of different items to show people how to get the most out of your products or services.
To give you some inspiration, let's look at some businesses that successfully use expert content to build credibility and forge relationships with new customers.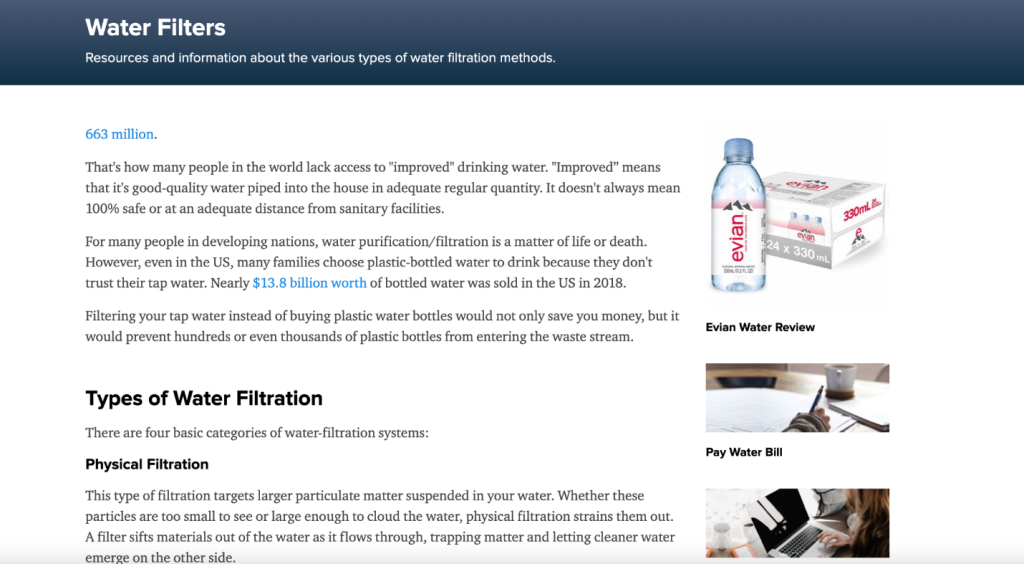 WaterZen does a great job of earning website's visitors' trust, as they offer expert content that provides in-depth information about various aspects of water filtration, like the different types of water filtration systems, typical household water issues, and how to filter water for businesses. This information shows that WaterZen is an expert within its field, and this can win the trust of customers.
You can use this approach on your website by publishing educational content that aims to inform your target audience, rather than sell them a product. This will cause them to turn to you for information, earn their trust, and eventually lead to them purchasing from your website.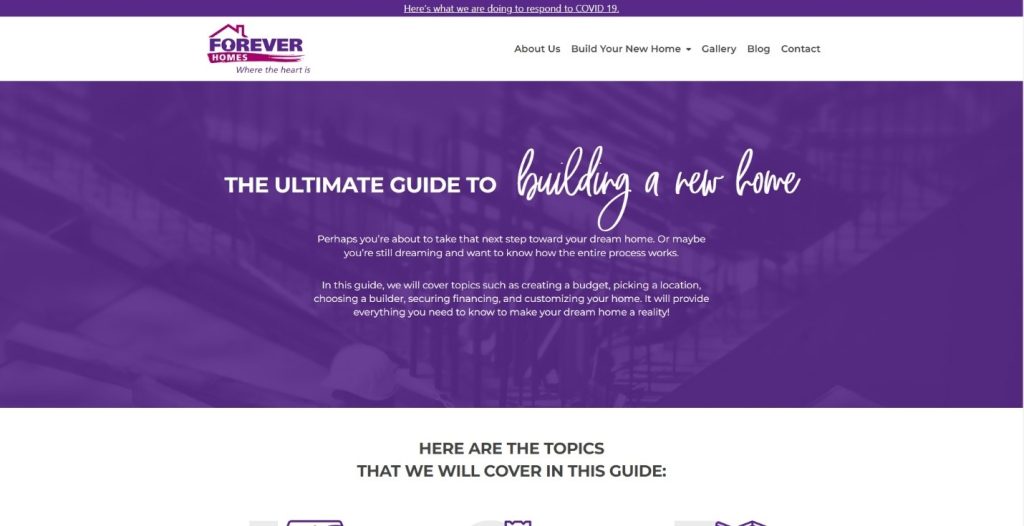 Another company that has a smart content strategy is Forever Homes. For instance, these Ontario-based home builders offer an ultimate guide that walks readers through the home building process from start to finish. The guide also looks at relevant issues like how to select a floor plan, how to secure financing, and how to pick a location for a new home. These are all questions that new home builders have to think about, and the guide provides concise answers so customers can navigate the process of building a home with confidence and in less time.
You can use this strategy on your website by publishing ultimate guides that help readers gain in-depth knowledge about a specific topic or process related to your industry. This can help you establish yourself as the industry expert, which will win customers' trust and drive more sales.
5.  Make it easy to find important information on your website
If customers can't find easy-to-grasp information about your different policies on your website, they may struggle to trust you. This means you should ensure all of your policies are easy to find and simple to read as well as comprehend. Such procedures could include:
Delivery and returns policies
Privacy policies
Warranty policies
Make this information easy to locate by dedicating different pages on your website to your separate policies so people can find the information they need as quickly as possible. And, link to them in your footer so they're accessible from every page. By being transparent about your policies, you'll show new customers that you have nothing to hide and that they can trust your company.
Summary
Without trust, you can't build a strong following of loyal customers. This means you must take every step possible to ensure that new customers who visit your site can quickly gauge how credible your website and company are.
Use these five tips to optimize your website and inspire trust from your target audience. In time, you'll see an increase in web traffic and a rise in sales as more and more customers come to know that they can trust your company to provide them with the products, services, or solutions they need.
–
Author bio & headshot:
Aaron Haynes is an entrepreneur, digital marketing enthusiast, and SEO writer. With more than a decade of experience in business development, Aaron helps businesses develop a data-driven yet nimble approach to search engine control. You can find more from Aaron on Twitter and LinkedIn.