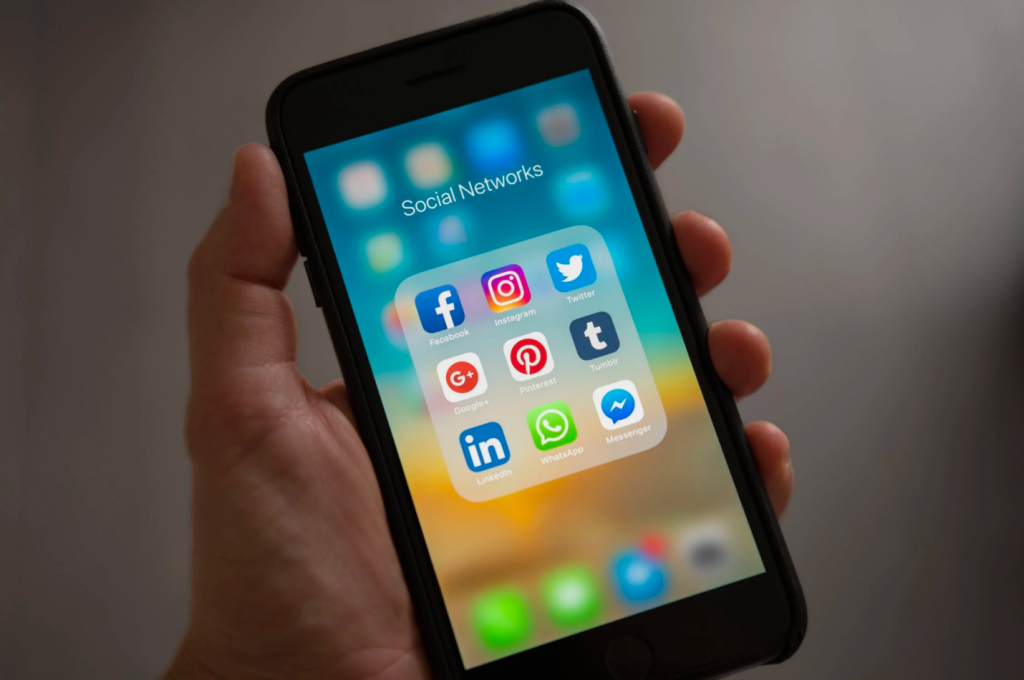 User-generated content (UGC) is any asset, such as an image, social media post, video, or review, that has been created by one of your customers to let their followers know about your products or services. If you know how to use UGC well, it can be a fantastic digital marketing tool.
In this article, we're going to outline how you can use UGC to promote your business. Let's get started.
Display customer reviews on your company website
New customers or website visitors will want to hear about the past experiences that people have had when shopping with you. Reviews are a form of user-generated content that can help with this!
To collect reviews, you simply just have to ask. So, consider sending out post-purchase emails to your past customers and ask them to leave a review, perhaps in exchange for a discount as incentivization. Or just live a comment box under every product so the customers can leave their reviews that all other visitors would be able to see. A great example of this method in practice you can see on Haven Dock & Marine website.
You can then display these reviews on your homepage (as Aerial Wakeboarding did), as well as on your related product or service pages. This will help ensure that they are seen by prospective customers and can encourage them to make a purchase.
Let's take a look at a few examples of businesses that use reviews well as inspiration.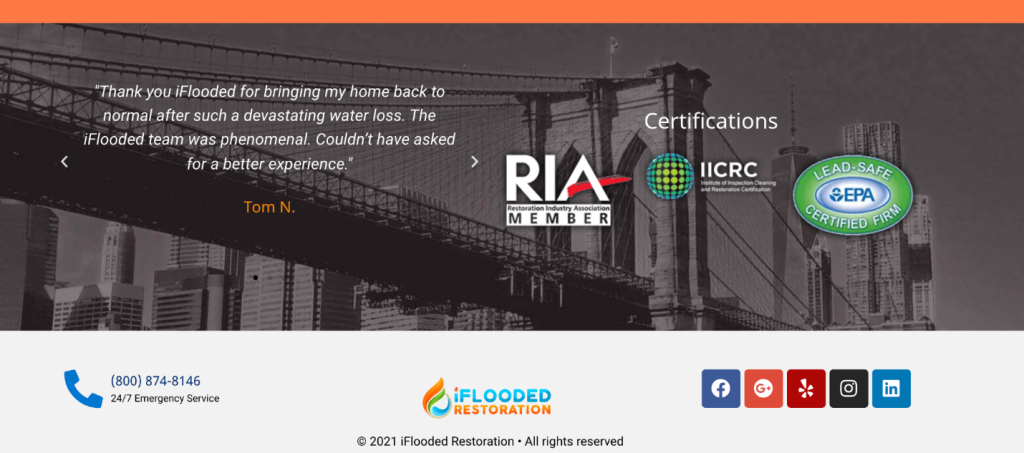 iFlooded Restoration, a fire and water damage restoration company, does a great job of leveraging UGC on their fire damage restoration service page. As you can see in the image above, they showcase reviews from past customers that outline how helpful the company's team was. These reviews can work to build trust with website visitors, making them a great form of UGC that encourages people to hire the business!
Consider placing reviews strategically on your product or service pages. This will ensure that people looking for a specific solution to their problems will see that you produce quality work, making them more likely to buy from you.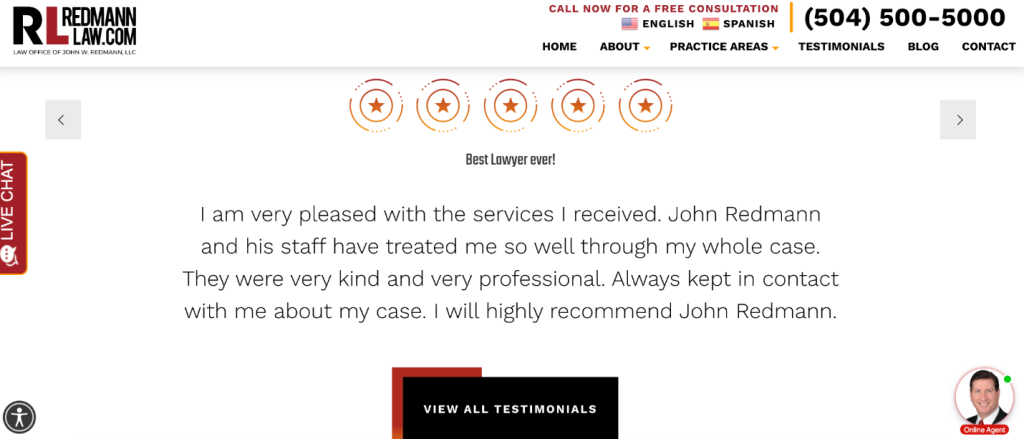 The Law Office of John W. Redmann, a New Orleans personal injury attorney firm, has great UGC on their homepage, too.
As you can see above, their homepage has testimonials from their past clients, outlining how professional, kind, and helpful Redmann and his team are. Asking a law firm for help can seem intimidating, but these testimonials will help to reassure prospective clients that the Law Office of John W. Redmann is very pleasant to work with. This can go a long way towards securing more clients for the company.
Be sure to harness the power of UGC in the form of reviews and testimonials. This will help to ensure that people who are new to your business see that you're trustworthy and great to work with, helping you secure more customers.
Reshare your customers' social media posts
Customers will often share their experiences on social media when they find a product or service that they enjoy. And, if you see a customer has raved about your offerings online, it's worth resharing this on your own social media pages or on your website. This will help the post in question reach more people and build trust with those who see it, potentially increasing your sales.
Just be sure to reach out to customers before sharing their images on your own page or website. You need to make sure that they're comfortable with you using their personal images for marketing purposes, so always thank them and let them know what you would like to do with their content.
For inspiration, let's take a look at a few examples of businesses that reshare their customers' social media posts as part of their marketing strategies.
SchoolLockers.com, known on Instagram as @jorgensonlockers, reshares their customers' posts from time to time. For instance, as you can see in the image above, they have highlighted how one of their customers decorated their lockers for the holiday season. This type of post shows viewers that their lockers can be used in the home, and not just in offices and schools. This form of UGC can therefore inspire other potential customers to make a purchase, making it a great way for SchoolLockers.com to promote their products.
Consider resharing UGC that shows your products being used in a unique way, as SchoolLockers.com has. This will inspire different types of people to think about how they can use your products, potentially increasing your sales.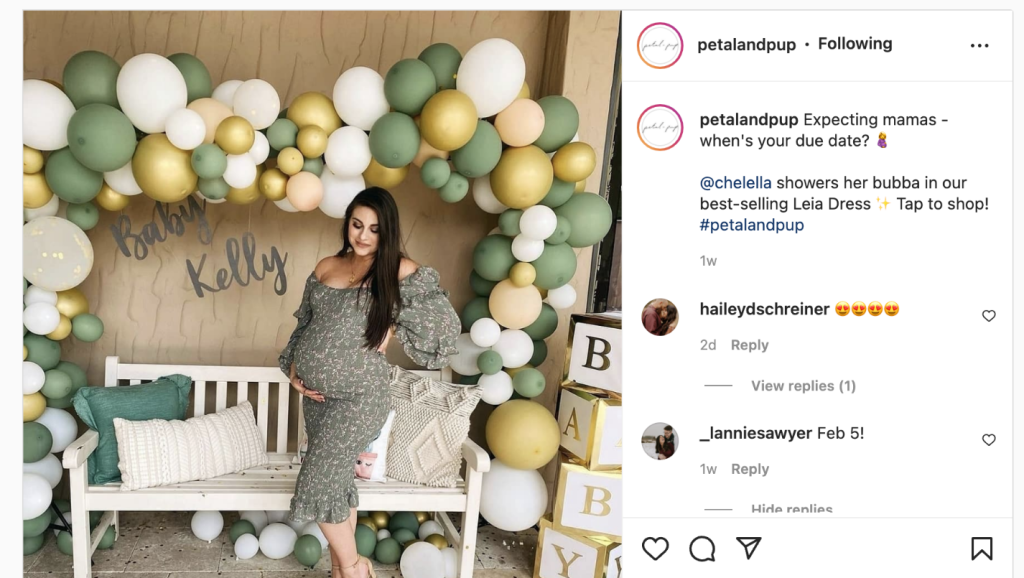 Petal & Pup, a women's clothing retailer, also shares UGC on their social media accounts. For example, as you can see above, they have reposted an Instagram image from @chelella at a baby shower. This type of imagery shows followers that Petal & Pup sells beautiful maternity clothes in addition to their other lines, which can encourage other expecting mothers to shop with the brand!
UGC can offer an easy but effective way to diversify your social media feeds and show how lots of different customers use your products. This tactic can be especially effective for the likes of fashion brands, as it allows customers to get an idea of what your clothing looks like on a wide range of people. This can then help you to make more sales.
Add customers' photos to your product pages
It can be helpful for new customers to see your products being used by real people. This will help them understand how your products work, who they're for, and how much past clients have enjoyed using them! Again, just be sure to ask for permission before posting your customers' photos on your website, as some people might wish to keep their content private.
Let's look at an example of a website that uses customer photos on their product pages as inspiration.

KiwiCo, a kids' craft and toy subscription box, shows off UGC on their Kiwi Crate product page. As you can see above, KiwiCo shares a variety of different images from their customers, featuring their kids having fun with the product. This type of imagery shows website visitors how much fun kids have with these boxes, encouraging them to make a purchase of their own!
Be sure to showcase UGC on your product or service pages wherever possible. This will help to grab new customers' attention, make them imagine using your products, and move them closer to making a purchase.
Showcase how you put customers' feedback into action
If you receive customer feedback that leads you to change something about your eCommerce business, it can be very beneficial for you to showcase the process. This will show your audience that you genuinely care about their opinions and want to improve the shopping experience for them.
To collect valuable feedback, consider sending out a survey to past customers using a tool like Google Forms or SurveyMonkey. Ask them questions like how they found your business, whether they were happy with their shopping experience, and how you can improve. Once you collect your survey results, look for common themes and see if there are areas your customers think you can improve in.
If you make changes based on this feedback, consider announcing it in social media posts, blog posts, and newsletters. Your customers will be happy to hear that you're listening to their concerns and want to improve their experience.
Collaborate on solving your customers' problems
If your customers feel included in your business decisions, they'll feel a stronger connection to your brand. So, it can be worth collaborating with your audience to identify their pain points and solve them.
Again, a survey can be a helpful tool for identifying customer pain points. Here are a few examples of questions you can ask:
What do you struggle with when shopping online?
What new products or services would you like to see?
How can we help make your shopping experience better?
Their answers can inform the next steps you should take. Be sure to publicize any changes you make to your business with content, so your customers can see that you care about their opinions and are passionate about helping them.
Summary
Leveraging UGC is an important part of running a modern business. In this article, we outlined how you can use it to promote your brand, including by showing off users' images and sharing their reviews. Once you start to implement these tips, it won't be long before you start to see the results you want.
Author bio & headshot:
 Adam Steele is COO and co-founder of Loganix, which is an SEO fulfillment partner for digital marketing agencies and professionals. The company provides the SEO services that businesses need to grow and achieve their goals. If you enjoyed this article, you can find more SEO guides and templates on the Loganix blog.