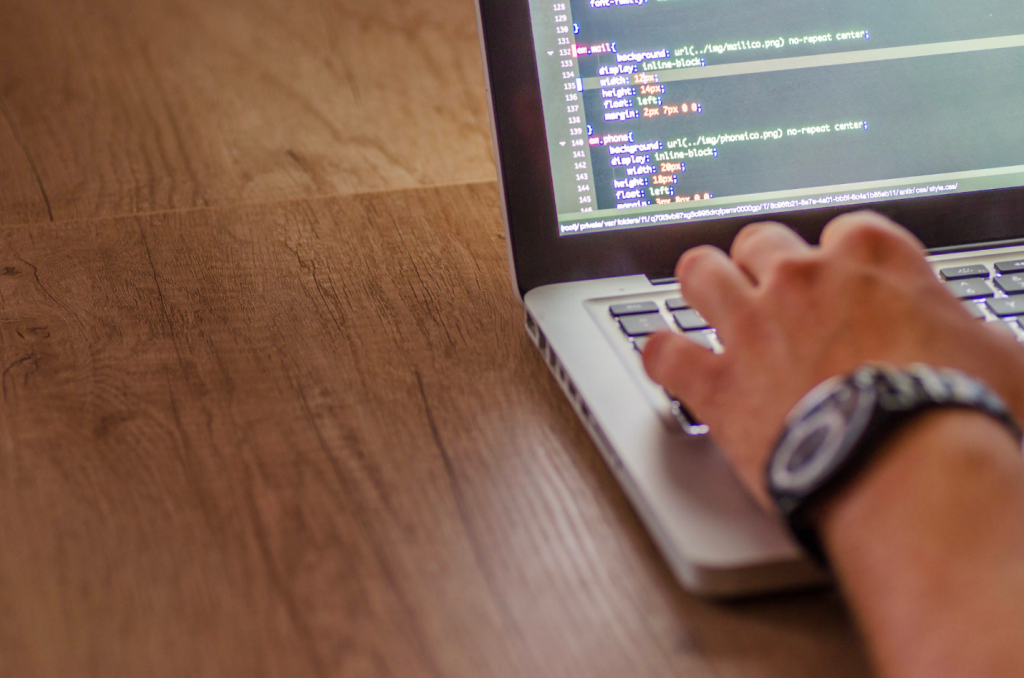 Even if you're able to generate leads for your business, you'll ultimately need to do more work to turn them into sales. Fortunately, there are a lot of different steps that you can take to optimize your website in order to capture more leads.
In this article, we're going to outline how you can ensure your website is set up to turn visitors into customers. Let's get started.
Highlight some of the best results you've achieved for past clients
People aren't just going to take your word for it when you say that you're great at what you do. Rather, they'll want to see evidence of it. Your website visitors will like to see that you've done great work for others in the past — this will make them more likely to trust you and make a purchase from you as a result.
To highlight these results, you might want to consider conducting a case study with one of your clients. When working with your clients, start keeping track of any key performance indicators (KPIs) before you start working with them, while you're working with them, and after. What KPIs you track will be dependent on what you do — if you are trying to help a business grow their sales, that would be an important metric to track.
Once you have this data, compile your findings in an article or blog post. Don't be afraid to show facts and figures through graphs and charts — this will do a great job of demonstrating how you were able to assist your clients and achieve the results they wanted.
Let's take a look at an example of a business that does this well to provide you with some inspiration.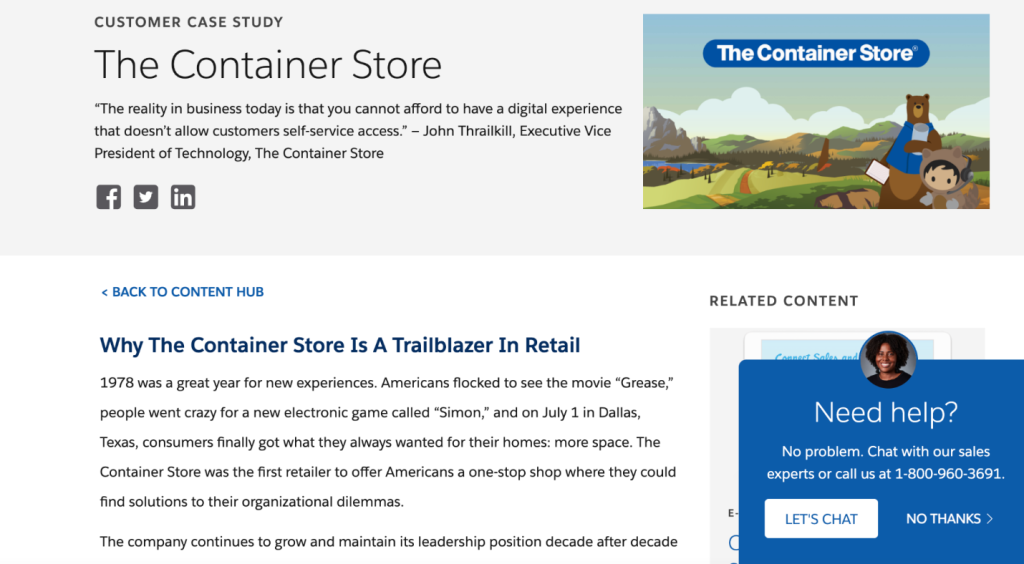 Salesforce, a customer relationship management software company, has a series of case studies on their website. For instance, their article on The Container Store outlines how Salesforce's live chat service and customer support systems were able to provide a better experience, not only for their client's customers, but for their employees as well. By using Salesforce products, The Container Store helped maintain quality customer service across multiple channels.
By creating case studies like this, Salesforce is able to show how their different software programs and packages can help their clients. Because they offer so many different products, these case studies are also important for giving their prospective clients proper context about their different applications, so they can choose the tool that's right for their needs.
Consider writing and publishing case studies on your website. Collect and keep track of relevant data before, during, and after you work with a client. This will help you create case studies that show the effectiveness of your products and services.
Move people through your sales funnel with powerful calls to action
In order to turn website visitors into customers, you'll want to harness the power of strong calls to action, or CTAs. These are words or phrases, often placed on a button, that tell the website visitor what they need to do next.
Here are a few tips for creating strong CTAs:
Use a strong verb
Use bold colors that stand out against the background to catch the eye of visitors
Make it clear to the reader what will happen after they click the button
Use words that evoke an emotion or enthusiasm
To help you think about what this could look like on your own website, let's take a look at an example of a company with strong CTAs.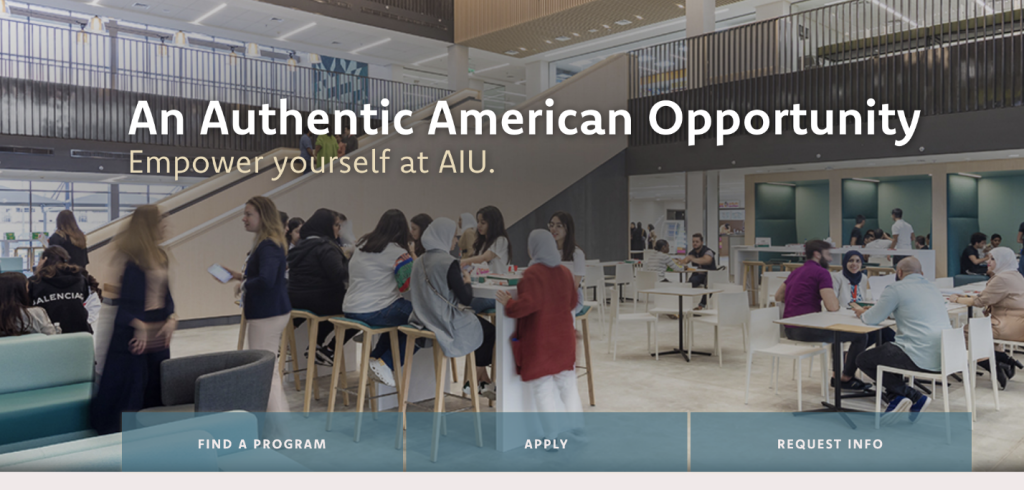 American International University, a higher education institution in Kuwait, has great CTAs on its homepage.
As you can see in the image above, they offer three CTAs, all of which target different groups of people. "Find a Program" targets people who are still determining what they want to study, "Apply" targets people who are ready to get started with American International University, and "Request Info" targets people who still want to learn more about the school before making a decision. By having multiple CTAs, American International University makes it more likely that people in any of these groups will want to click.
On your own website, consider providing CTAs that target multiple groups of people, too. Create CTAs that will target people at different stages of their journey — this will make it more likely that you'll capture these leads and convince them to convert.
Use customer testimonials to provide helpful information
People tend to trust word-of-mouth recommendations over other forms of marketing. This means that you should ask your customers for testimonials that you can publish on your website. Reviews and testimonials serve as a form of social proof that will prove you've done a great job for your customers in the past and will capture more leads for your business.
To collect reviews and testimonials from your customers, you simply need to ask. Reach out to your past customers through the email address they provided and see if they would be willing to leave you a star rating or review. You could even offer them a small discount as an incentive. If you work more extensively with clients, you could reach out to them and see if they would be willing to do an interview with you about their experience or give you a quote about what it was like to work with your business.
Once you have your reviews, you need to determine where you'll display them on your website. Place some of your best reviews on your homepage, as well as on the relevant product or service pages. This will help ensure that the right people see them and make it more likely that they'll make a purchase. It can be stated that, there are available bot services for social networking sites like LinkedIn botting software or other services to automate all the tasks you need to do. So things get easier with these bots to make good moves.
Let's take a look at an example of a business that uses a combination of star ratings and testimonials as inspiration.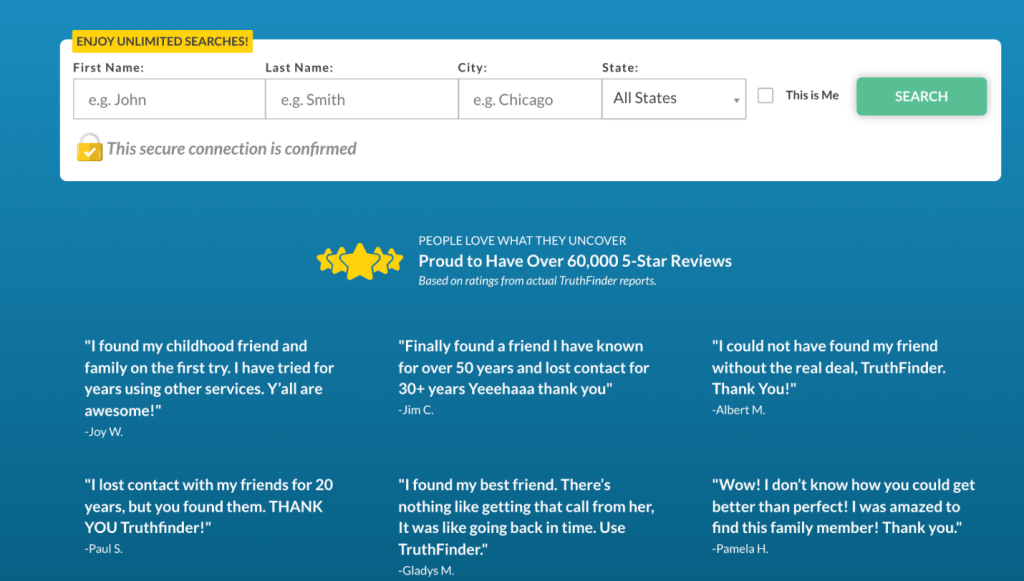 Truthfinder, a public records search company, leverages testimonials and reviews very well on its homepage. As you can see in the image above, the company first notes that it has received more than 60,000 5-star reviews. Furthermore, they have several quotes from past customers outlining how the company helped them find childhood friends, contact family members, and more. Placing these reviews and testimonials below the tool was a smart move on Truthfinder's part — people debating whether or not to use their services will see that it's been helpful to others, and be more inclined to use it.
Be sure to publish reviews and testimonials across your website. If you do this, you can build trust with your website visitors and make them more likely to purchase from you! Consider posting them on your homepage as well as the relevant product and service pages for maximum effect.
Earn prospective customers' trust by publishing expert content
Showing off your expertise and authority is great for improving your search engine optimization (SEO) and earning your customers' trust. SEO refers to a variety of strategies that you can use to improve your rankings on search engine results page (SERPs) for queries relevant to your business. This will help you draw people to your website who are interested in the products or services you offer. When these people come to your website, they'll be more likely to make a purchase.
There are a lot of different types of content that you can use to showcase your expertise in your field. For instance:
Ultimate guides: These are extensive guides that outline everything a reader needs to know about a subject. Beginners and experts alike should be able to learn from them.
How-to guides: Outline a process for a reader and tell them how to do something like get started in your field or maintain your products.
Webinars: These are seminars conducted over the internet where you educate your viewers on something related to your field or niche.
Blog posts about industry news: Outline different topics and events related to your business, showing that you're a reliable source of information and that you're on top of current trends.
If you can create expert content, you'll help build your E-A-T, or expertise, authority, and trustworthiness. This is a term that comes from Google's search quality rater guidelines — essentially, when you create content that shows you know a lot about what you do, Google will want to rank you higher for queries related to your business. This will help ensure that people who come to your website are very interested in the type of work you do, meaning they'll be more likely to make a purchase.
Make sure your homepage provides a great first impression
A lot of companies focus on optimizing their service and product pages, but neglect to use the same strategies for their homepages. But this is often the page that people land on first, so you need to ensure that it gives a great impression!
One way you can do this is by displaying images of your products or services. Provide detailed and engaging photos of your products in action or images of your employees working with clients. You could also utilize video content that explains what your business is all about — this will make your website more engaging and keep people on the page longer. People will see these images and videos and start to imagine what it would be like to use your products or services themselves, helping them trust you more.
Be sure to include your contact information on your homepage, as well. This will help ensure that anyone who comes to your website and has questions knows how to get in touch. If they can't find your contact information, they'll likely leave without making a purchase.
Let's take a look at an example of a website that leaves a great first impression as inspiration.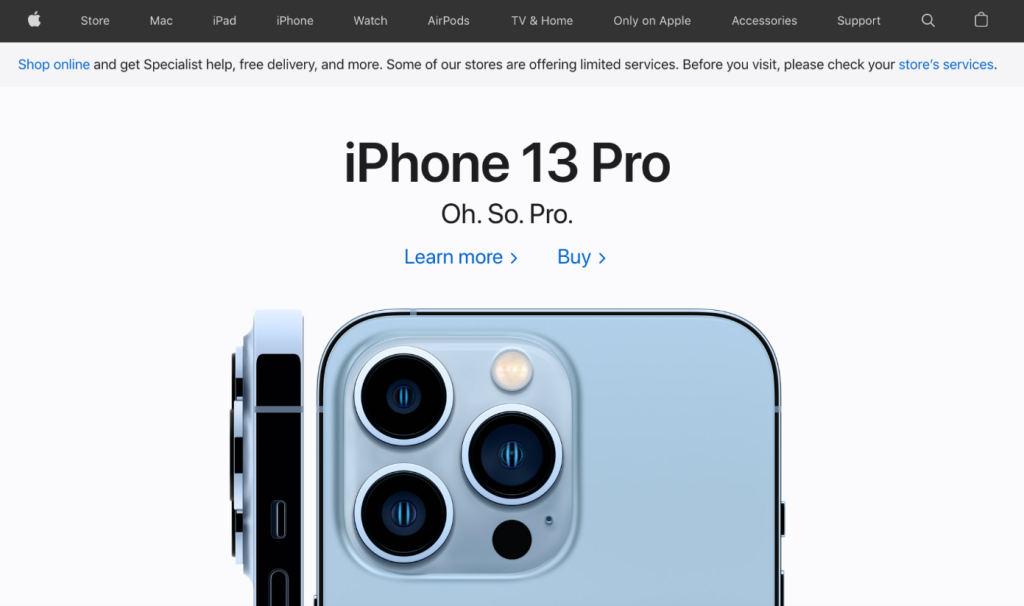 Apple, a major tech company, needs to make an excellent impression on their homepage.
As you can see in the image above, they have a very clear and easy-to-use navigation menu that outlines all of their main products. This makes it easy for visitors to find what they're looking for. Additionally, Apple highlights one of their most recent product launches, the iPhone 13 Pro, in order to grab the attention of visitors. Despite having a simple design, this homepage makes a great first impression. It's clean, uncluttered, and highlights some of the most important information, making people more likely to make a purchase.
Don't be afraid to keep your homepage simple, as Apple has. Sometimes, less is more. Just be sure to include all of the most important information, like what your business offers, photos of your product offerings, and a helpful navigation menu. Simplicity like this makes the browsing and purchasing process easier on the website visitor, encouraging them to click "buy".
Summary
Bringing people to your website isn't enough — if you want to grow your business, you need to continually work to capture the leads you generate. In this article, we outlined how you can ensure your website is built to capture more leads through your content, an engaging homepage, customer testimonials, and more.
It's time to get to work!
Author bio & headshot:
Aaron Haynes is the CEO of Loganix, an SEO fulfillment partner that supports marketing agencies and professionals. The company specializes in helping businesses to improve their online visibility and ultimately make more sales. The Loganix blog has a lot more information and advice, so make sure you check it out if you found this article helpful.