The way we have been using the concept of pressing the keys to type the content has been around for more than several centuries. The concept was introduced with the advent of typewriters. It all began with Pellegrino Turri who is credited with the inventions of the typewriter. 
Fast forward to 2020, and we have a huge number of different types of keyboards that have created a huge impact and have become the prime devices for everything you want to type. There have been different keyboard types – including the virtual ones – that have been vying for your attention. 
---
What is the Computer Keyboard?
---
A computer keyboard, by definition, is a portable device whether wired or wireless, used for printing or typing your documents. The device includes alphabets, numerics, symbols, and even special characters. 
The keyboards can be based on various parameters that would include the ones designed for individual usage conditions. Some good examples in this context can include a QWERTY keyboard, a gaming keyboard, a virtual keyboard, and a multimedia keyboard. If you want to classify them based on the type of connectivity, you will find the keyboards of types such as wired, wireless, USB, and Bluetooth keyboards. 
Having understood that let us check out how many types of keyboards can you check out. 
---
Different Types of keyboards
---
Classifying the keyboards can be a tough task because of the several technologies and usage patterns involved. There are different types of keyboards such as wireless and wired, or WiFi and Bluetooth keyboards based on the type of connectivity. Then there are gaming keyboards and multimedia keyboards based on the usage specifications. 
Do note that the different types of keyboards as we will be discussing here are intertwined. That is to say, a keyboard can belong to different categories, and the classification here is not separate and individualistic in any nature. 
Membrane Keyboards 
Membrane keyboards are one of the most widely used keyboards, and they are specifically found on laptops or even simple desktop keyboards. These keyboards make use of the pressure pads in place of individual keys. The membrane keyboards have the letters and symbols printed on a flat and flexible plate. This plate is called a membrane. When you press a particular area on the keyboard, the electrical signal is transmitted to the circuit board, and the keypress is registered. 

The membrane keyboards have a lower price and have a dirt-resistant property. However, if you are looking for typing accuracy, membrane keyboards may not be the right choice.
Mechanical Keyboards
A strong competitor to the membrane keyboards, mechanical keyboards have separate keys with an individual key switch beneath them. If you are a computer geek, the mechanical keyboard is a huge option for you. The sheer degree of flexibility and accuracy are a few features that make the mechanical keyboards something you would find extremely tech-savvy. One of the advantages of using a mechanical keyboard is that they let you change the key switches.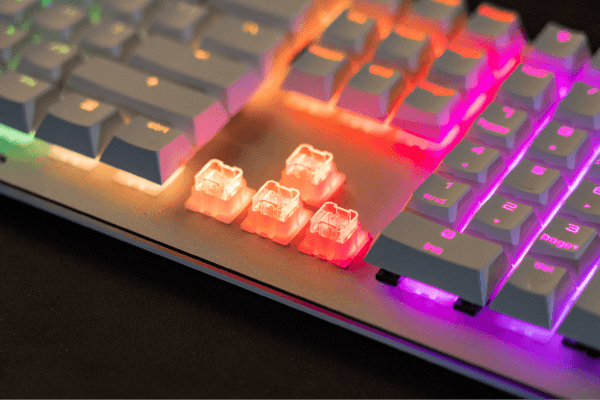 The "key" to the working of a mechanical keyboard is its "key switch". The key switch refers to the mechanism through which a keystroke is registered. You can find different types of keyboard switches in different categories such as Linear, Tactile and clicky. 
A quicker return to the original position is what would make a mechanical switch a great option for faster typing speed. The high-end construction and high-quality workmanship make them a great option, and that is exactly why they are quite expensive. You can even check out the hot-swappable keyboards with different types of keyboard switches.
Flexible Keyboards 
The name should let it out. Flexible keyboards are ..er..flexible. These keyboards are made from softer materials such as silicone. These can simply fold up just the way you would fold up a carpet. One of the best features that make it a great choice is that they are highly portable. If you are someone who is always on the move, you will find the flexible keyboards will be a great option.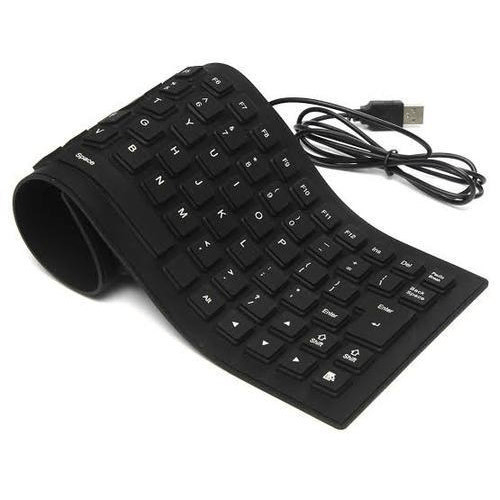 High portability, water resistance, a silent operation, and availability in wireless mode are a few of the great features you would find one of the high-end options. However, there are a few disadvantages associated with flexible keyboards can include may not be a great option for fast typists. They also have a very shorter lifespan. 
The flexible keyboards are characterized by a huge number of keys and a shorter key distance. The water and dust resistance makes them best suited for a better cleaning capability.
Ergonomic keyboards 
Ergonomic Keyboards are not special types of keyboards, but the term is used to refer to the keyboards that have been designed to provide you with a minimized strain on your hands and other parts of your body. The keyboards that make it difficult and tough for typing can prove to have a detrimental effect on the speed of your typing. They can even result in repetitive strain injuries.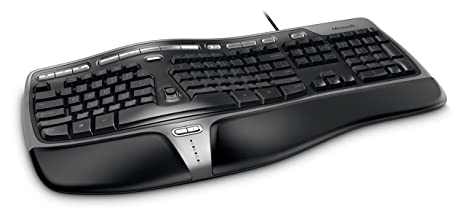 The ergonomic keyboards are designed to minimize the risk of health issues such as muscle strain, back pain, and wrist related injuries. They can also be a great option for improving your typing speed to a consistent degree. One of the good examples is a V-shaped keyboard that helps you keep your hand in a very natural position. 
Yet another good example of the best ergonomic keyboards is the split keyboard. They help you keep your arms at shoulder width and thus let you keep your wrists quite straight. A few ergonomic keyboards also come with padded support for your wrists.
Chiclet Keyboard
The chiclet keyboards are named after a popular American chewing gum brand. The keys on a chiclet keyboard do not have a slanted edge as in the case of the traditional keyboards. They come with slightly elevated and smaller square-shaped keys. Launched in the 1980s, these keyboards weren't observed to be quite comfortable initially. However, later developments made them quite popular. 

You can witness the chiclet keyboards in a number of devices that include PCs, remote controls, laptops, and calculators. A few Chromebook and MacBook versions too employ chiclet keyboards. The technology used in a chiclet keyboard differs from one machine to another. Some of them come with the buttons attached to a membrane with a low travel switch, while a few others integrated into the base membrane.
Gaming keyboards 
A gaming keyboard is a keyboard specifically designed for gaming purposes. Most of the gaming keyboards employ mechanical keyboards and include a few gaming-centric features. While they employ the same technology as on the other keyboards, these gaming keyboards come with advanced features and functions with an emphasis on gaming. Given the fact that gamers use WASD and arrow keys a lot along with the Spacebar, these keyboards come with a highlighted appearance for these keys.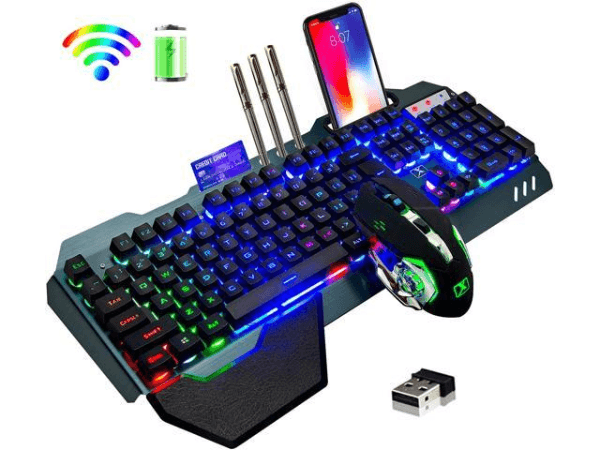 The gaming keyboards also come with a few special keys dedicated for multimedia features, an LED screen, and palm rest. The backlighting or RGB lighting on the keys is one of the strongest factors on a gaming keyboard. Yet another feature you would observe on the gaming keyboards is the smaller size and comfortability offered by them when you compare them to the traditional keyboards. 
The gaming keyboards also come with several features such as key rollover, programmable macro keys, and powerful backlighting so that the gamers can continue enjoying their games in the dark. However, they can be quite expensive, and that can be a huge deterrent.
Wireless Keyboards
The wireless keyboards are not necessarily different types of keyboards, but the concept refers to the wireless connectivity of the keyboards. There is a wide range of keyboards that specifically utilize wireless compatibility. The wireless connectivity offered by the keyboards can be in a wide range of options and technology – right from InfraRed, Bluetooth, and WiFi.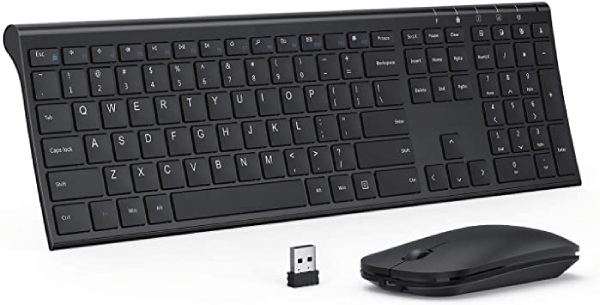 The wireless keyboards can be a great option if you are looking to connect with non-standard devices such as smart TVs, smartphones, and tablets. Do remember that almost all the wireless keyboards come with a rechargeable battery and need to be recharged frequently. Most of them provide wired connectivity when you are charging it so that you will not lose the connectivity.
Multimedia Keyboards
Multimedia keyboards are one of the most widely used and popular keyboards. If you have a lot of multimedia devices and want to control them with the help of your keyboard, a multimedia keyboard can double up as an excellent option for almost all your requirements. Of course, incorporating all your digital controls within your keyboard may not be an easy task. Still,  most of the multimedia keyboards come with compatibility for most of the functions. 

Some of the keys you would find on a multimedia keyboard can include play, pause, previous, next, volume up, volume down, mute and special button to launch media. You may also find a few buttons to launch a few specific functions and devices. These keyboards also come with the convenient grouping of the multimedia keys for easier access. The programmable keys are yet another plus point that lets you focus on the various multimedia factors.
Virtual Keyboards 
These keyboards practically have nothing to do with the topics that we have been covering on our site, but these types of keyboards have also been one of the prime options in this age of smartphones and other smart devices. Obviously, the virtual keyboards do not have any physical presence and are completely software-based. 
A good example here can be the Gboard or a Samsung keyboard that you use on your smartphone. These form part of most of the handheld devices and other electronic devices. The buttons on the keyboards are completely graphical in nature, and you will bring out the text just by pressing on the image of the key. The functionality of the keyboard remains the same as on the traditional keyboards. 
In addition to the keyboard on smartphones, you will also find them on laptops and desktops as well. These virtual keyboards can also be a great option for use as an alternate input method. They can also be a great option for multilingual users.
Bottom Line
If you are someone who needs to spend a lot of time on your computer, picking the right keyboard is of prime importance. In this context, it is quite a good option to find how many types of keyboards can you opt for. The keyboard is one of the perfect devices such as communicating with your device, working on your tasks, or even searching for entertainment. With tons of different types of keyboards available, it is extremely important to pick the right type of keyboard that rightly meets your requirements. 
Do note that the different types of keyboards outlined here are specifically based on a few key functions, technology, and usage preferences. There can be several other categorizations of keyboards such as handheld keyboards, USB keyboards, and laptop-sized keyboards, and chorded keyboards to name a few examples. Also, a single keyboard can belong to different categories and types. 
The key is to find your exact requirements with respect to what you want to use the keyboard for and picking the one that best meets your needs.