If you are trying to find out the best keyboards and mice in the budget range, the prime options you would want to go with would be to pick Redragon. Most of the Redragon products come with a lower price point. That budget pricing is likely to pose a million-dollar question – are Redragon keyboards good? Let us try exploring the factors that would help us understand if the Redragon keyboard is good for your day-to-day operations. 
---
Redragon Keyboards – Are They Really Good?
---
If you have been into the concept of mechanical keyboards and have been involved in understanding it better, you would definitely have found that the keyboards are best available at a budget pricing. The extremely low price tag of the products invariably makes it quite obvious to pose a doubt n whether these keyboards really offer a great functionality. 

We would definitely consider the Redragon keyboards a great option. We have several reasons that would make it one of the prominent keyboard options ever. 
They are the true mechanical keyboards at a lower pricing
If you are looking at the Redragon keyboards, you will find that the price at which these keyboards are offered is equivalent to a simple membrane keyboard from other brands.
 In other words, a Redragon keyboard would offer you a mechanical keyboard at which other brands can only manufacture membrane keyboards, or at the maximum, you would get a keyboard with a mechanical feel, but not a true mechanical keyboard. Instead, Redragon provides you access to a true mechanical keyboard and also offers you true mechanical switches on its keyboards. So, if you are trying to explore the mechanical keyboards for the first time, the Redragon keyboard should be a great choice, obviously without the need to spend a fortune. 
They Provide You With Clone Switches on their Keyboard 
The Redragon keyboards use the clone switches, which is ideally what makes the Redragon keyboards cheaper. The clone switches are not necessarily of poor quality. Being clone switches, they are manufactured using cheaper labor. Thus, they prove to be a great option for practically all your expectations in a powerful key switch and an efficient keyboard. 
While Cherry MX and Gateron switches have been considered to be the high-end switches for a keyboard, Redragon keyboards utilize the cheaper Outemu switches. The Outemu switches have been rated to be quite close to the Cherry MX switches. That would ensure that the Redragon keyboards provide you a perfect Cherry MX like feel. 
The Powerful RGB lighting 
The efficient and powerful RGB lighting offered by the Redragon keyboards is yet another powerful functionality that would provide you access to an enhanced gaming keyboard experience. The RGB lighting experience offered by the service is indeed one of the best that you would want to go with.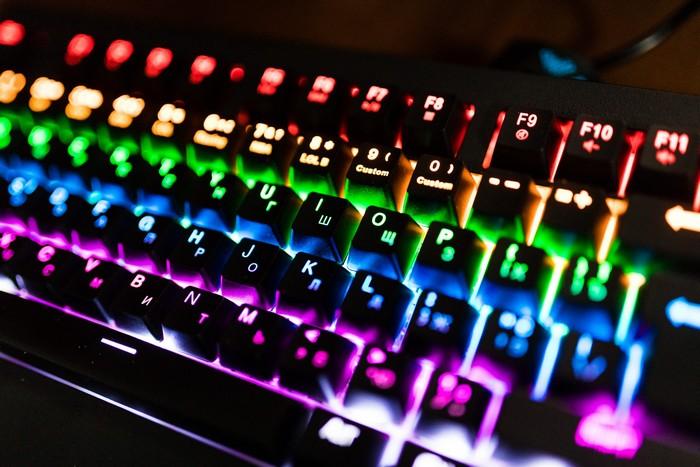 The Redragon key switches provide you access to a truly powerful per-key lighting capability. You can also get access to a huge degree of multiple lighting options. The Redragon keyboard can be one of the excellent options if you are checking out the full mechanical keyboard with RGB; the Redragon keyboard should be your prime option given the economical pricing compared to the other brands. 
---
Are there any factors that would make Redragon keyboards not much high quality?
---
Redragon strives to make its keyboards best suited for the budget experience, and in this attempt, it tries to save costs in certain areas. Unfortunately, there are a few areas that you may find a little lacking. 
Some of the options and factors that Redragon keyboard lags behind in terms of quality can include:
The use of ABS Keycaps: If you are a regular user of a mechanical keyboard, you would definitely have known that the PBT keycaps have been one of the excellent options for durability. However, Redragon makes use of the AB keycaps, which may appear to be quite a cheaper option to go with. 
The stabilizers are quite ratty in nature: The stabilizers used on the keyboard can prove to be a prime option for better durability. Being a budget keyboard, the Redragon keyboard cannot provide you access to a great degree of perfect stabilizers. You can perhaps expect the longer keys to rattling when you are using it. 
Power cable is non-detachable: The high-end keyboards generally come with a detachable cable. This will make it possible to replace the damaged keyboard cable. Unfortunately, the Redragon keyboard does not come with a detachable cable.
Do note that Redragon also offers you access to a few high-end keyboards. However, if you are trying to go with the Redragon keyboards in the price range under $50, that would perhaps be the only quality that you can expect. 
---
Should You Go with the Redragon Keyboard?
---
Still, finding it quite difficult to find if the Redragon keyboards are worthy of the expectations that you may have? The choice would be based on your individual preferences. If you are looking for a budget keyboard at $50 or around that economical pricing, the Redragon keyboards should definitely offer you a great pricing offer. The fact that you can get access to a higher-end functionality on your keyboard for a budget price can definitely make it one of the excellent options to go with. 
Redragon manufactures good and cheaper keyboards. They are not bad in any way whatsoever. However, you would not get access to a great degree of experience on your keyboard, as in the case of a high-end keyboard. However, the decent performance, good quality of key switches, and a few other features should ideally make it one of the prominent options that you would want to go with. 
The Closing Thoughts 
So, are Redragon keyboards good? Well, Redragon as a brand has become popular over the past few years. The fact that they are now being made available at a few well-known stores should stand a proof to ascertain the fact that Redragon keyboards are worthy of consideration. 
In case you are investing in your first gaming keyboard, or even checking out the options for the best budget keyboards, you can definitely want to go with a Redragon keyboard. You can have access to an enhanced degree of experience with your keyboards and opt for a wonderful gaming experience ever.