Being an affiliate marketer can be a lucrative career. Glassdoor's affiliate income statistics reveal that the average annual earning for affiliate marketers is around $60,500, with the highest forecast at $256,000.
Moreover, this business is low-cost and low-risk. Affiliates do not have to prepare upfront costs for products, rent, and equipment. Joining affiliate programs is typically free, and it is possible to partner with and earn commissions from more than one affiliate network.
This article will explain how affiliate marketing works and guide you through the process of building a successful affiliate marketing strategy that helps make income online.
Affiliate Marketing and How It Works
An affiliate marketing system involves earning a commission from a company for advertising its products or services and generating revenue.
A company will give each affiliate a unique link so they can track who is responsible for a sale. The affiliate marketers will earn money when someone clicks the affiliate link and makes a purchase.
Commission percentages vary depending on the company's offer, but they are between 5-30% on average.
How to Get Money Online with Affiliate Marketing
Follow these five steps to start your affiliate marketing business and make a steady passive income stream.
1. Choose Your Platform
The initial step in starting an affiliate marketing career is to pick a platform where you want to promote products.
The top three platforms many affiliates use are:
Affiliate website. Purchase web hosting and a domain name or use a website builder to develop an affiliate site to create content and place product links.
Social platforms. Include affiliate links in your social media posts on Instagram or video descriptions on your YouTube channel.
Courses and workshops. Educators or people who often hold events can integrate affiliate marketing through this approach.
We recommend picking a platform you already use and have a following on the most. Starting a marketing campaign on a platform you are familiar with helps create high-quality content and build an engaged audience.
2. Pick a Niche and Target Audience
Today, being a successful blogger or social media influencer is challenging due to the tough competition with more than 600 million blogs and over 3 million influencers worldwide.
Therefore, it's crucial to focus on a particular niche and build a loyal audience.
One way to choose a specific topic is to aim for a category you are passionate about and knowledgeable about the most. This can help you make authentic content and filter products or brands to promote.
At the same time, analyze market demand to ensure the niche's profitability. An excellent way to do this is to head onto marketplace websites and check their best-selling items.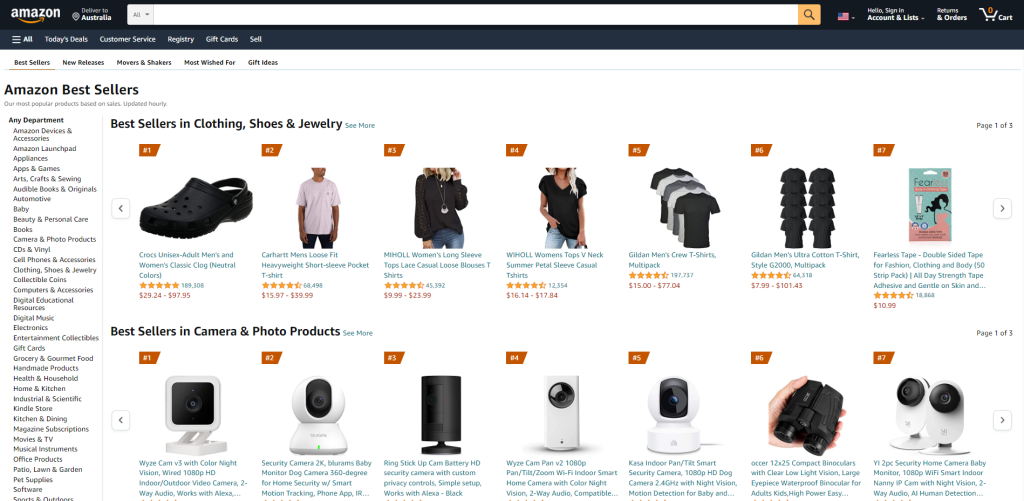 Image source
After choosing a niche, analyze the target audience to tailor content that's suitable for them. Let's say you pick a travel niche. In this case, your specific audience can be budget travelers or people who enjoy luxury trips.
3. Find Products and a Related Affiliate Program
When browsing through affiliate marketing campaigns, the most important criteria is the product's alignment with your niche and target audience. For example, travel bloggers can join affiliate programs for hotel or flight bookings and travel accessories.
To help find a suitable affiliate product and program, we divide the options into three categories:
Many companies such as Semrush, Nike, and Qatar Airways have affiliate programs. This option is suitable to promote niche products and receive higher affiliate marketing income because larger companies generally offer a better commission.
Online retailers like Amazon and Etsy have affiliate programs with various commission rates depending on the products you promote.
Affiliate networks. These platforms act as an intermediary between various merchants and publishers so you do not have to sign up for multiple affiliates. For example, ShareASale partners with Grammarly, Reebok, and Daily Harvest.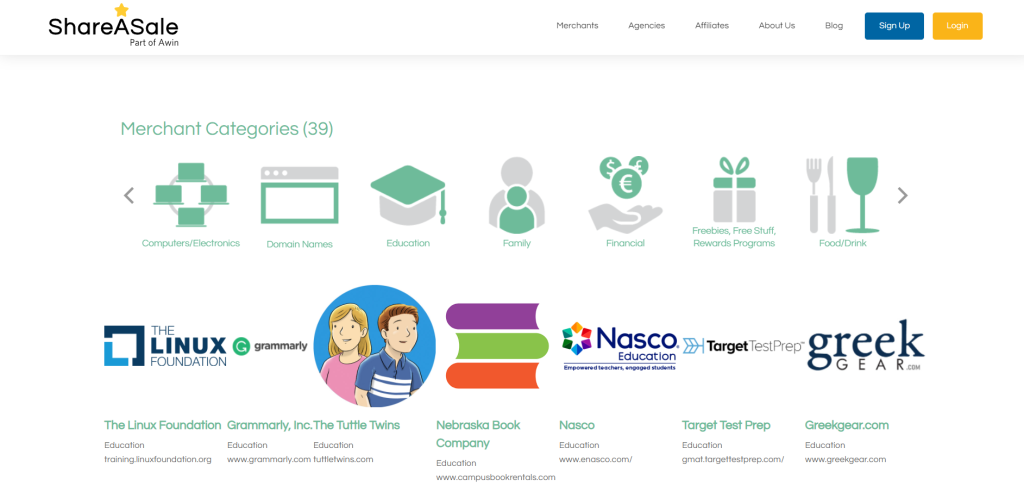 Image source
Although it is possible to include as many product links as you want, it is better to opt for an involved affiliate marketing approach – recommending products and brands you actually use and like – to help build credibility and a solid business reputation.
Pro tip: If you want to maximize your profits, consider signing up for a few referral programs since it works very similarly to affiliate marketing. The main difference between the two is that referral programs often require you to be an active user of the brand. Take Honeygain, for example; they offer a referral system where you can get continuous profits from each referral you bring as long as both you and the person you brought are using the app.
4. Create Content and Promote the Affiliate Products
Creating content is a great way to naturally integrate affiliate links and improve your chance to rank on search engines, which can attract more traffic and generate affiliate sales.
The types of content to create for promoting affiliate products include:
Product reviews. Share your opinions and feedback on a particular product. For example, the How To Hand Letter YouTube channel owner, Suzy, reviews pens she uses for hand lettering and includes her Amazon Affiliates' link in the video description.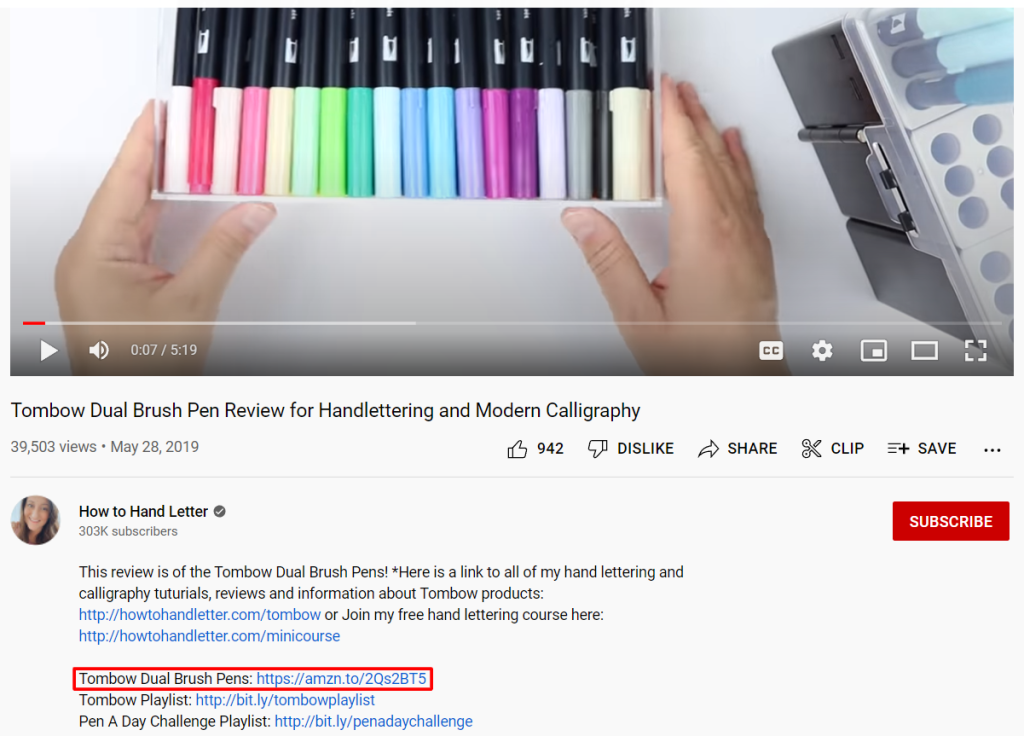 Image source
Write articles listing product recommendations related to your niche. For instance, Something Good Blog has a gift guide for book lovers and integrates links from affiliate partners.
Create how-to content and include links to the tools you use. Beatrice, who owns The Bliss Bean YouTube channel, shows how she edits her videos and shares the affiliate links for the cameras, tripods, and hard drives she uses.
Make sure to do keyword research before making content. This search engine optimization (SEO) strategy helps affiliates understand what specific terms people search for.
Do a quick Google search and see the search engine's autocomplete predictions and "Related searches" section. An alternative is to use keyword tools like AnswerThePublic and Ahrefs' Keyword Generator.
5. Analyze the Performance
Track your affiliate marketing success to know if your promotion techniques are working.
Some key metrics to analyze are:
The number of website visitors.
Clickthrough rate (CTR).
Overall affiliate revenue.
Many programs have a comprehensive analytics dashboard to help affiliates analyze their performance. For example, Booking.com's dashboard displays the number of clicks, trials, sales, and total commissions.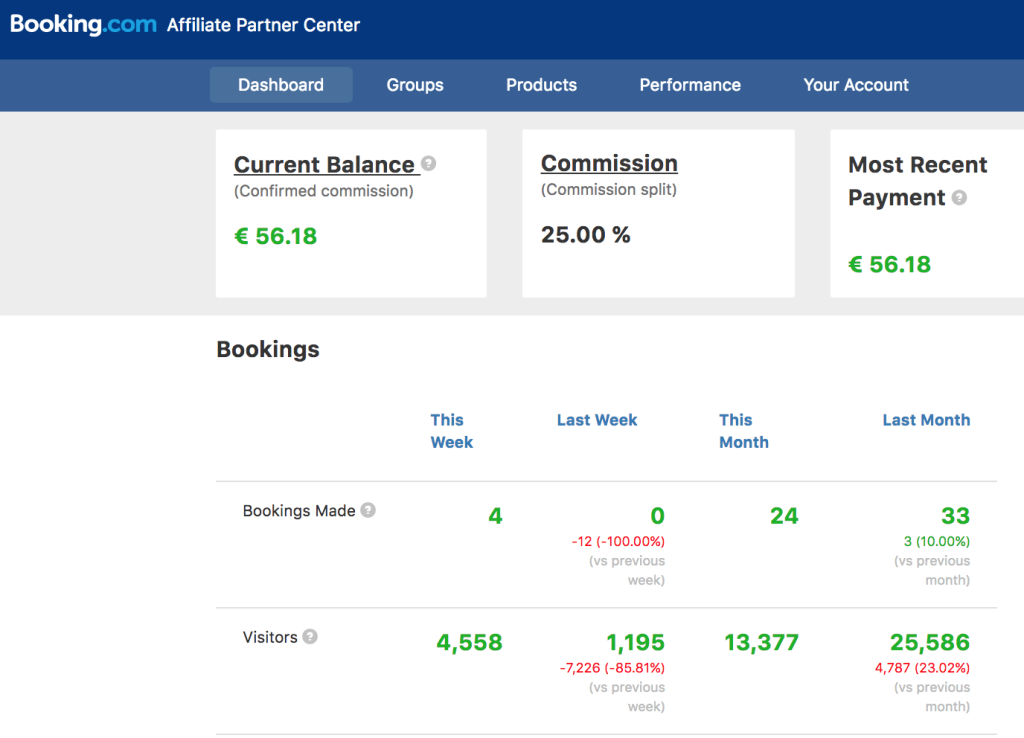 Image source
If you sign up for multiple affiliate programs, consider using AffJet since this tool can display analytics across different affiliate sites.
Another useful tool is Google Analytics. Although this tool cannot detect a user's actions on a partner website after clicking on your affiliate link, it can monitor on-site engagement, analyze user behavior, and understand audience demographics.
Conclusion
Affiliate marketing is a business model where a company pays marketers to promote its products and make sales through unique links.
Here are fives steps to becoming a successful affiliate marketer:
Pick a platform to promote products, such as a blog or social media.
Choose a niche and target audience based on your passion, knowledge, and market demand.
Find an affiliate marketing program and suitable products based on your niche.
Share content and include relevant product links.
Track the performance using affiliate dashboards and Google Analytics.
We hope this guide helps you kickstart your journey and generate high affiliate income. Good luck!