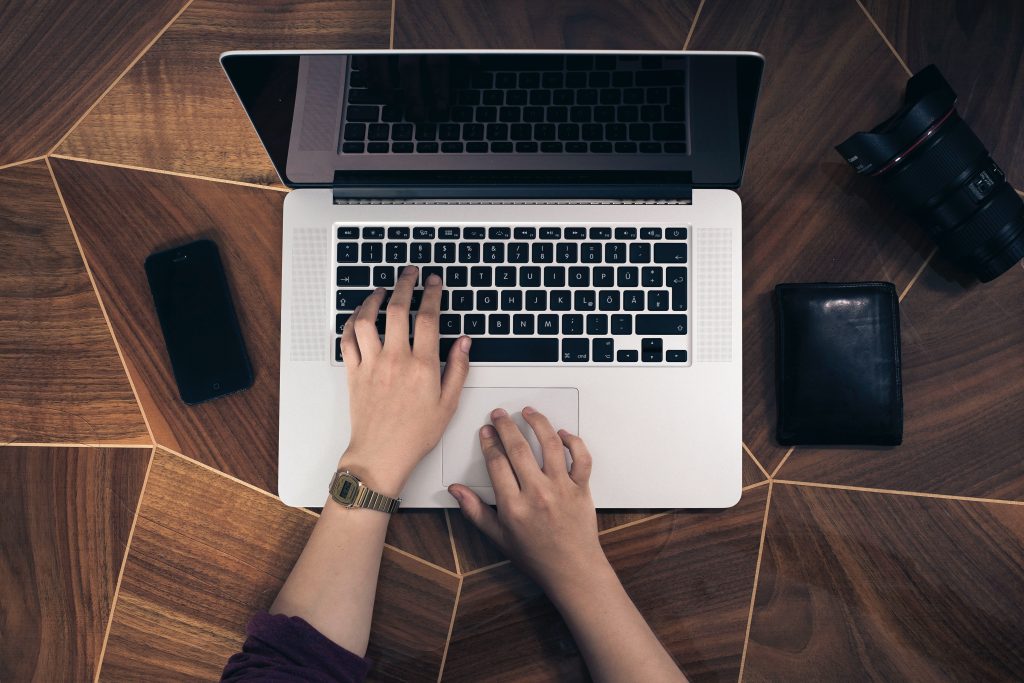 Photo by Fabian Irsara on Unsplash
If you run an online business, it's essential that you make your website as engaging as possible to build a relationship with your customers and drive more sales.
To provide you with some support in this area, let's look at six easy ways you can improve your company website to help you reach your business goals.
1.  Ensure your website's design is attractive but simple
When it comes to customized web design projects, it's crucial to find the right balance between making your website visually appealing but also straightforward to use for your audience. You don't want it to look cluttered and messy because people will feel overwhelmed and leave without giving your company a chance, leading to fewer conversions.
Your web design should be eye-catching yet simple, so your customers can find the information they are looking for and trust your business as quickly as possible. Here are some ways you can ensure that:
Create a user-friendly navigation menu that outlines intuitive categories of products and services you sell to make it easier for customers to find what they are looking for.
Keep your paragraphs to only two or three sentences to ensure it's skimmable and it is easier for your audience to scroll through your content on mobile devices.
Use engaging imagery to keep things exciting and highlight how your products and services can be used to help drive more sales.
For inspiration, take a look at this effective example from the virtual meeting platform BeaconLive.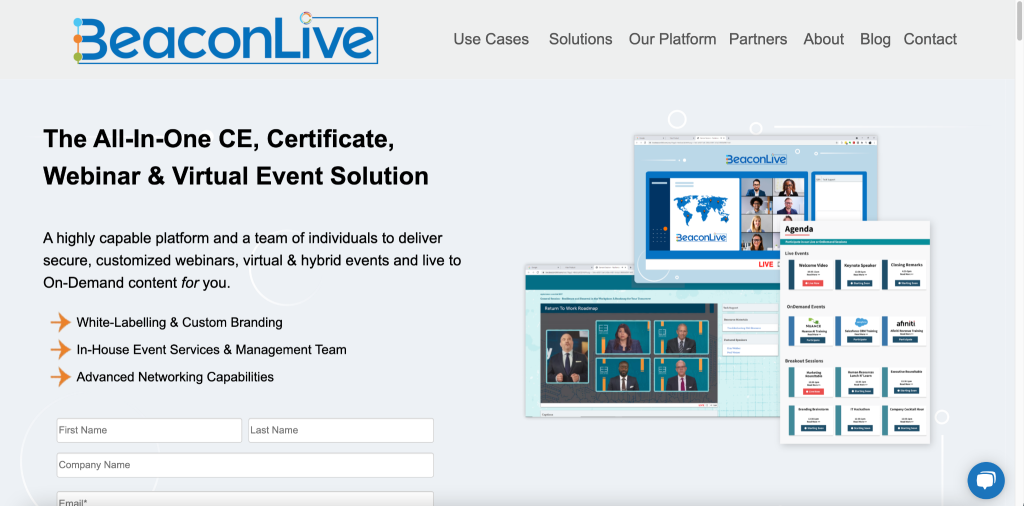 They have a straightforward navigation menu that highlights case studies, information about their platform, and even specific solutions the brand can provide for customers. They also use lots of bullet points on their homepage, which helps people skim the content and understand the value they deliver. All of these elements can help keep readers engaged while on the site and provide them with the information they need to make a purchase.
You can use the same strategy to ensure it's easy for people to navigate your website and skim your copy to find exactly what they're looking for. This will help to keep them engaged, so they'll be far less likely to leave your website without making a purchase.
1.  Make sure visitors always know what their next step is
Customers need a clear path forward if you want them to buy your products or engage with your services, or you'll risk them leaving your site to shop on a competitor's.
This means that you must make each step in your customer journey clear and offer prompts on what to do next that users cannot miss. You can do this with compelling calls to action (CTAs) that direct your customers to the next step of the conversion process. Here's how you can create engaging and effective CTAs:
Use strong command verbs
Take advantage of your customer's fear of missing out (FOMO) by highlighting a limited-time offer
Provide a reason for your audience to take action with supporting content to explain what they will get once they click
To get an idea of what this can look like, take a look at this example from the online retail discount tool DontPayFull.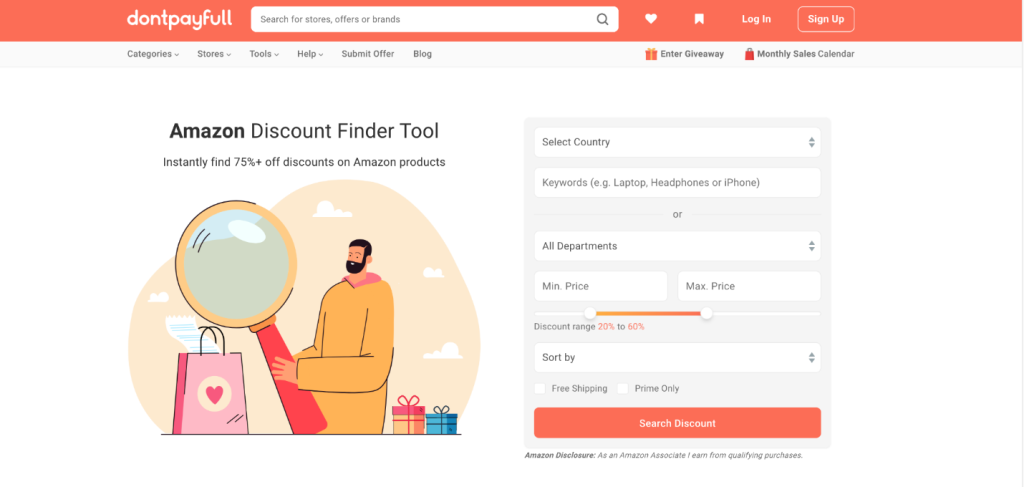 Their Amazon Discount Finder page does an excellent job of using CTAs to guide their customers towards taking the following steps — as you can see, they tell visitors to "Search Discount", which leaves no confusion about what they need to do next. Plus, if someone finds that they aren't on the right page to suit their needs, there's also an instruction in the search bar at the top of the page, which tells them to "Search for stores, offers, or brands". This tells shoppers exactly what they need to do if they want to move forward in their buying journey, which is bound to drive more engagement.
You can use the same strategy to make your website more engaging by enhancing your CTAs — ensure they provide clear directions, and leave no room for visitors to feel lost. This simple approach can be incredibly effective.
1.  Provide interactive elements that will keep visitors' attention
Typically, service pages can be pretty boring to read, since they are simply meant to inform users of what your products or services do. However, you can make your website more engaging by adding interactive elements like quizzes, calculators, and other tools to provide more value to your visitors.
There are lots of different interactive elements you can include on a service page, such as:
Quizzes that allow your audience to tell you about themselves, so you can help them choose the best solution for their needs
Calculators that can be used to provide additional value to customers and help you show the financial benefits of your products or services
Interactive games that provide a fun and engaging experience
Let's look at a company that does a great job of using interactive elements to keep their visitors' attention and make their site more engaging.
Online mortgage brokers Rocket Mortgage uses interactive content on their refinancing services page to help potential customers understand the process of refinancing with Rocket Mortgage.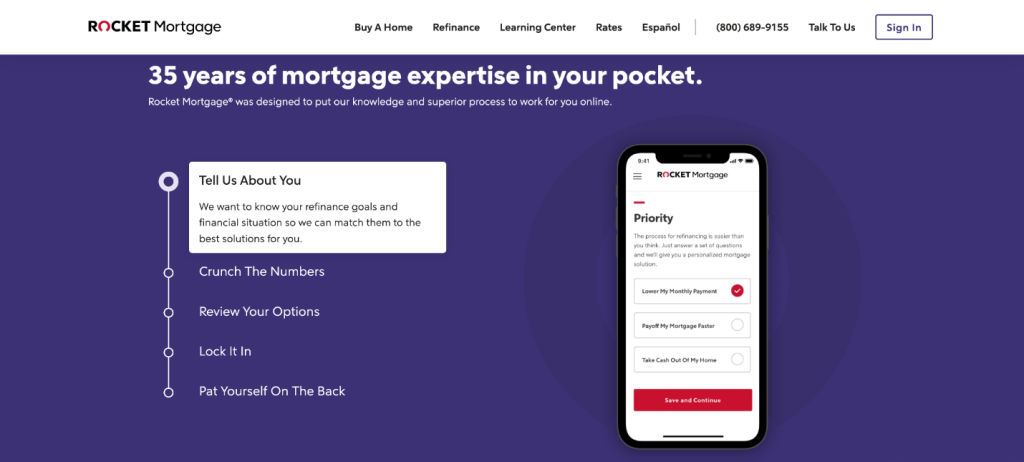 This process can seem overwhelming to begin with, but Rocket Mortgage uses this animation to keep visitors' attention and show them that Rocket Mortgage makes it easy. The interactive animations and easy to understand steps show the value of Rocket Mortgage to new customers, and it can help drive more signups and sales.
You can create an interactive experience with animated content to guide your audience, just like Rocket Mortgage, to keep your visitors' attention and make your website more engaging. Interactive content can help you keep your audience engaged for longer and drive more conversions over time.
1.  Harness the power of video content
Customer attention spans are getting shorter, so you need to develop content that will keep their attention, and there is no better way to make your website more engaging than with video content.
Videos offer a great way to show the value of your products or services without someone having to read a lot of text. Since some customers won't have a great deal of time to spend on your website, you can use videos to engage them and provide important information about your products or services that they might not have read otherwise.
Test out different types of video content like video testimonials, short product demonstrations, or how-to videos to see what connects with your audience the best. You should also be sure that your videos have a high resolution and are appropriately edited to connect with your audience, since low-quality videos will reduce the overall value of your brand. If possible, it could even be worth working with a professional videographer and editor to capture impressive footage that can then be edited into attention-grabbing and helpful videos to display on your website.
2.  Use imagery that gets visitors excited about what you sell
To retain people's attention and drive sales, you need to make sure visitors get excited when they land on your website. And the truth of the matter is that users will see your imagery before they even stop to read your page copy, so you need to focus on getting it right.
To make your website more engaging, create the perfect imagery that shows how your products or services will be used by your customers, as this will provide a good idea of their value.
For inspiration, let's take a look at a company that uses imagery to show the value of its products and make its website more engaging.
Ancestry, an online genealogy service, uses imagery on its homepage to inspire potential customers to get started. These images build a sense of wonder and anticipation, driving more people to sign up for the service and find out their own family stories. Another example is Aura Imaging.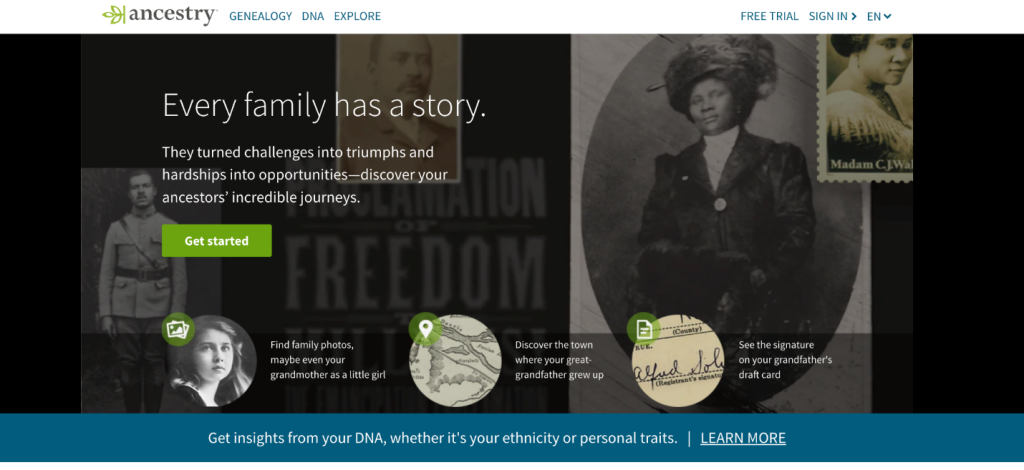 The company's choice of images is particularly effective, because they'll encourage people to think about what their own relatives and ancestors may have looked like. This is likely to inspire a sense of excitement in them that might just be enough to convince them to pay for the company's services.
You can use the same strategy to make your website more engaging by adding imagery that will show the value of your products or services and inspire your customers to take action. Always opt for high-quality images that do more than decorate your page. These can help make your website more engaging and drive more sales over time.
1.  Consistently publish blog posts that visitors will find valuable
Providing genuine value for prospective customers with your content is an excellent way to keep them engaged. Plus, your audience will come to trust your brand as you provide solutions to their problems.
There are lots of different types of content that can work well for this, such as:
How-to guides
Buying guides and comparison pieces
eBooks that provide in-depth information about a relevant topic
The best way to keep your customers engaged is through educational content. Blog posts that provide this can be used to build a stronger relationship between you and your audience and keep people on your website for longer. Plus, consistently publishing great content will show your audience that you are an expert in your industry. This will help to earn people's trust and drive more sales for your business.
Summary
You can keep your customers engaged on your website with an attractive but simple design, interactive content, and valuable blog posts. The more engaged your customers are, the more sales you are likely to make, so it's well worth investing some of your time and energy into trying these tactics out.
If you use these six simple tips, it's likely you'll see a sharp increase in engagement and better sales numbers as more of your customers are enthralled by your company website.
Author bio & headshot:
Adam Steele has been writing about digital marketing and SEO for 11 years. He's consulted for businesses small and large, including several of the largest companies in the world. If you liked this post, follow him on Twitter and LinkedIn for more like it.