Are you in the process of building a new website or need to do some maintenance on already existing pages? If that's the case, it's high time you get a WP plugin to do the job, as it significantly adds to your website and makes it appear professional even while it's not live. On the other side, a coming soon page may keep your audience updated on important announcements or new products you're launching. Both are equally important. 
No need to do anything special to create a coming soon page. All you have to do now is install a simple plugin if you're using WordPress.
Maintenance Mode VS. Coming Soon 
A coming soon page, often known as an under-construction page, is a page that shows visitors what's coming soon as you work behind the scenes on your WordPress site. The majority of WordPress coming soon pages also incorporate several tools that will assist you in marketing your website before its debut.
When making minor modifications to your website, a maintenance mode page is displayed to visitors. Website maintenance mode, also known as WP maintenance mode, sends a header code (503) to search engines to let them know your site is down for maintenance, so it doesn't harm your site's reputation.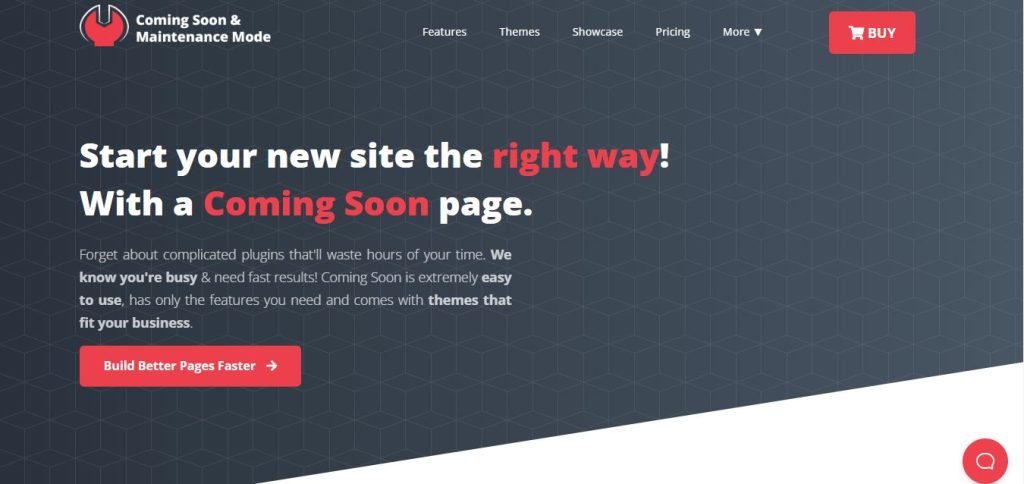 The Coming Soon & Maintenance Mode plugin can help you create either of these pages for your website. Its drag-and-drop visual builder is extremely user-friendly, so non-designers have no fear. Even with zero experience in building a webpage, you could have one in minutes. The plugin is very intuitive, and the pages you create with it are customizable to a tee. Plus, Coming Soon % Maintenance Mode comes with extra bells and whistles for SEO, email collection, and more. 
Features
1. Themes 
Every plugin does have a fair number of themes or templates you can customize to create a page; however, Coming Soon & Maintenance Mode comes with over 170 ready-made themes, suitable for any industry. These themes are beautiful, and you'll be able to choose the right one to meet your website's branding standards. You have to browse the theme collection and pick the one you like best. Every month, new themes are added to the already extensive theme library, so there's no need to worry that things will get old. 

2. Images 
An image is worth a thousand words. Yes, indeed it is, and when it comes to web design, the choice of a background photo can easily break the whole procedure. All pictures are of excellent quality and can be found and browsed directly from the page editor. With this plugin, you'll have access to over 2 million free images. 
In addition to just offering a heap of images you can use, you'll also be glad to hear that any images found on the site can be customized to fit the overall design. Coming Soon & Maintenance Mode is about giving you complete control over your content. It includes Instagram-inspired effects to let you edit the photos and make them stand out. It comes with 26 amazing-looking filters that will give you a completely different image in seconds.
3. Built-in SEO 
This Coming Soon and Maintenance Mode plugin can also help you with your Search Engine Optimization. Before launching your website, you must think about how to reach a top ranking in the search engines. In such a case, the Coming Soon & Maintenance Mode plugin might be of excellent service. After assessing a range of parameters, the plugin can provide your website's predicted SEO score.
4. Special Access Links
With millions of new websites and blogs launched every month, you must ensure that yours is always up and running, even before the launch. This is especially useful if you need to show your progress to your boss or have a set of particular clients who need to be regularly kept up to speed on the situation.
So, how does this function? There are a few different approaches to this. You may, for example, enable people who have logged in to see what you're doing, or you can add essential IP addresses to an safelist, giving them access to the unfinished site. When using the latter approach, keep in mind that IP addresses might change.
5. Email Collection 
We've already briefly touched on how this plugin allows for email collection by creating a subscription form. But there's more to it. The plugin will direct the subscribers to your CRMs, webinar, marketing tools, and autoresponder, using the subscriptions you earn in this manner. You can also modify the messages a subscriber receives when they successfully or mistakenly fill out the subscription form.
Pricing 
So, we've told you a lot about this plugin and its many cool features, so now, you must be asking, "how much would this set me back?" Readers ask this standard question after reading a review for virtually anything, but don't worry; this one doesn't break the bank. The PRO yearly plan starts as low as $39. 
Despite being loaded with features, it's priced quite reasonably. At only $199, this WordPress plugin also comes with lifetime access. This is ideal for professional bloggers and freelancers who frequently create websites and want complete control over their content.
Conclusion
We are sure that this plugin will delight you as much as us. Indeed, its performance and capabilities will allow you to prepare a page worthy of your brand, and with a large selection of themes and images, you will save time while working on your business.