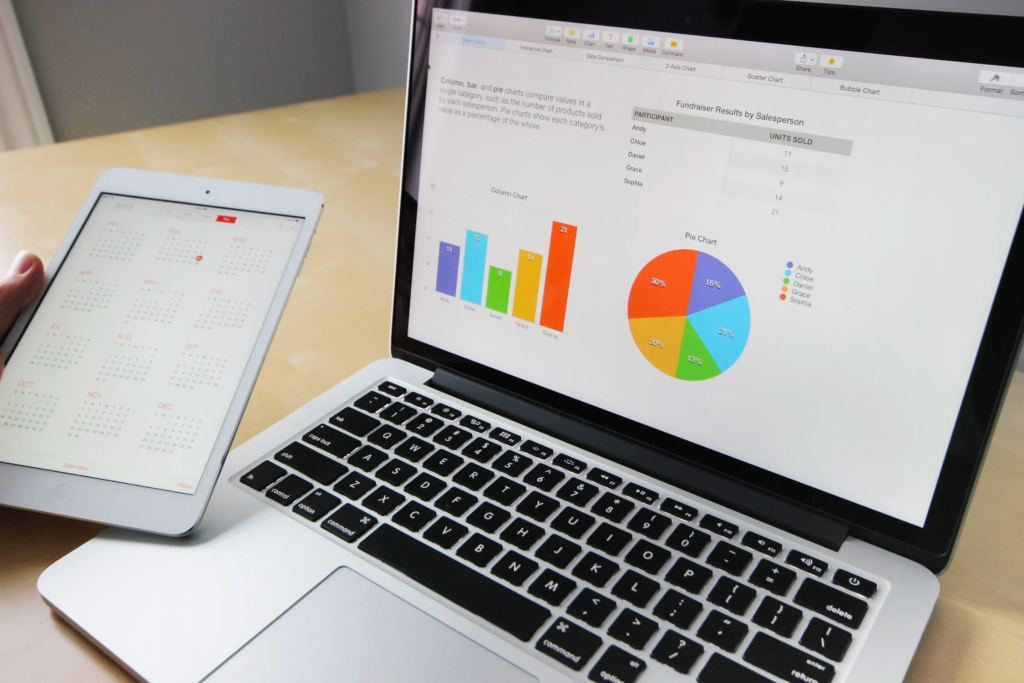 Freebie marketing involves offering free products, resources, or services to your target audience. This can give people an idea of what your business is capable of, helping you build trust and ultimately grow your sales!
In this article, we're going to outline how you can market your business using freebie marketing. Let's get started.
Provide customers with a sample of your services for free
You might be hesitant to offer free trials or consultations in case it loses you time or money. However, this can be a very cost-effective way of securing loyal customers! This is because it will allow your prospective customers to get a taste of what you can offer without them making a financial commitment.
So, consider offering a free trial or consultation that will give people an idea of what it's like to use your services! Let's take a look at a few companies that offer samples of their services for free as inspiration.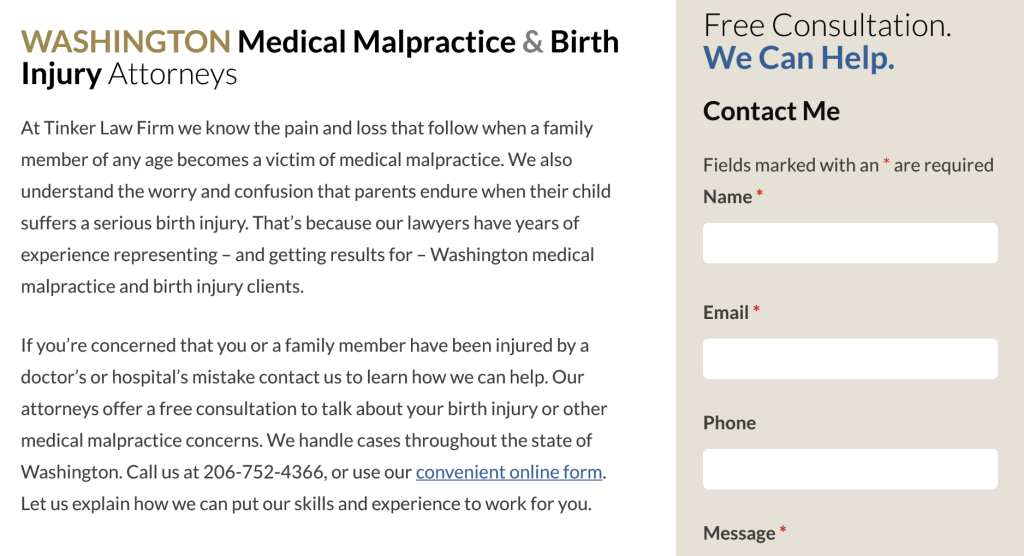 The Tinker Law Firm PLLC, a medical malpractice law firm, offers a free consultation to anyone who needs it. As you can see above, on their website, there is a form for users to fill out. Once they do, they'll be contacted by The Tinker Law Firm PLLC. Offering free consultations is very important for law firms — legal services can be intimidating, but a free consultation can help to put people at ease.
During legal consultations, prospective clients will likely speak with lawyers about their concerns and determine whether or not it's worth taking legal action. Because this service is free, people are encouraged to get in touch to ask questions. Once they're in the room, they'll be more likely to become a client of The Tinker Law Firm PLLC if the need is there.
Consider offering free advice or consultations to prospective customers. And, make it incredibly easy for people to request a chat with you. This is a great way to encourage people to get in touch and will give them an idea of how your services work.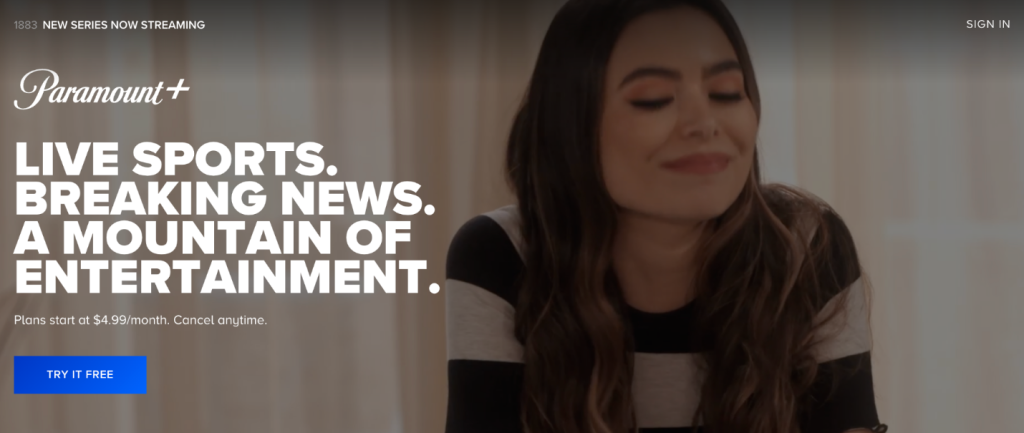 Paramount+, a streaming service, also offers some of their services for free. As you can see in the image above, they have a "Try It Free" call to action that tells the user they can save money on a trial. If people like their services, they'll sign up. In fact, Parks Associates, a market research company, conducted a study that found 47% of people who subscribed to a free trial of an online video service went on to pay after the trial period expired. So, this can be a very effective way to secure more customers.
If possible, consider offering a free trial of your services. This will give people a better idea of whether your business is right for their needs, leading to happier and more loyal customers.
Create free tools that will attract quality traffic
Freebies can also help you drive the best traffic to your website. For instance, if you create free tools that address a common customer pain point, you will drive more high-quality traffic to your website and secure more customers!
To identify the customer pain points you can address with your free tools, you might want to consider sending out a survey to your past customers. This can help you get specific information about the type of people you're targeting — ask them things like what they need from businesses like yours or how you could help them better understand your niche.
If you can create a calculator, template, or tool that solves your ideal customers' problems, they'll be more likely to trust you, and therefore more likely to spend money with you down the road.
Let's take a look at a few examples of businesses that offer great free tools that address customer pain points for inspiration.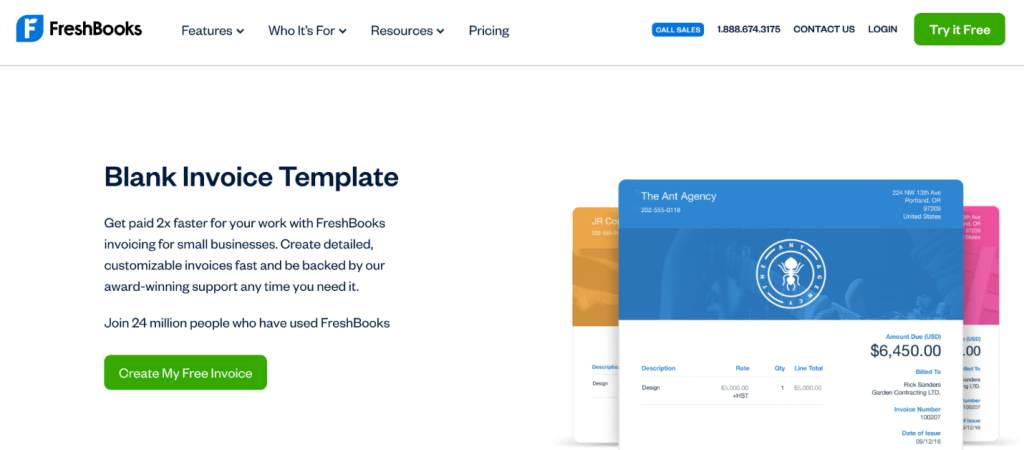 FreshBooks, an online accounting software provider, offers helpful invoice templates to anyone who arrives on their website. FreshBooks' target audience is largely freelancers and small business owners, both of whom are likely to do their own invoicing. And people who like these templates will be more likely to spend money with FreshBooks in the future!
Think about what templates you could offer to draw more of the right people to your website. If you can help simplify a process for your audience, they'll be more likely to spend money with you down the road.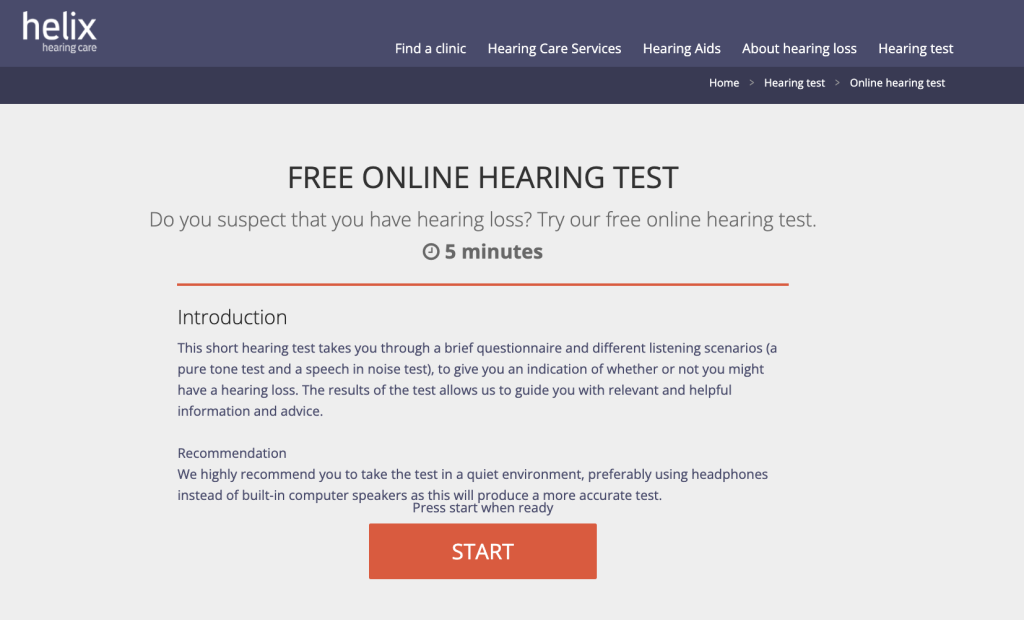 Finally, Helix Hearing Care, a hearing aid provider, also offers a helpful free tool on their website. They have a free online hearing test for people who are concerned about hearing loss. If someone takes the test and determines that they're hard of hearing, they'll already trust Helix Hearing Care, making it more likely that they'll make a purchase with the brand.
Consider offering a test, tool, or calculator that helps people determine whether or not they need your services. This can build trust with website visitors and make it more likely that they'll buy from you.
Use freebies as lead magnets to get more newsletter sign-ups
Freebies can also be used as lead magnets. These are free tools or resources that you can offer in exchange for a user's contact information. Once you get their contact information, you can then send them your marketing materials over email. Once people receive your email marketing regarding sales, new content, and the like, they'll think about your business more often, which will increase the chances of them making a purchase!
Let's take a look at an example of a business that uses lead magnets on their website as inspiration.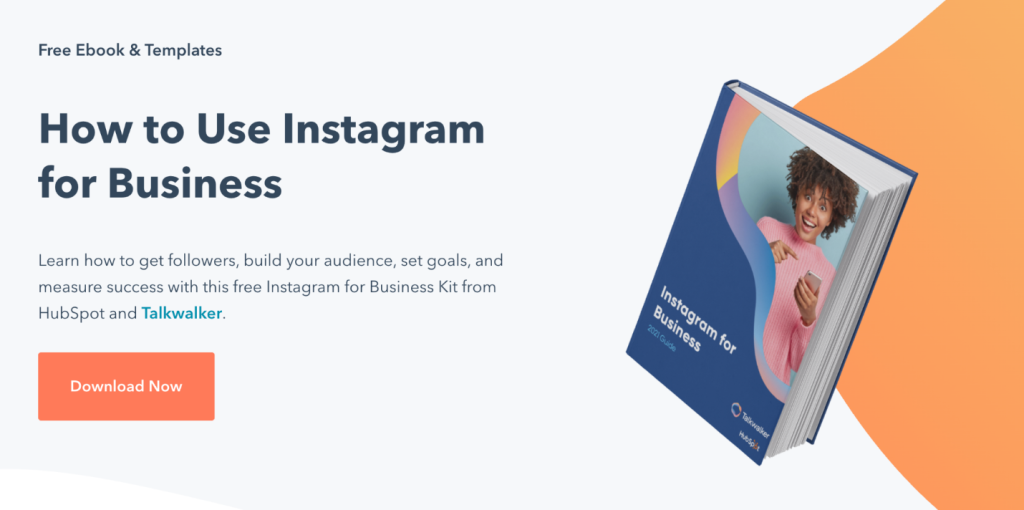 HubSpot, a digital marketing agency, offers a range of freebies on their website. For instance, they have a guide to Instagram for business that anyone can download in exchange for offering their contact information. By providing a helpful resource, HubSpot can get a lot of newsletter signups, which will help to grow their conversion rate.
Consider offering free eBooks or resources in exchange for your website visitors' contact information. This will help you get more newsletter subscriptions and let you send out more marketing materials, which can help you grow your sales!
Incentivize repeat purchases with free gifts
Freebies don't just have to be used to attract new customers — they can also be used to retain existing ones. You could, for instance, provide a loyalty program where people receive points or free gifts when they make purchases with your business. This strategy can encourage people to stay loyal to your business. For instance, Dainty Jewells could add a free gift to each order, and that way they will make one more step in retaining their current customers.
Keep in mind that it's cheaper to retain current customers than gain new ones. In fact, finding new customers can be 5 to 25 times more expensive! With that in mind, let's take a look at a business that incentivizes repeat purchases with a loyalty program for inspiration.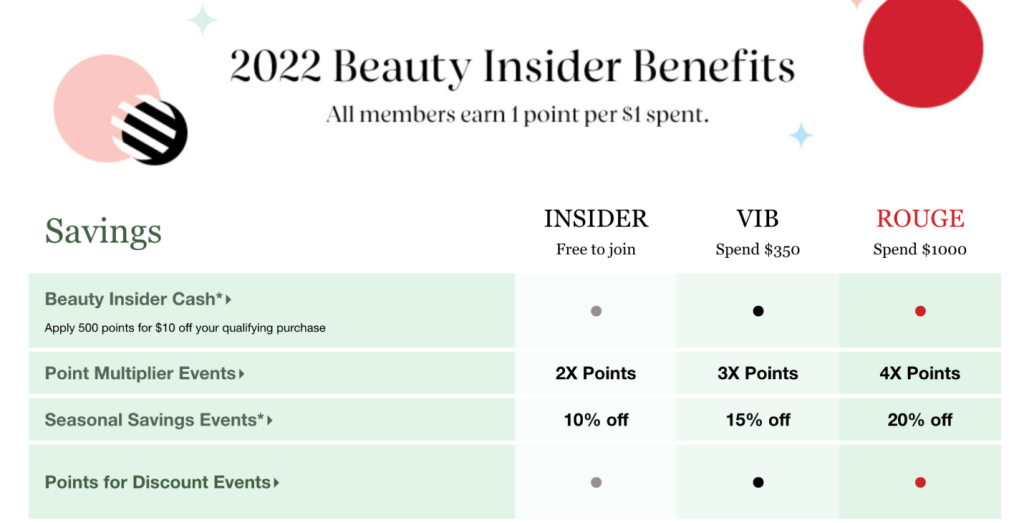 Sephora, a makeup retailer, has a great loyalty program. On their Beauty Insider page, they outline some of the perks of their program, including their point system, savings, and the like. This program encourages people to spend with Sephora, as they'll want to get free gifts and rewards. In other words, their Beauty Insider program can grow their sales!
Consider creating a loyalty program for your customers. If they can earn free gifts or points for spending money with you, they'll be more likely to become loyal to your business!
Publish free resources that earn your audience's trust
In order to make more sales, you need to earn people's trust. One of the best ways you can do this is by helping them out for free! Free tools and resources aimed at your target audience are ideal for this.
To come up with ideas for free resources, think about what processes people in your niche have to complete regularly. If you can offer a free tool or guide that helps them, you can earn your audience's trust and grow your sales.
Let's take a look at how we, at Loganix, publish resources that earn our audience's trust for inspiration.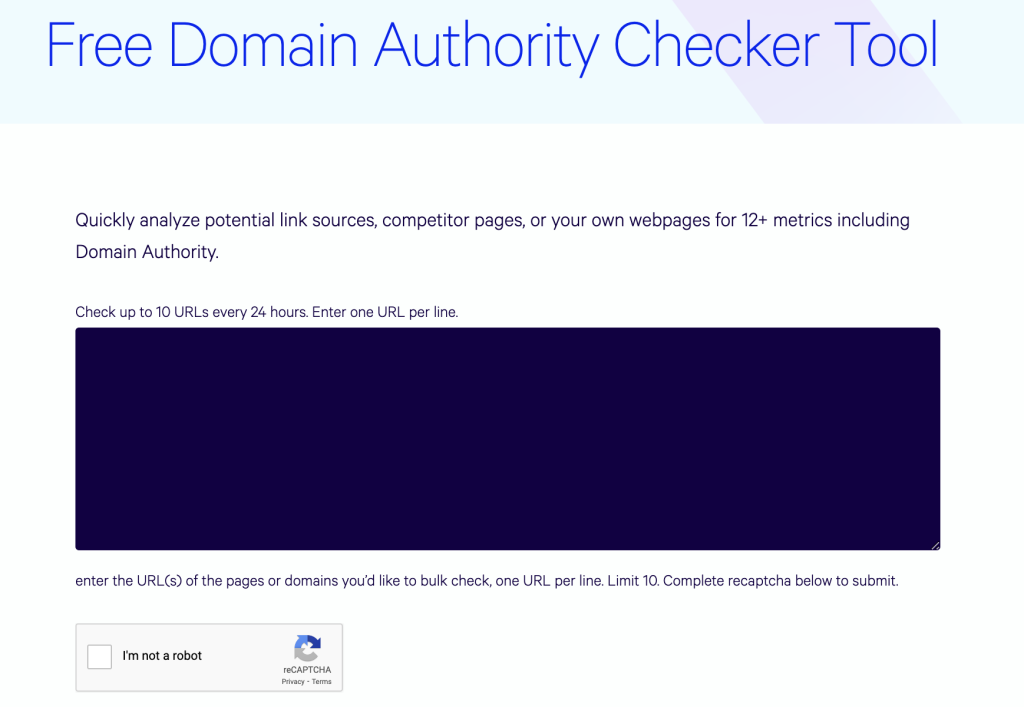 As an SEO fulfillment agency, our free domain authority (DA) checker tool is useful for our target audience. This tool helps with backlink building, which is an important part of SEO! Before someone builds backlinks on a website, they need to check its DA. This is a score developed by Moz to determine how likely a website is to rank highly on the SERPs. Because Loganix is an SEO fulfillment agency, this is a very effective tool for us to offer. It can support people and businesses who need help improving their SEO efforts — once they have established a relationship with us, they'll be more likely to make a purchase in the future.
Consider offering free tools on your website that work as an introduction to your paid-for services. These will help your customers and make them more likely to make a purchase.
Summary
Freebie marketing is a very effective way to build loyalty and grow your sales. In this article, we outlined how you can use free resources, tools, and loyalty programs to retain customers. Start thinking about what you can offer your customers and get to work!
Author bio & headshot:
Adam Steele is COO and co-founder of Loganix, which is an SEO fulfillment partner for digital marketing agencies and professionals. The company provides the SEO services that businesses need to grow and achieve their goals. If you enjoyed this article, you can find more SEO guides and templates on the Loganix blog.