With the help of maintenance plugins, anyone can build a page on WordPress. It's not a job solely designers do anymore. Of course, most will still opt to pay a designer to create the whole site and make it both functional and aesthetically pleasing. But what if you already have a design and simply want to announce the launch of a new product or section on your website? Can you match the skills of a designer and create a stunning under-construction page all on your own? 
With the right plugin, the answer may as well be yes. But since there are so many out there, you will have to find the one that offers the flexibility and ease of use you're after. If you're still not sold on creating such a page in the first place, let us explain why you should. 
How Can This Page Help Your Site?
Email Collecting 
One of the most practical ways to contact the audience, despite the popularity of social media, is indeed email marketing. By adding a subscription form, you can allow people to become a member of your community before even fishing the website. People will know that you care about them and will notify them as soon as the page is active by seeing the form on the website. They are more likely to leave you an email address because they saw your site is already making an effort at such an early level.
Keep up excellent communication with your audience
If you've been running a website for several years, you've developed a connection with your visitors. They have come to trust you and anticipate your website will always be accessible. They don't anticipate visiting a broken site when they open it in the browser. But, sometimes, you will have to make repairs or updates, which might render your site unusable at the moment. Create an under-construction page for your devoted visitors to show them they aren't forgotten. Use it to apologize.
Raise brand awareness 
Most plugins allow you to add your logo and create headlines and photos to support product promotion. You have the opportunity to sell yourself, your business, or your product with essentially little effort by displaying an under-construction page before your site is even open to the public. Therefore, you will show them that you care about what you do rather than letting them see a damaged area. 
Now that you're hooked on getting a plugin for the job, let us introduce you to the best one on the market, UnderConstructionPage.
UnderConstructionPage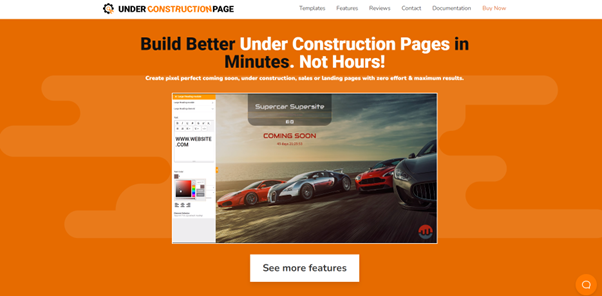 Even though the number of maintenance plugins has skyrocketed in recent years, you can never go wrong with an evergreen. UnderConstructionPage has existed for a few years, has over 100,000 active installations, and has myriad five-star user reviews. So, when we call it one of the best in the business, we say it because its users voted it the best. 
UnderConstructionPage is a freemium plugin, meaning you can get either the free or the PRO version. With this plugin, you can do the job of a designer at a fraction of the cost and the time – it's that user-friendly. And while the free does still offer more than most, virtually none can stand up to the customization options and ease of use of the PRO version. So, stay with us to see what the fuss is about.
Why UnderConstructionPage Is Our Number One Choice
Customization 
User-friendly 
Building a website is a long and often tedious process. You probably already have a designer working on the job, but why not announce a new website or product release via an under-construction page. This plugin will allow you to create any one-page site within minutes, even if you've never had any design or web development experience. Its beginner-friendly drag-and-drop builder shows every change made in real-time – no code needed. Simply pick the element you wish to move or add from the editor in the sidebar and drag it directly onto the page. It's that simple. 
Templates 
So, as we've already established, you might not be a computer whiz, or you may not have an eye for design. Lucky for you, UnderConstructionPage comes with over 320 ready-made templates that can fit any niche. Are you in digital marketing, business, or announcing a new yoga class? You'll find everything you want in the plugin's extensive template library. All you have to do is click on the template you want to use and start customizing. Do as much or as little as you'd like, and you'll have a perfect page in minutes. Plus, every page you create will comply with Google's standards and automatically be SEO friendly and responsive – zero effort on your part.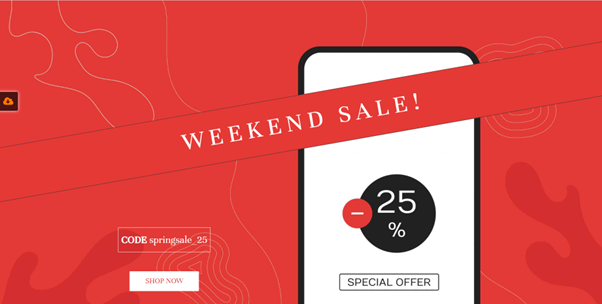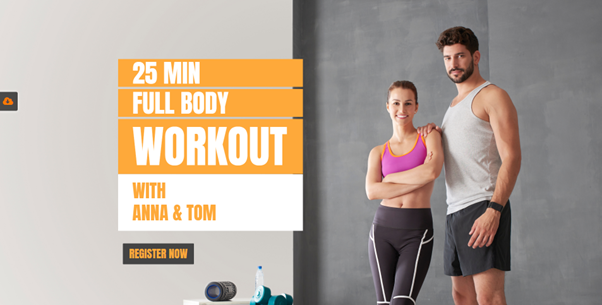 A Premium Image Library
Okay, so you get how easy it is to pick a template and drag and drop desired elements by now. But what if you don't want to keep the template almost precisely as it is or want a different background photo. You'll be glad to hear that there's no reason to scour the internet's free stock image libraries, as this plugin provides you with access to 3.2 million image libraries any PRO user can access and use free of charge. The images can be downloaded, rescaled, recolored, and customized without leaving the main editor. 
Functionality and Accessibility 
You can now see how easy it is to build a simple one-page site. But, what can you do with it, and will someone help you should an issue present itself in the process? 
Affiliate & Traffic Tracking
This is just one of the features that sold us on UnderConstructionPage as a whole. The purpose of any page is to get traffic. Well, with this plugin, your page will not only attract traffic but said traffic could also be targeted and tracked. What does this mean? This plugin allows you to create tracked inbound links and share them on social media or with your affiliate partners. That way, you can optimize your under-construction page and pinpoint the traffic with the highest conversion rates. 
Support 
Support can be a pain point for most when purchasing a product. If there's no support whatsoever, we'd suggest you steer clear. UCP offers fast and friendly customer support to anyone with a premium license. The support is never outsourced, and you'll be getting information straight from the people who built the plugin – it doesn't get any better than that. It is also worth mentioning that free users aren't left in the lurch either. The official support bar on WordPress' plugin repository is frequently updated and questions answered. 
 Start from the Beginning
There's no need to let your page rot as you make changes; with this plugin, you will never have to do it again. It truly is an all-in-one maintenance plugin and has our best recommendations.