In the present, businesses must take a variety of efforts to stay up with the advancement of current technologies.
Traditional brick-and-mortar stores have gradually begun to shift their marketing strategies to internet marketing, or they have begun to work harder and invest more in their marketing strategy by concentrating on digital marketing plans. These digital media marketing solutions are aimed at a lucrative and rapidly developing online industry.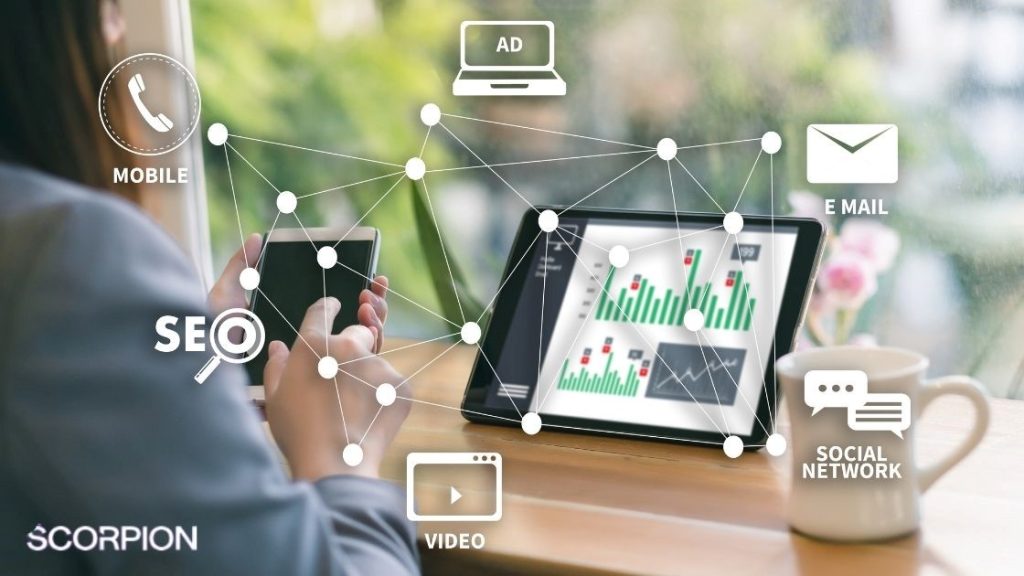 The method of attracting internet customers will determine whether a company is successful or not.
With digital marketing, business owners will be able to compete effectively and achieve considerable growth by utilizing numerous digital marketing tools and approaches. A solid web presence can benefit any expanding or prospective firm. Businesses with an internet presence have a higher chance of surviving, competing, and growing.
What is a digital marketing strategy?
A digital marketing strategy is a technique for achieving your company's marketing objectives through online channels such as search engines and social media. Most strategy plans will include the internet channels and digital marketing methods you'll employ, as well as how much you'll spend on each.
Steps to Boost your Business Growth
Starting with the most basic of all – setting goals. No matter what you do, how you do, or where you do. It is futile unless you know why you are doing it! Determining a goal is the first step you must include in your business growth strategies.
Ask yourself questions:
What do I want to achieve? Is it more sales, acquiring more customers, or building a brand?
Who is my target? Is your product or service for the child, teenager, young adult, married, older people, or any other demographic?
After deciding who your target audience is, it's time to create a plan. You can also check various statistics on your niche. You can take help of Google Trends to identify ongoing trends popular among people.
Finally, give your goals a deadline. For example, what results do you plan to achieve in the next year, and what are you willing to do to achieve those results? Then based on the answers, draft a plan to follow for that entire year. And at the end, measure how much you have improved and check what all things can be modified to improve the overall performance of your digital marketing strategy.
Create Graphics/content/videos
Once your plan out your strategies, it's time to attract people's attention. One of the major attractions of people is color. A good color graded design, photo, or film can leave a mark on 90% of people in the first impression. Therefore, it is absolutely necessary to choose the right spectrum of colors to create graphics.
In photos or videos, color grading plays an important part. If you know about photography, it entails shooting images with the various color combination. Moreover, various colors have a different impact on the human mind.
For example, red is related to anger or danger. Yellow is related with caution, and green is related to abundance. That's why creatively using appropriate colors to create a design, photograph, or video can help set the mood for the image or film.
After completing the design, it's time to run ads. PPC stands for pay per click. PPC is an advertising model where advertisers (businesses) are charged whenever the ads receive a click.
Most popular types of advertisements:
Google ads
Social media ads (Facebook, Instagram, Snapchat)
Bing ads
LinkedIn ads
YouTube ads
These platforms are the measure advertisement platform that many businesses use to run ads. They allow you to target a particular demographic based on their age, region, interest, past activity, and many other factors.
To run ads on these platforms, you need to sign up with their ad manager. For example, run ads on Facebook and Instagram signup with Facebook ad manager. To run ads in Google, sign up with Google ad manager.
After signing up, use the graphics or video in the ads to show them to the interested people and gain their attention.
SEO stands for Search Engine Optimization. It is similar to PPC; however, it takes a considerable amount of time. Think of it as online ads without paying for them. Yes! SEO is free. It is responsible for ranking a webpage or website on the first page after being triggered by a certain keyword.
On-page SEO
Off-page SEO
It involves creating links, profiles, txt files, sitemaps, optimization, and several other tasks. These all activities add up over time, improving the rankings of your website. So the higher you rank, the more free traffic (people surfing online) you will have on your website.
Focus on customer's buying journey
This step is essentially an important part, and every business thinks about this before beginning their operation. A customer's buying journey means the stage a customer goes through before deciding to make any purchase.
Following are the stages of customer's buying journey:
In the first stage, people see your ads. This makes them aware of your brand. It takes 5 to 7 impressions for a person to remember a brand.
After they see your ad, they will consider it and click on it to view what you offer. They may not purchase from you the first time. However, as long as you provide them with value, they will become your customers eventually.
Finally, after building that trust, they purchase and become your customer.
The second last step is retention. It is easy to retain a customer than to obtain a new one. So, it is recommended to follow every step to retain them.
Once you keep providing them with valuable items and services, they eventually become a loyal customer.
Leverage the power of email marketing
After you acquire leads with the help of ads and SEO, use email marketing to keep in touch with them. Various email marketing tools, such as Convertkit and MailChimp may help you manage and converse with your email list.
One of the most powerful reasons email marketing is important is that your customers are your own. They choose to listen to you and receive your emails, unlike social media or any other platform where as soon as you get banned, you will lose all your followings. They offer safety to your customer's list.
With email marketing, you can launch your new products, offer discounts to people, segregate your customer and send personalized emails, and many more.
Finally, online presence is one of the crucial things that define your credibility. Think about it, you saw an ad regarding a particular ad and visited their social media handle with poor followings and poorly managed profile. You lose a customer. Next, you Google about them and see a blank Google my business account with no or low reviews. What impact will it have on you? Probably you want to turn away, right?
Similarly, if you have an engaging social media profile with your contact details, information about you, good followings, well-managed posts, and stories, people naturally want to follow you and become your customers.
Moreover, social media or online presence also help you to converse with your customers and find what they like or dislike. For example, platforms such as Twitter and LinkedIn offer the 'Poll' to let your followers choose from the best options.
So, these steps will help you grow your business with the help of digital marketing. However, each of these steps is a huge topic on its own. And rather than spending hours figuring out how to implement these steps, the easiest and most cost-effective way is to take the help of a professional to implement business growth strategies effectively to achieve your goals. And if you want to learn more about how to successfully start a news business, read more on StepbyStepBusiness.com.
Author Bio:
Scorpion offers top-notch technology and marketing services to local businesses that want to grow and accelerate their sales. Scorpion has a team specialized in various marketing areas such as SEO, Reviews, Advertising, Email Marketing, Chat and Messaging, social media, Websites, Lead Management, Appointment Scheduling, and more.