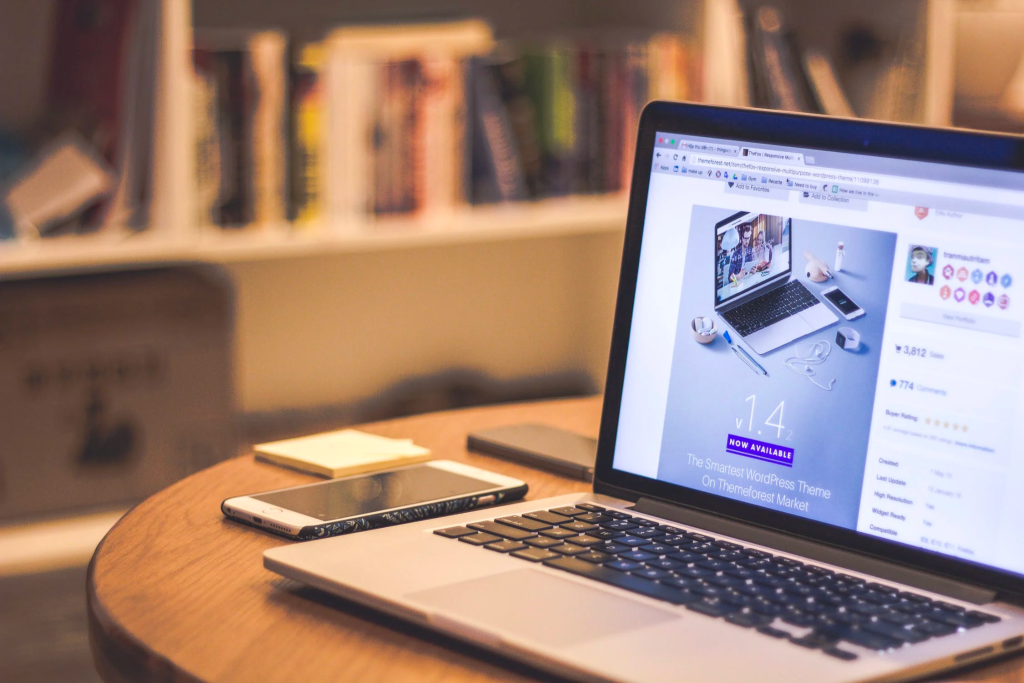 Video content is becoming increasingly popular online! In fact, in 2022, the average person is expected to spend 100 minutes per day watching online videos. So, companies should be working hard to harness its power by publishing more of this type of content on their websites. After all, video content can make a website more engaging, increase visitors' dwell time, and even improve your conversion rate!
In this article, we're going to outline how you can add great video content to your website. Let's get started.
Use video testimonials to earn new customers' trust
One way to improve the conversion rate of your website is to ensure that it's designed in a way that earns people's trust. Testimonials and reviews can do a lot to help with this! After all, people aren't just going to want to take your word for it when you say that you provide great products or services. But, if they hear it directly from your customers, they'll be more likely to believe the hype. Plus, they'll enjoy being able to put a face to positive reviews, as this will show that they're credible.
Video testimonials offer a great way to earn your customers' trust. This is because they prove to website visitors that your past clients were willing to take the time out of their day to share their experiences with others, because they appreciate you so much.
If you decide to create your own video testimonials, be sure to display them on the related product or service page, as well as on your homepage, if possible. This will ensure that they're seen by the right people!
Now, let's look at a business with great video testimonials as inspiration.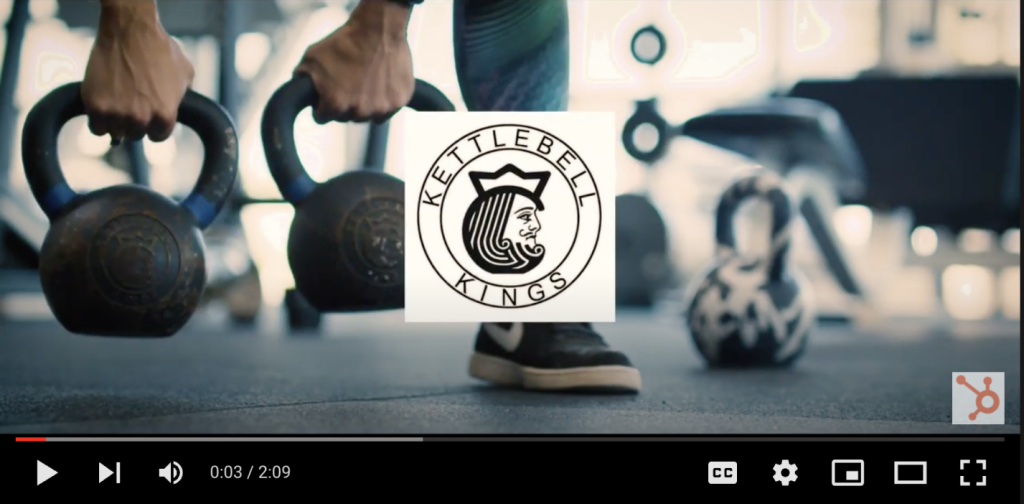 HubSpot, a digital marketing agency, has great video testimonials that do a lot to earn people's trust. In the video above, HubSpot has interviewed the CEO of Kettlebell Kings and several of their employees. The video features interviews with these staff members, as well as B-roll of people using their products.
The interviewees outline how much HubSpot was able to improve their marketing efforts and heighten their customer experience. In fact, they say that HubSpot's services were able to take Kettlebell Kings from a local business to a global one. This does a lot to build trust with viewers!
Consider interviewing your past clients to ask them about the results they've enjoyed from hiring your business. Once you've created great videos, add them to the product or service page on your website that sells what is discussed in the video. This will put a face to your past clients and make viewers more likely to trust you and make a purchase.
Get visitors excited by showing your products in action
One of the best ways you can get people excited about what you're selling is by creating videos that show your products in action. This could be through product demonstration videos, user-generated content, or simply showing your items being used in their natural settings. Be sure to show clips of people having fun with your products or people having their problems solved as a result of them. This will show your prospective customers that they're sure to love what you're selling.
Here, we'll take a look at a business that has great product videos as inspiration.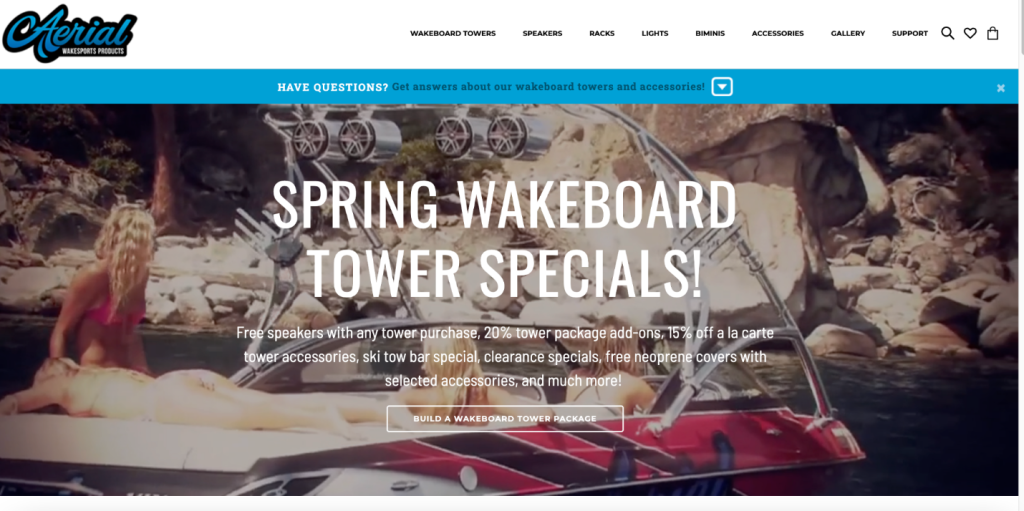 Aerial Wakeboarding, a company specializing in selling wakeboards and water sports equipment, has excellent video content on its homepage. In its hero header, the company has a rotating video featuring its ideal customers — primarily outdoor watersports enthusiasts — having fun on the water using its products. People who visit the company's website are likely to be active, outdoorsy people who want to get more involved in water sports. And, by showing how fun their products are to use out on the water, this video can build excitement among the business's audience and make them want to purchase the items shown.
Showcase videos of your products in action! And, make sure to include clips of people having fun using your products or having their problems solved. Not only can these videos be exciting and engaging, but they are likely to help you connect with your audience and make them more likely to want to make a purchase from you.
Make your written content more engaging with videos
People like to consume information and advice in different ways, so it can be worth presenting your content in both video and written form. Plus, videos can also be used to add something new and engaging to your written content. If you have written guides, for instance, you could use videos to demonstrate the same process in video form. Or, alternatively, you could produce videos that explain the process in more depth as a supplementary add-on to your already excellent article. This will help ensure that your videos engage the viewer, and you can reach people who might not want to read a full article.
Let's look at a business with excellent video content on its blog as inspiration.
Boyers Law Group, a Florida law firm, uses expert video content on their Miami medical malpractice attorney page. The article you'll find here outlines what constitutes medical malpractice in Florida, the results Boyers Law Group has been able to achieve for past clients, and more.
Then, there's a video that features firm partner Robert Boyers outlining why someone might want a medical malpractice lawyer and some of the services they are able to provide. This video sums up a lot of the content seen in the article in an easy-to-understand way, which means this page can connect with people who want to consume information in different formats.
Consider adding video content to your articles or blog posts, as Boyers Law Group has. Conveying the same information in different ways can help build trust with different types of people, ensuring that more prospective customers will want to make a purchase with you.
Help customers feel closer to you with behind-the-scenes videos
It's extremely important that you work to build strong connections with your customers — if you do, they'll be more likely to trust your business, thus making them more likely to want to make a purchase and stay loyal to you.
Here are a few different ways you can incorporate behind-the-scenes video content into your website:
Use videos to introduce yourself and your team
Show how your products are made
Show your employees working hard to provide your service
Interview your employees at the office and show what it's like to work there on your 'about us' page
Let's look at a company that produces excellent behind-the-scenes videos as inspiration.
Google has phenomenal behind-the-scenes content on the Careers page of its website. In their video outlining what it's like to work at Google, the company interviews several of its employees and shows different parts of its office. This helps viewers see how great it is to work at Google and makes them more likely to trust the company's services. Furthermore, it helps encourage prospective employees to apply.
Consider creating behind-the-scenes content like this for your website to show off how great it is to work at your business — it can have a lot of uses! It can help people relate to your business, show what it's like to work with you, and build trust. This can lead to people applying to your company or buying your products!
Use videos to explain important details and make them more interesting
There's a ton of important information you likely need your prospective customers or clients to know. But, these details may not always be the most exciting to read about, so you might want to consider making them more engaging with video content.
For instance, you could create videos that explain your warranty policies, how to maintain or clean your products, or how to put your items together. You can help ensure that they're engaging by using attention-grabbing graphics, humor, or interviews, for instance.
Let's look at a business that does a great job of using this type of video content as inspiration.

Victoria University Online, an Australian higher education institution, outlines some of its policies on its VU Master of Nursing Online page. For instance, in the Four Layers of Student Support section, they have a video that outlines how the institution is able to deliver a quality and accessible online learning experience. Not only is this information helpful and reassuring to visitors but, by putting the information in a video with well-designed and engaging graphics, Victoria University Online is able to make the policies sound a lot more interesting. This will ensure that people can quickly and easily understand them.
Consider making your policies more interesting and easier to understand using video content. For instance, you could explain your policies using colorful graphics that make the video much easier to follow. Not all of your policies or processes are going to be interesting but, if you work to make things more entertaining to learn about, you'll be more likely to get this information across to your customers.
Summary
Video content can help you engage your website visitors, build trust with them, and ultimately make more sales. In this article, we outlined how you can create video testimonials, add to your written content using videos, and more.
With our tips in mind, think about how you can improve your site with this engaging form of content!
–
Author bio & headshot:
Aaron Haynes is an entrepreneur, digital marketing enthusiast, and occasional SEO writer. With more than a decade of experience in business development, Aaron helps businesses and agencies develop and grow a data-driven yet nimble approach to search engine control. You can find more from Aaron on Twitter and LinkedIn.