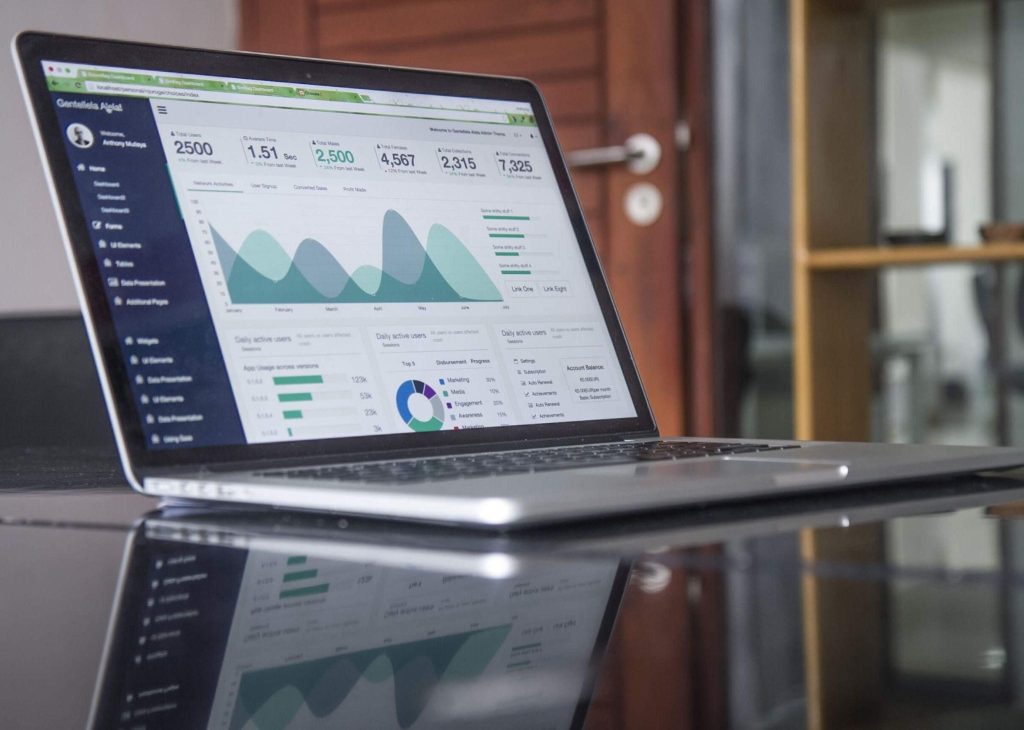 Photo by Carlos Muza on Unsplash
Your customers will want to know that they are working with a trusted expert before purchasing from you. And, with so many options available to consumers today, it's crucial that you establish yourself as an authority in your field.
To stand out in the sea of industry competition, your brand needs to work overtime to establish credibility and prove that you deserve people's business.
To help with this, let's look at six ways you can position your brand as an authority in your field to attract your ideal customers, increase your web traffic, and drive the conversions that will boost your bottom line.
1.  Ensure you're in the running to win industry awards
Being nominated for industry awards can help you get your name out there. And, winning will do even more for your brand authority. However, you need to make sure that you're in the running in the first place.
To find industry awards your company could enter and potentially win, you can:
Get involved in professional networks to give yourself the best chance of hearing about the latest award opportunities
Check out the badges on your competitors' sites to understand which awards they have applied for and won in the past
Read trade magazines, looking out for articles or advertisements that highlight upcoming awards events
Then, if you win any relevant awards, you'll want to display these on your website's homepage, share the news on social media, and talk about them on your blog. This will help to show that there's a real buzz around your brand.
This will then boost your credibility because your potential customers will see that you've earned awards and recognition for your fantastic work. Plus, your win will naturally help to get the word out about your business, helping you to earn more authority in your field.
2.  Work on developing a solid social media presence
It's no surprise that social media is one of the most powerful tools businesses can use to establish brand authority. It's likely this is where your target audience spends most of their time and where they'll typically go when they need help.
You can earn brand authority by building your network of followers and engaging with them. Listen to their questions and answer them on your profile. You could also share valuable content that proves you know what you're talking about.
Above all, you must keep your social media profiles updated and active. If you only post once in a blue moon, your audience will be less likely to view you as a reliable expert. You don't have to dedicate entire days to updating your profiles, though — using a bulk scheduling tool will allow you to plan everything quickly and in advance, helping you to maintain a consistent output.
3.  Regularly publish content that demonstrates your skills and knowledge
Publishing high-quality content on your website is one of the most effective ways to prove that you understand your field inside and out. This will then help you to earn the trust of those in your industry, as well as your ideal customers.
You can create a variety of content to build your brand's authority, including:
Ultimate guides that take deep dives into specific topics that are relevant to your industry
Tutorials that show prospective customers how to complete a process that will benefit them
Original research that will provide your target audience with unique information they'll find valuable
For inspiration, let's take a look at some companies that do a great job of publishing website content that demonstrates their workers' skills and knowledge to build their authority in the market.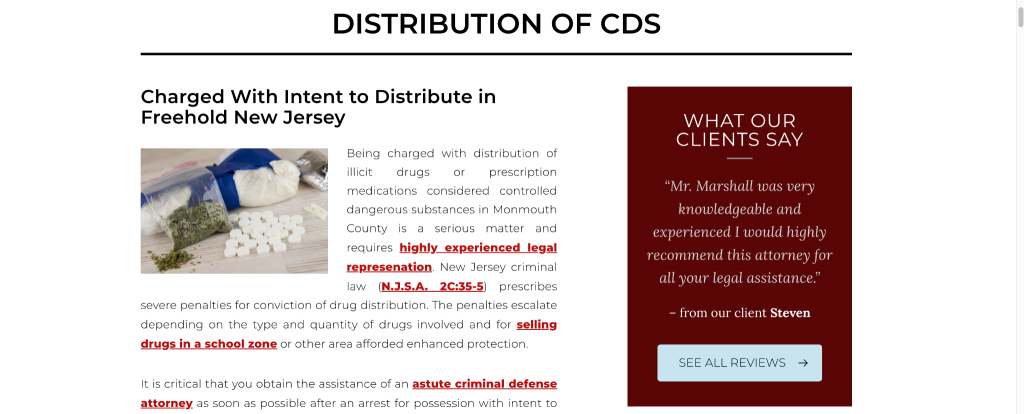 Monmouth County Drug Distribution Lawyers is a criminal defense law firm that consistently uses expert content to boost its authority within its field.
It's very clear from each piece of content the company publishes that its team of defense lawyers understands all there is to know about their chosen area of the law. Each blog post covers what kinds of penalties potential clients could expect to face if they're found guilty of a particular crime, what the laws around each type of case actually say, and why their firm is the best choice for people in their time of need. After reading any of the firm's articles, website visitors will have no doubt about its lawyers' skills and knowledge, which can help them to earn authority in their sector.
You can use the same strategy to support your marketing efforts by writing in-depth blog posts that demonstrate your knowledge and answer common questions your ideal clients have. It's also important to tailor each piece of content to your readers' needs and aim to educate them about how you can help them solve a problem or reach a goal.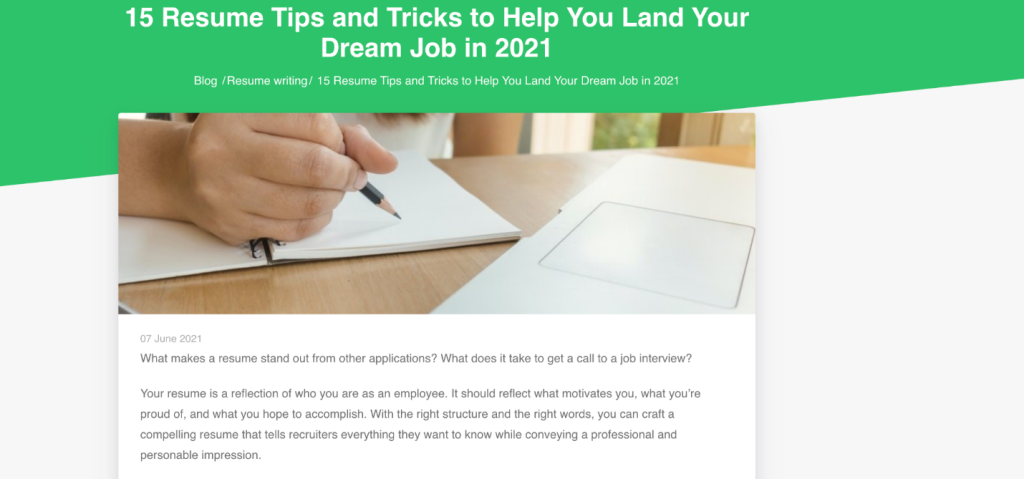 Another great example comes from CVmaker, an online resume template and writing service.
For instance, the company has a fantastic blog post full of resume tips, which clearly demonstrates that the brand is run by people who are experts in this area. It takes a deep dive into the resume writing process and how to get the best results, showing readers that the company can be trusted to write and design fantastic resumes that are well-received by employers.
The article covers everything someone might need to know when writing their own resume, from how to structure it, to how you can ensure you stand out from other applicants for all the right reasons. This resource will go a long way towards showing that CVmaker is an authority in its field, which will then help to drive engagement and sales for the business.
Similarly, you can show your business is authoritative by consistently publishing expert content on your website. And one approach you can take is to write how-to guides that clearly outline a process you're an expert in. This will help to earn potential customers' trust and convince them that you can be relied upon to provide the solution to whatever problem they're currently facing.
4.  Write articles for publications that are well-known in your niche
To build authority outside of your current audience, you need to expand your reach. And, one of the ways you can do this is by writing valuable articles for other publications your ideal customers are likely to be reading.
Browse your favorite industry websites and blogs, checking to see if they accept guest posts. And, you can also search Google for similar publications that might be interested in receiving an article for you. Then, once you've made a short list of sites you would love to be featured on, you'll need to reach out and pitch ideas to the editors.
Each pitch you send should be completely tailored to the website you're targeting for the best results. You'll need to provide a headline, some information about what you'll cover in the piece, some background information about yourself to explain why you're the best person to write the article, and some reasons why you think the idea will be a great fit for this particular publication.
Writing content for other websites in your industry is a great way to show your authority. Plus, it can help you expand your reach since you will be speaking to potential customers who may not have heard of your business before. This can then drive more traffic to your website and hopefully lead to more sales.
5.  Use the power of social proof to show you're great at what you do
Social proof offers one of the most influential and trustworthy ways to show you're great at what you do because it demonstrates that others have tried and enjoyed your products or services.
There are many different kinds of social proof you could display on your website for maximum impact, such as:
Testimonials from customers to show the value of your products or services
Media mentions that show well-known publications have been impressed by your work
Awards to help show that your business is flourishing and recognized in your market
To give you some inspiration, let's look at some examples of companies that do a fantastic job of displaying social proof on their websites to earn authority in their fields.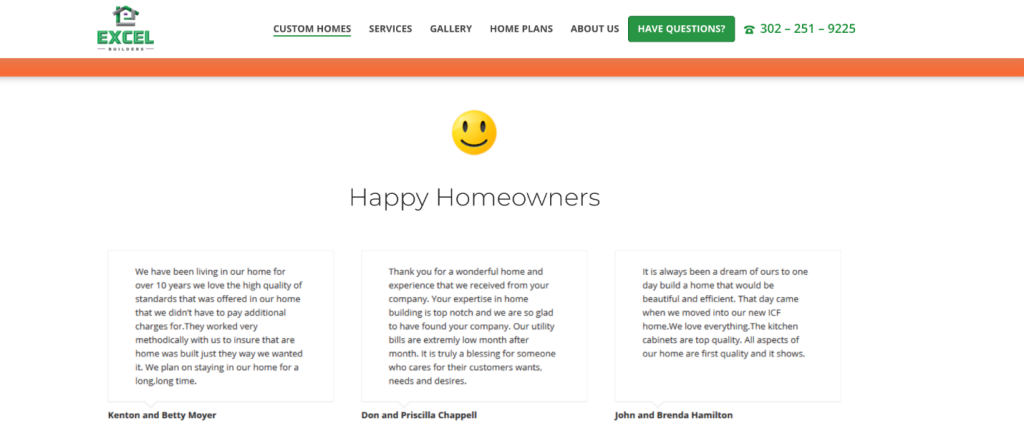 Excel Builders, a custom home building company, uses customer testimonials to demonstrate how its services have created happy clients.
Notice how each review focuses on a different thing the company does well, creating a well-rounded image for potential customers. These testimonials go a long way in demonstrating the quality of the work and customer service past clients have enjoyed when dealing with the business. This shows that Excel Builders is truly a leader in its sector and that new clients can trust the company to do fantastic work for them.
You can use the same strategy on your website by adding testimonials to your homepage and product or service pages. This can help potential customers see the value you offer and ensure you stand out from your competitors to drive more sales.

Here's another example from Smart Engines, a company that offers an ID scanner app. On the business's homepage, it has displayed the logos of past and current clients — some of which are household names.
This helps to show that Smart Engines is an authority in its field, because it's earned the trust and respect of some huge companies that are sure to only be interested in the best quality services. Plus, when prospective clients see some of these big names, they'll be motivated to commit to a purchase — after all, if well-known and reputable brands have had great experiences of working with this company, it has to be great.
You can use the same strategy on your website by displaying the logos of current and past customers if they're recognizable. This is a great form of social proof that will help you to build authority in your field, because people will see that a lot of great names have confidence in you and your services.
6.  Network at industry events
For many of us, our work is done online. You may find yourself interacting with customers on social media, through customer service channels, and even during virtual events.
However, appearing at in-person events can do wonders for your brand authority. This approach allows customers to put a face to your brand and build meaningful connections in ways that cannot be replicated online.
There are many different ways you could appear at industry events and establish yourself as an authority, including by:
Speaking at an industry conference to share your insights into market trends or issues
Hosting a session during an event to bring experts together and share information with attendees
Going along to events as an attendee to network with people in your industry and speak directly with potential customers
Look out for events within your niche that are looking for speakers and presenters. This is a great way to establish credibility and boost your brand's authority. You can find them on social media, advertising in relevant publications, or even via word of mouth from others in your field.
Don't be afraid to step out of your comfort zone to get the most out of industry events once you're there, either. Set some goals, such as trading contact information with at least two people or handing your card to three potential customers. Before you know it, you could have a huge list of new people who've just learned about your work and what makes your business so great.
Summary
To grow your business, you need to be seen as an authority in your field. This is a surefire way to convince new customers to try your products or services while inspiring brand loyalty from your existing ones.
Take steps to prove your industry knowledge by publishing expert content, attending in-person events, and showing off your relevant accolades. Before long, you'll see an increase in web traffic and sales as more and more of your target audience sees the value your brand brings to your field.
–
Author bio & headshot:
Adam Steele has been writing about digital marketing and SEO for 11 years. He's consulted for businesses small and large, including several of the largest companies in the world. If you liked this post, follow him on Twitter and LinkedIn for more like it.